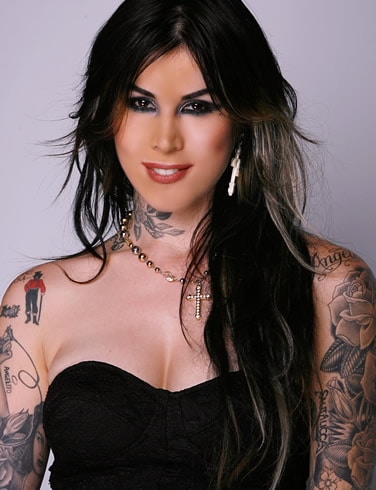 Kat Von D has publicly begun the slow and painful process of undergoing laser treatment for removing the tattoo of Jesse James' face from her rib cage. Ouch. Have you ever thought about getting a tattoo? I have, and after looking in to what it takes to get such a thing removed, I've decided to spend more time looking in to tattoo alternatives. Plus – they are SO much more budget friendly!
1. Henna Tattoo: Instead of ink and needles, the henna tattoo takes the pasted and pulverized henna plant and applies it to skin pre-treated with mehlabiya oil, typically following a stensil and utilizing several coats to achieve the visible print. Most henna kits cost about $20, and each application lasts about 4 weeks.
2. Temporary Tattoo: Using an airbrush and tattoo paint, these look the most like a real tattoo but spare you the pain and permanancy. These last a few days to about a week and cost about $3-$30, depending.
Sure, they aren't the real deal, but this way you get to try out different images without committing your skin. Have fun!