If you don't own a sharkbite dress, you're missing out. The Shark Bite Dress — also known as a dress with a handkerchief hem — is usually made from a sheer or breathable fabric. Different hem cuts make the dress flattering for all body types. You'll want one in your summer wardrobe because it's versatile enough for work, beach or an almost-formal occasion. If the versatility isn't a selling point for you, here are five more benefits of the sharkbite dress.
1. The Sharkbite Dress Enhances Your Curves
The name sharkbite refers to the hem of the garment. The blunt points of the hem create the negative shape of a triangle, which kinda looks like a shark has taken a bite out of the garment. You can find shark bite dresses and tops in a variety of asymmetrical cuts. So as you can imagine, it's easy for a dress like this to showcase or disguise different parts of the body.
The dress below from Target is made from Rayon and Spandex. Notice the overall illusion of curves it gives to the slim-figured model. The side back and side front hem is about two times longer than the center front hem. The large diamond-shapes prints draw attention to overall curves of her body, making this the perfect summer outfit for ladies who want a cool, summer dress that will play up a curvy figure.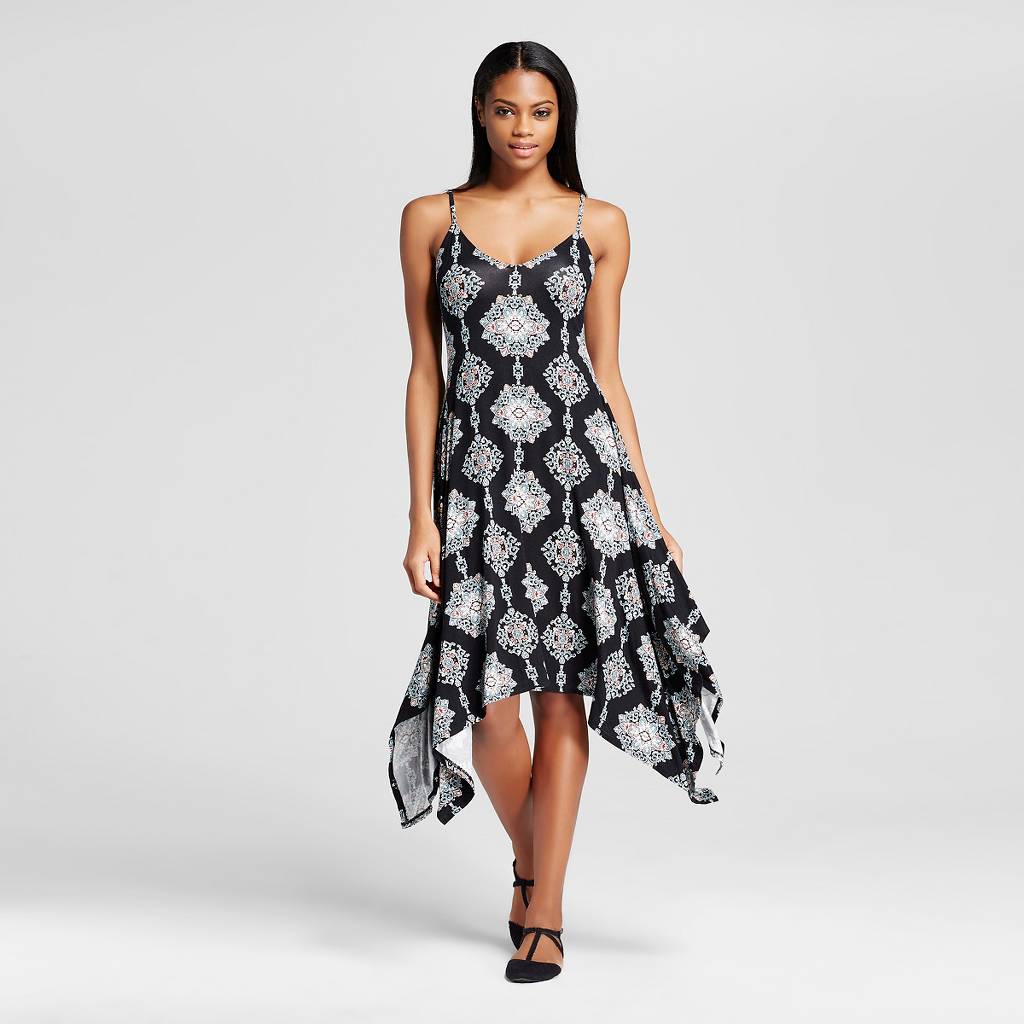 Mossimo Sharkbite Dress, $29.99, Target
2. They Can Minimize Curves Too
Curvy girls sometimes want the option to look "streamlined." You can get that look by choosing a dress where the "bite" reaches down to the feet. No matter how much shorter the dress is at the highest point of the hem, you'll want the side hems and back hems to be closer to the ground.
Wear the dress below from HSN, and you get to show leg AND the length at the back and sides creates a long, slim look. The solid color of the dress also slims.
Serena Williams Sharkbite Dress, $34.95, HSN.com
3. Sharkbite Dresses are Shoe-Friendly
The shark bite dress goes with any shoe, including sneakers. Because the dress has that versatile hi-low action at the hem, you never have to worry about your shoes being covered up, or having to wear a high shoe just to support the length of the dress. If you want a fun, flirty look, wear a gladiator sandal. If you want to be sporty, wear a tennis shoe. And lastly, if you want to dress up, go for a strappy sandal. Opened toed, closed toed…no shoe is off limits with a dress like this.
Coral Sharkbite Sneaker Dress, $14.99, Rue21
4. You'll Keep Cool
Dresses that have a shark bite cut are meant to be breathable and light.You'll usually find this style of dress in blends of lightweight cotton, rayon or polyester. A heavy fabric would not give the floaty, airy affect very well. The panels of the dress will keep you cool during summer, unlike a bodycon dress when the fabric is close to your skin.
5. The Right Mix of High Fashion & Modesty
You can still look sexy without showing too much skin. The sharkbite delivers the benefits of a short dress and a long dress together. You can show some leg, accentuate height, and still maintain a polished, high-fashion look. You can wear a dress like this to work, school, or anywhere else you'll have to go.
If you live where the summers have cooler days, a shark bite dress with long sleeves like the one below would be ideal. You can carry a dress like this into the transitional months of fall and spring.
Long Sleeve Sharkbite Maxi Dress, $33, Fancy.com
If you don't have a shark bite dress in your closet, please go get one. It'll look good on you, and it'll be an easy way to cheat when you don't feel like dressing up. Looking fabulous and keeping cool what summer is all about.
What do you like about your shark bite? Let us know in the comments!