Phew. Not that we didn't love the heavy hardware designers have had us lugging around, but we are more than happy to trade our studded bags and spiked shoes for something lighter and brighter. If you want to capture attention this season, bold colors are the way to do it. Altogether, this spring's accessories are a lot like spring itself: fun, easy and down-to-earth. Here are the top five looks to put on your shopping list.
1. Something woven
Braiding, knitting and weaving create statement-making textures that are extremely wearable throughout the warm-weather months. Whether in earthy tones or bright hues, if your bag, hat or shoes look like you picked them up from a sidewalk vendor on a South American vacation, you've hit this trend spot on.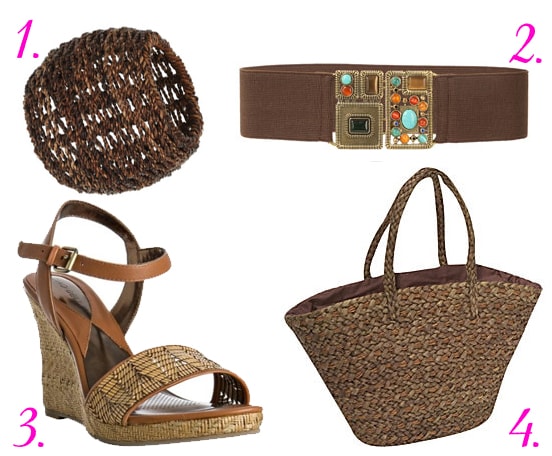 1. Huge Woven Bangle, $40, Topshop
2. Belt with Fastening Set with Stones, $30, Zara
3. Ciao Bella Wedges, $45, Bluefly
4. Straw Studios "Riley" Tote, $39, eBags
2. Something python
There's always an "it" animal skin or print. We've been through leopard, alligator and zebra. Now, it's all about python. Exotic is one of the hot looks of the season in everything from skirts to shoes, and the best way to capture it is with a python accessory, especially if you can find it in a rich hue like fuschia, yellow or electric blue.
1. Eula Bangle, $10, Chico's
2. Pedre Women's Python Strap Watch, $75, Endless.com
3. Bow Frame Satchel, $88, Jessica Simpson Collection
4. Adi Designs Python Ballet Flats, $37, Target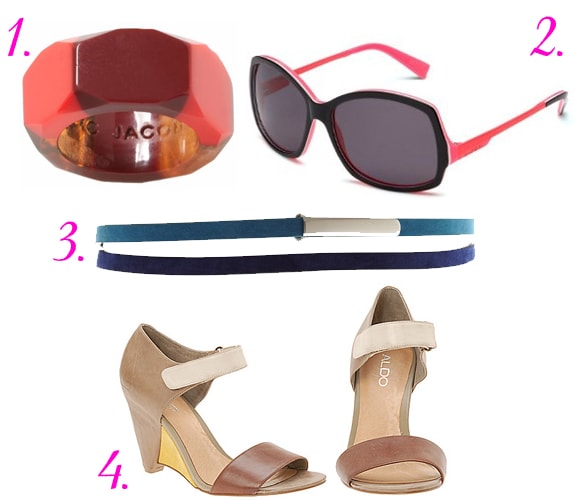 3. Something color-blocked
Bye-bye neutrals! The fashion world is dying for attention after a low-key fall, so designers are offering accessories that scream. The graphic color-blocking you loved on dresses and skirts is also apparent in vibrant bags, shoes and hats of contrasting hues. The brighter, the better.

1. Marc by Marc Jacobs Color Block Bolt Ring, $38, Piperlime
2. Diesel Sunglasses, $66, Endless.com
3. Suede Color-Block Belt, $21.52, Asos
4. Iveans, $90, Aldo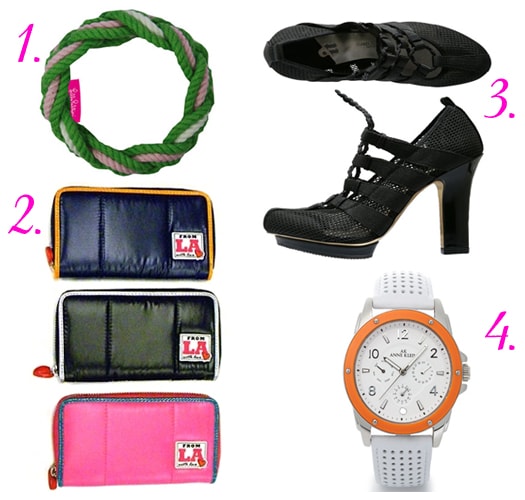 4. Something sporty
We're talking all-American, ladies– nylon, netting and neon detailing. Heels made of mesh, bags built like duffles and trendy backpacks are so fun to wear this season. You're on the go this spring and are spending more time outdoors, so dress like it!

1. Sailor Bracelet, $8, Lily Pulitzer
2. Cajo Designs Nylon Zip Wallet, $38, Kitson
3. Mesh Lace Shootie, $55, Isabel Toledo for Payless
4. White & Orange Multifunction Strap Watch, $85, Anne Klein
5. Something striped
Striped are never out of style for spring, but this season, designers are overboard for the nautical look. A little menswear, a little preppy, stripes embody a lot of what's hot this spring: multi-colors, bright hues, all-American charm and simplicity. Fresh and modern, if you only invest in one fantastic accessory this season, make it striped.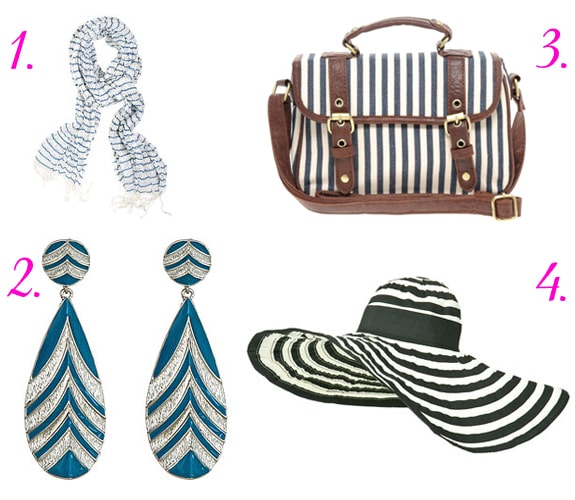 1. Prima Scarf, $17, Alloy
2. Blu Bijoux Earrings, $40, Max & Chloe
3. Small Ticking Stripe Satchel, $26.90, Asos
4. Two Tone Wide Brim Hat, $40, Zara