Kylie Jenner and Megan Thee Stallion have recently rocked the sheer trend — but you might not consider catsuits and naked dresses as wearable for your lifestyle.
Thankfully, there is a middle ground for the sexy, but seasoned fashionista. Because even after 40, we still have fun. Outside of work, sex appeal is almost always appropriate in moderation — especially for date nights, dinners with friends, nights on the town, cocktail parties, and evening weddings. And for those events, stepping lightly into the sheer trend could be the perfect style choice.
Read on for the essential tips on wearing the sheer trend without feeling naked. I also show eight garments that can help you pull it off gracefully. Or, if you're in a rush, check out the top two budget-friendly sheer pieces plus one investment option in the table below.
Top sheer garments to shop now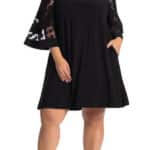 Nina Leonard cold-shoulder dress at Nordstrom Rack
shop this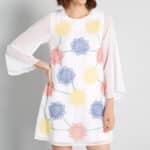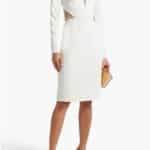 *investment piece alert* Marchesa Note crepe cutout midi
shop this
Dos and don'ts of wearing sheer
Below are some easy guidelines for wearing sheer dresses, tops, skirts, and accessories.
Do stretch your comfort level — but not too far.
It's fun to stretch your boundaries with fashion, but going too far beyond your wheelhouse is counterproductive. You won't have fun with it if you're feeling self-conscious.
Do strive for balance.
Pair your sexy sheer dress with kitten heels or a demure neck scarf. Or team a sheer top with a full coverage, a-line midi skirt. Balance serves you well in fashion.
Do experiment with sheer accessories.
If sheer cutouts on your body feel like too much, experiment with sheer accessories. Sheer cardigans and kimonos are on point. Other options include shoes with sheer details, sheer scarves, and handbags with sheer panels.

Don't go outside without a light test first.
With sheer garments, lighting can dictate how much skin you're showing. Test your garment under different lights to make sure you're not revealing more than you'd planned. Stand under florescent lights in your garage, dim lights in your bedroom, etc.
Even better, have a friend snap pics of you in different lights.
Don't forget to fasten and tape.
One wrong move in a sheer dress or top could result in a wardrobe malfunction. If your garment's sheer panels are anywhere near your girls, use fashion tape to hold things in place.
Don't pair sheer garments with sheer undies.
Just in case, choose panties and bras that provide reasonable coverage of your parts. Opt for satin panties over lace.
Fun sheer garments for women 40+
Here are eight stylish sheer pieces to inspire your shopping.
For weddings and daytime fun
Modcloth's fun white floral shift dress delivers on the sheer trend with a pretty overlay. The sweet pattern and shape balances nicely with the wide, opaque sleeves.
For cocktail hour
Marina's cocktail dress turns the shift style into evening wear. Sheer sleeves and neck panel transform this spaghetti strap number into a classy choice for dressy nighttime outings. The high-low hemline lets your knees peak through without giving up your coverage behind.
For showing off your shape
I know our model here is nowhere near 40, but that doesn't mean you can't wear this dress. The lace overlay and sleeves nods to sheer styles, without any peekaboo cutouts. There's no shortage of sex appeal, thanks to a body-hugging fit and above-the-knee hemline.
Keep things classy by accessorizing this dress with flats and subtle makeup.
For casual days
Sheer isn't only for evenings and beach days. Try the middle ground with a sheer longline cardigan. You can wear it with jeans on casual days or throw it on over a sheath dress for work.
For date night
Here's a cold-shoulder dress that's a great choice for date night. The polka dots on the sheer panels add some fun to your vibe. Plus, the shift shape is just right for dancing the night away. There's also a pocket at the hip in case you want to go handbag-free.
For versatility
You can wear this bright sheer top so many ways! Try it over a dark camisole or bralette, paired with a skirt for a racy evening look. During the day, opt for a white cami and jeans. Or, don this sheer top over your swimwear as a chic cover-up on beach days.
For special occasions
For special occasions, this Marchesa Notte number delivers a solid dose of class. The sheer panel at the neckline keeps you covered, despite a plunging neckline. And the waist-defining side panels hint at the dress's open back.
Just for fun
These fun booties will add some retro style to your repertoire. Sheer panels and rhinestones dress them up, while the rubber sole and low block heel are ultra practical. Wear these with trousers, tailored jeans, or your favorite midi skirt.
Sheer for all ages
The sheer trend can be overtly sexy — but it can also be elegantly sexy. To find that elegance, opt for subtle sheer panels or cutouts, sheer layers, or sheer accessories. That way, when people stare, you'll know it's because you look amazing (and not because you're practically naked).