Anyone who thinks great nail color and design 1) can only be achieved at a salon or 2) is best worn in shades like "buff," "beige" or "sand" is missing out in the beauty department. Big time. See, I'm a believer in creativity, whether I'm talking about nail color or wall color. In fact, when it comes to beauty, creativity is my secret weapon.
Revlon Nail Art Review
Freedom of expression, mixing things up and bucking conventional thoughts may not go over well in the political realm (or Thanksgiving dinner with Uncle Lou), but it does wonders for looking great and having fun. And what's looking good if I can't have a little fun to boot? So when I had the opportunity to try the Revlon Nail Art™ collection, I was thrilled. The collection boasts convenient two-in-one dual packaging and features 30 unique shades across three different styles that let me go as wild, glam or demure as I want.
Revlon Nail Art Neon™ – notice-me nails in bold colors to electrify my look and my mood
Revlon Nail Art Moon Candy™ – iridescent-meets-deep-base-coat (a.k.a canvas) for a cosmic, cool 3D effect
Revlon Nail Art Expressionist™ – what a great way to discover (or rediscover) my inner artist. Move over Monet fans, you haven't seen nothin' yet!
Wow. Free reign to get my neon on, embrace my inner Monet or channel my inner space goddess? On my own time, my own way . . . without sacrificing on-trend looks? The world of nail art doesn't get any more creative than this. Forget the saying about coffee or chocolate — hand over the Revlon Nail Art™ and no one will get hurt!
Why Revlon Nail Art is a Must-Have Beauty Weapon
The collection is the ultimate in freedom of expression, my must-have secret weapon for head-turning nail designs. All have easy-to-follow directions (a "1" with an arrow pointing to the base color, and a "2" with another arrow indicating the second shade to be applied). How effortless is that? Plus, there isn't any peeling, pressing, prying or "where'd I put that top coat" bottle searches (I'm famous for losing things, even if they're in front of my face). I'm addicted to their three gorgeous styles and the skinny nail art brush sizes found in most top coat bottles. The smaller brush optimizes precision (perfect for coffee hands like me). Let's get to it, shall we?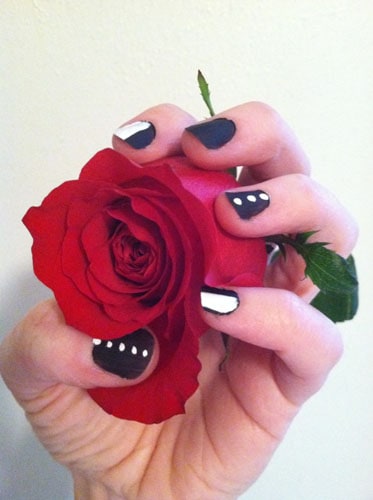 Wow. While waiting (not long at all) for the black base to dry, the dark exuded a tough gal "yeah, whatever"vibe. Ever-optimistic me liked this. *Gasp* An edgy side? Me? Who knew? Once I applied the white designs, I bid Bitter Me adieu and declared this a favorite. I loved everything about the experience: the realization that I have it in me to be a sarcastic eye-roller (ha, take that, mean drivers and non-smilers), the striking black/white contrast, the yin/yang, mod-glam feel. I had fun mixing up patterns on each nail, even leaving one nail all black. Must have more, darling.
Ulterior Motif (Expressionist Collection)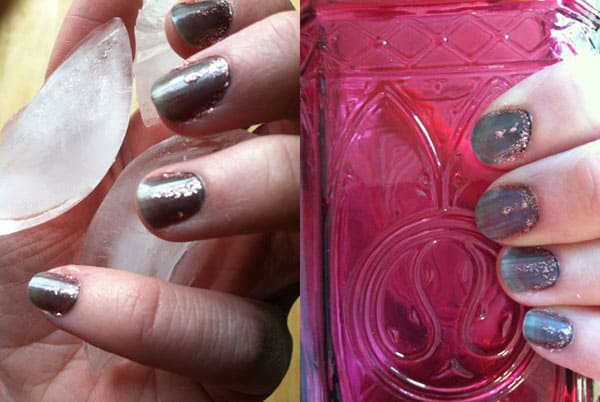 So pretty, I could melt. I adored the feminine gray and pink combination—the soft hues were delicate, yet noticeable. Rather than applying the sparkling pink second coat over my tip, I opted to trace the curve of my cuticle then come halfway down the center of my nail. The sparkle on the bottom was a fun change. What's wrong with admiring my nails every 10, er, 2 seconds?
Pink Glow (Neon Collection)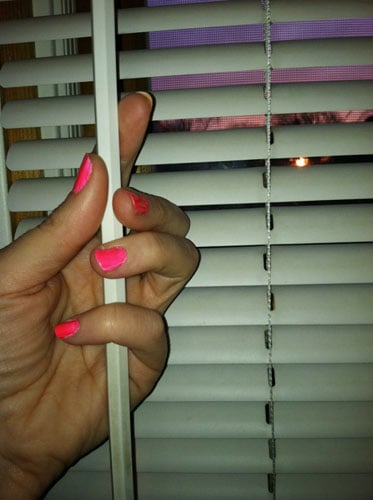 I'm an 80s child. Hot-pink leg warmers and glowing lighthouse beacons sweaters were the norm. It was like, totally the thing. The "Pink Glow" from the Neon collection was not only great in the blast-from-the past department, (crank up Corey Hart's "Sunglasses at Night"), but looked as bold (ditto) as I remembered. The white base intensified the top pink color, adding "pow" on every fingertip. Wearing it made me 1) giddy inside and 2) shut the blinds – who needs sun with this brightness?
Orbit (Moon Candy Collection)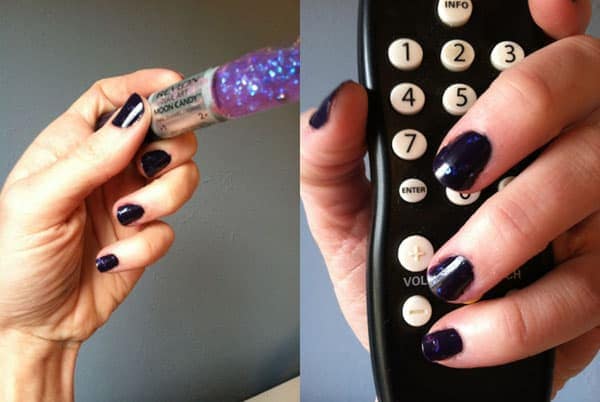 Maybe it was those planetarium school trips, but to this day, I'm fascinated with space. With neat names like Eclipse, Meteor and Moon Dust, this collection is the closest I'll get to setting foot outside this stratosphere. For that reason, applying it added to the fun factor. Plus, I thought the cool 3D-ish results were heavenly.
Without a doubt, it's safe to say Revlon Nail Art™, well, you know . . . nailed it! Unlike grade school, Revlon Nail Art™ makes it OK to stay outside the proverbial lines. In this case: anything goes, so creativity flourishes and beauty is revealed. Follow Revlon on Facebook to learn even more about their products.
Revlon Nail Art™ lets me unleash my playful side. Sure, those stick-on thingies are cool and there are tons of neat shades out there, but with them, I know what I'm getting into: what I see is what I get, which can border on well, boring. Revlon Nail Art™ kicks such design predictability to the curb, allowing me to turn the expected into anything but. Now if you excuse me, I'm heading out to pick up some Supernova. And Killer Watt. And . . . As if all this nail art isn't exciting enough, it gets better:
You get the chance to win a $50 Visa gift card. Ahem, you can use that card towards a nifty nail collection . . . To enter for a chance to win this sweepstakes, answer this question in a comment below: What is your best beauty secret? One comment will be randomly selected. That $50 Visa gift card might belong to you!
Sweepstakes Rules:No duplicate comments. You may receive (2) total entries by selecting from the following entry methods:
a) Leave a comment in response to the sweepstakes prompt on this post
b) Tweet (public message) about this promotion; including exactly the following unique term in your tweet message: "#SweepstakesEntry"; and leave the URL to that tweet in a comment on this post
c) Blog about this promotion, including a disclosure that you are receiving a sweepstakes entry in exchange for writing the blog post, and leave the URL to that post in a comment on this post
d) For those with no Twitter or blog, read the official rules to learn about an alternate form of entry.
This giveaway is open to US Residents age 18 or older. Winners will be selected via random draw, and will be notified by e-mail. You have 72 hours to get back to me, otherwise a new winner will be selected. The Official Rules are available here. This sweepstakes runs from 3/11/13-4/07/13. Be sure to visit the Revlon brand page on BlogHer.com where you can read other bloggers' reviews and find more chances to win!
So share with me: what is your best beauty secret?