It's that time of year to talk about pedicure safety. Our feet are emerging from the safe, comfortable, full coverage confines of our winter boots — and they need some serious beautification.
This post may contain affiliate links. See our privacy policy.
Plus we're ALL emerging from the COVID-19 era which adds its own dynamic to the topic of pedicure safety.
Even with a pair of sandals with straps that strategically cover our problem toes — we all have at least one — what about those crusty heels? You know, the ones that have been tucked away in UGGs for months? It's time to slough off that crust ladies!
We originally wrote this post back in 2012, after interviewing prominent New York podiatrist Dr. Oliver Zong. Dr. Zong has seen his share of corns, bunions, and foot issues, to give us some pedicure safety tips. He has also seen countless patients who have developed bacterial skin infections resulting from salon pedicures. Ick.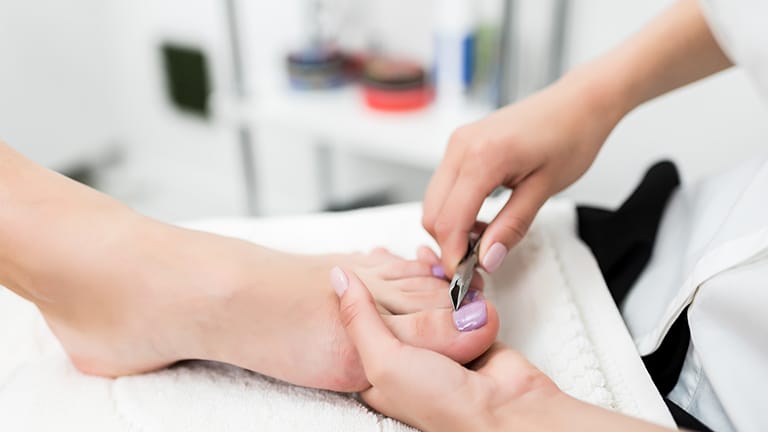 Below are Dr. Zong's original tips, plus some additional pointers to protect you from broader pedicure health risks.
Pedicure safety do's and don'ts
Pedicure dos:
Do ask salon workers how they maintain foot spas and how often they are cleaned. Watch salon workers while they are working on clients. You want to see that footbaths are disinfected after each customer.
Do pay attention to the time spent cleaning footbaths between customers. The disinfectant needs to work for the full time listed on its label. That might be 10 minutes, depending on type of disinfectant. It is worth your health and safety to practice patience at the spa.
Do check your skin for infection during the days following your pedicure. Open wounds may appear on the skin of your feet and legs. They can start out looking like insect bites, but will increase in size and severity over time. Itchiness or yellow toenails could be signs of a fungus.
Do visit your podiatrist or primary care physician if you suspect an infection.
Do be cautious about technicians who aggressively clip away your cuticles.
Pedicure don'ts:
Don't get a pedicure if you have cuts or abrasions on your feet or legs. Microorganisms living in footbaths can enter through the skin and cause infection.
Don't shave, wax or use hair removal creams within a day before getting a pedicure.
Don't get a pedicure if you have bug bites, bruises, scratches, scabs or poison ivy.
COVID-19 pedicure protocols
So, yes, there is a vaccine in play. But no, that doesn't make your nail salon any safer. For the foreseeable future, you should expect to see your salon professionals following these guidelines:
All technicians are wearing personal protective equipment. That means gloves, face shields, and cloth masks.
Customers are wearing masks and socially distanced. Even better if the nail salon puts up temporary barriers between workstations — like plastic sheeting.
All surfaces are repeatedly wiped down, especially between customers.