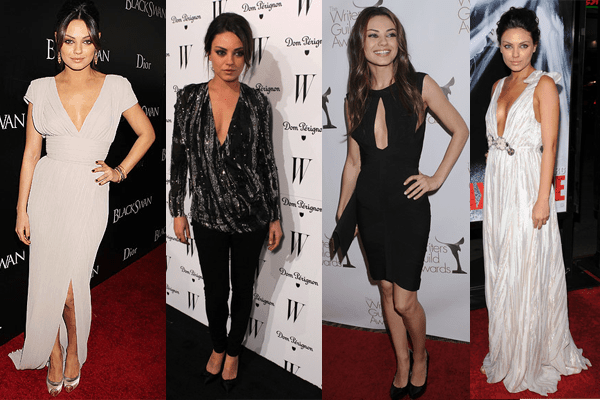 In so many ways, we have watched Mila Kunis grow up before our very eyes. It's hard to believe this Ukranian born beauty began working on "That 70's Show" at just fourteen years old. Even growing up in the public eye, Mila has always handled herself with grace and relaxed confidence, and those characteristics have translated to her personal style – lest we forget her flawless outing in Elie Saab at the Oscars when she was nominated for "Black Swan" (see above).
Every time we see Mila she seems to be exuding one or the other, grace and/or confidence, that is. Her love of red is almost legendary (as it should be; the color is stunning on her) and she chooses to keep it casual in her downtime, usually sporting a pair of aviators and her favorite black cross-body bag (and, more often than not, carrying a giant cup of iced coffee!). Let's take a closer look at Mila's style choices, shall we?
Mila Kunis Style
1. Plunging Necklines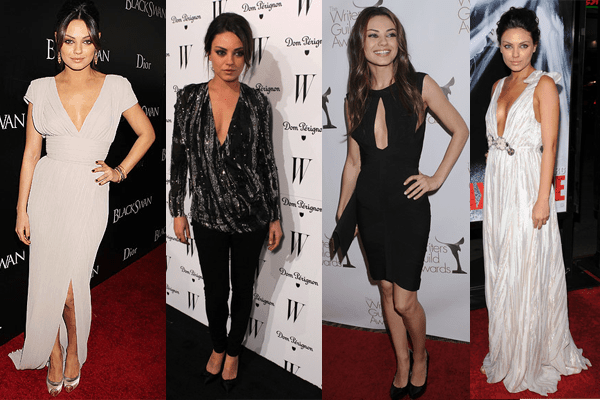 Credit: Dave Alloca/Startraks; Alexandra Wyman/Getty Images North America; Jason Merritt/Getty Images North America; Bauer Griffin
Mila often opts for a deep V or plunging neckline when dressing for more formal events. She has a beautiful figure and why not show it off? This look is not at all hard to replicate, and you can achieve it by wearing a gorgeous gown or a rockin' top like Mila. But take note: the more daringly low the neckline, the more double-sided tape you will need!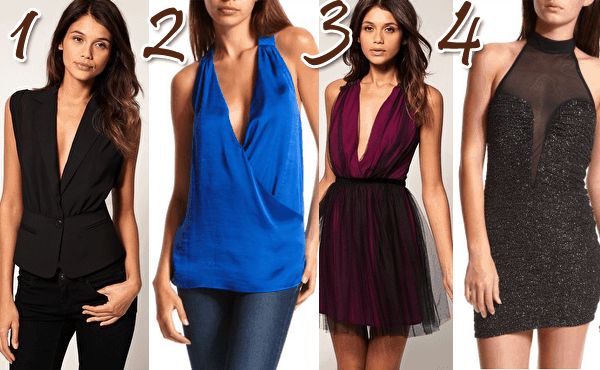 1. Sheer deep V vest $54.54 from Asos
2. Plunging neck top $19.00 from Charlotte Russe
3. Deep V dress with mesh overlay $99.99 from Asos
4. Black sparkly dress with deep v neck $29.99 from Charlotte Russe
2. Aviators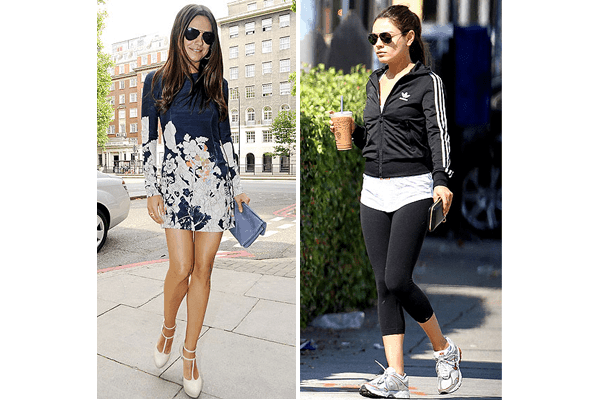 Credit: Splash News Online; Nate Jones/Sam Sharma/Pacific Coast News
The great thing about aviator sunglasses is that they suit almost any face shape. As long as the cross-bar along the top touches the bridge of your nose, you're basically good to go. Mila sports hers on a very regular basis; whether she's all dolled up or headed home from the gym. Either way, I think we all can agree that these classically shaped shades do the trick and look great!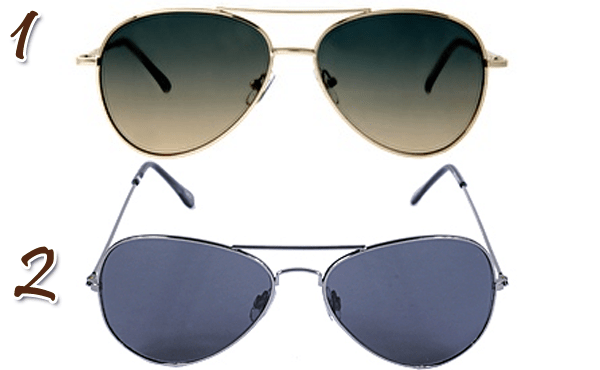 1. Aviators $21.82 from Asos
2. Black aviators $5.80 from Forever 21
3. Cross-body Bag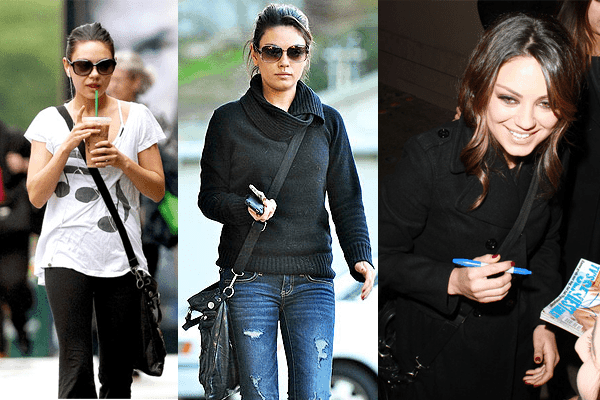 Credit: GSI Media; National Photo Group; PacificCoastNews.com
Ah, the cross-body. Mila loves hers and for good reason! It leaves her hands free to sign autographs for adoring fans, play with her smart phone and, yes, enjoy her go-to beverage of choice: her iced coffee. Get the look by choosing a simple black duffle or satchel with a long strap which you can wear – you got it! – across your body.
TBF hint: Get more for your money by opting for one that offers both a long and short strap so you can switch it up depending on your outfit!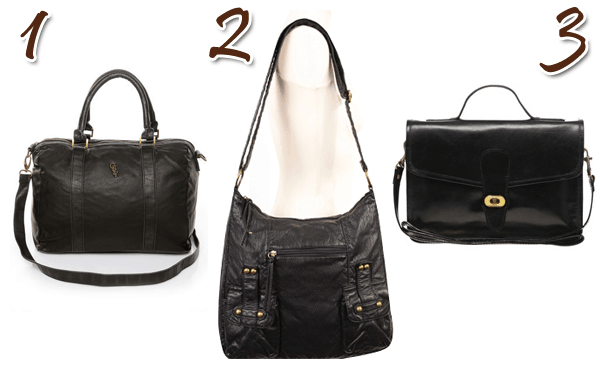 1. Black duffle crossbody $65.00 from LuLu's
2. Distressed leatherette bag $28.80 from Forever 21
3. Leather cross-body satchel $81.81 from Asos
4. RED!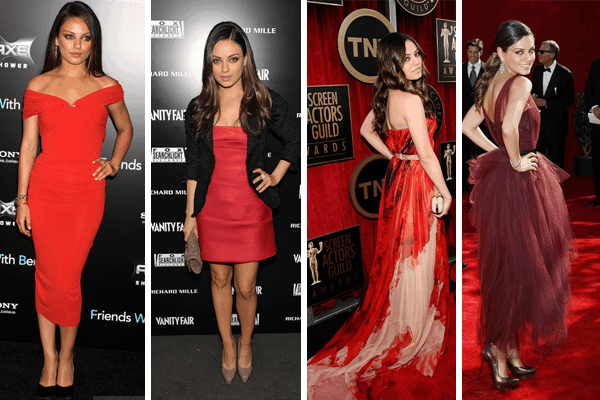 Credit: FlyNetPictures.com; John Shearer/Getty Images North America; Kevork Djansezian/Getty Images North America; FlynetPictures.com
The truth is it would be pretty hard to recreate the amazing-ness that is the Alexander McQueen dress that Mila wore to the 2011 SAG Awards but, emulating her love of scarlet is another story! Check out some of our picks below to fulfill your "Lady in Red" dreams…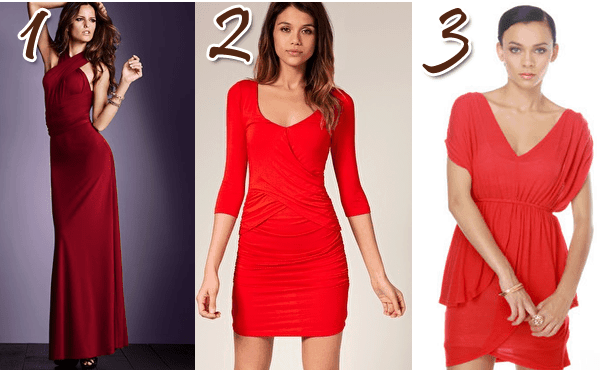 1. Red maxi dress $98.00 from Victoria's Secret
2. Red dress $54.54 from Asos
3. Red draped dress $27 (on sale from $38.00) from LuLu's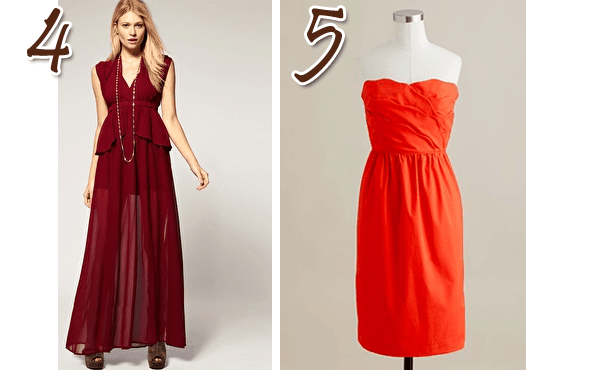 4. Long red dress $99.99 from Asos
5. Red strapless dress $99.99 (on sale from $215.00) from J Crew
5. Peep Toe Pumps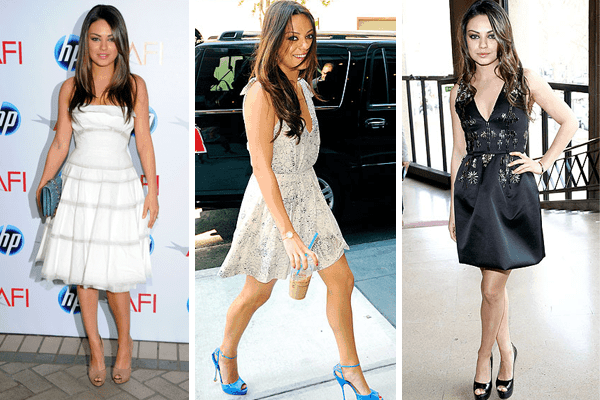 Credit: Alberto E. Rodriguez/Getty Images North America; Jayme Oak/AKM; Julien Hekimian/Getty
Peep toe pumps are a fabulous way to finalize your outfit. They are universally flattering and a great way to show off your tootsies without committing to an all-out sandal. But as we cautioned above with the plunging necklines and double-sided tape, let us caution you once more: don't head out in these open-toed heels without a pedicure or, at the very least, a clean coat of polish. Remember, just because they are south of your ankles, when your toes are exposed, they are just as much a part of your overall look as your hair, and they should be treated as such. Mila wouldn't go out in peep-toes without her toes looking presentable and neither should you!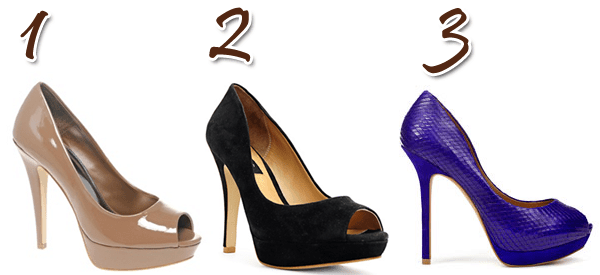 1. Nude open-toed pumps $72.72 from Asos
2. Black peep toe pumps $99.90 from Mango
3. Snakeskin peep toe pumps $89.90 from Zara
We loved her on "That 70's Show", we loved her in "Black Swan", we loved her in "Friends with Benefits" and we always love her on the red carpet. Now, we just get to sit back and see what Mila Kunis does next. Whatever it is, we know she'll look marvelous doing it and she'll have us lusting after her amazing ensembles once more. And when that time comes, we'll happily break it all down for you again!