Here at TBF, we love lip gloss. We like how lip gloss adds shimmer while helping to heal chapped or peeling lips. We also like the fact that you don't have to pay a lot for lip gloss. So we've rounded up our favorite lip glosses all under $10. All of these products have either been featured on our Web site before or used by TBF team personally.
Budget Beauty: Great Lipglosses Under $10
1. CoverGirl Natureluxe Gloss Balm
Why It's Awesome: This is the lip gloss that Cat uses every day. It's actually more of a combination of lip balm and lip gloss, since it keeps your lips very moist but also holds the color on for several hours. It comes in many different colors, and there are a lot of great fall hues out that you might love for the coming season!
Where to Get It: $5.99 at local drugstores
2. e.l.f. Luscious Liquid Lip Color
Why It's Awesome: Usually, a lip gloss or lipstick this inexpensive inspires some skepticism. But this hypoallergenic gloss is great for those with sensitive skin and also those who enjoy lighter, softer shades. The aftertaste can be a bit on the chalky side, but for less than $2, this lip gloss does the job in a pinch.
Where to Get It: $1.49 at local drugstores
3. L'Oréal Color Juice Sheer Juicy Lip Gloss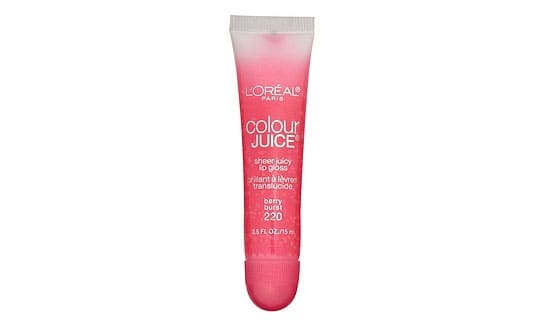 Why It's Awesome: Kathryn has like 10 tubes of this lip gloss, a knockoff of the more expensive lip gloss line from Lancôme. This lip gloss produces an awesome shine on your lips, while giving them more volume. It's quite thick and is known for its super-sweet smell, although it can be a bit sticky at times.
Where to Get It: $8.48 at local drugstores
4. Wet n Wild Glassy Gloss Lip Gel
Why It's Awesome: Wet n Wild is one of the most affordable beauty brands. This gloss is durable without harsh scents. The downside? The lip gloss comes in only a few different colors.
Where to Get It: $2.99 at local drugstores
5. Nivea Lip Care A Kiss of Shine
Why It's Awesome: This sneaky product from Nivea is a healing lip balm disguised as a lip gloss. It helps to repair broken lips and add moisture, all while giving off a slight pink tint.
Where to Get It: $3.29 at local drugstores.