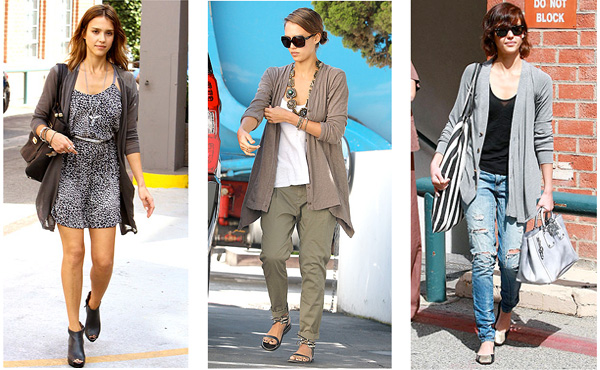 We're pretty much always obsessed with Jessica Alba. The absurdly gorgeous star has been capturing our attention with her to-die-for fashion and, lately, her cute-as-a-button daughter, Honor, for years.
But these past few months, our infatuation has reached a whole new level. While we adore her red carpet looks, it's actually her California-cool street style that we've fallen head-over-heels for.
What makes her style so fantastic is the dichotomy between her beachy, bohemian taste and her affinity for the latest looks. Her outfits are both laid-back and trendy. Her style may seem complex (she tends to pile on multiple garments and accessories at once), and we could spend hours mulling over each trend she's worked this year (wide-leg jeans, chunky scarves, cargo pants, etc.), but we've narrowed it down to five basics of Alba's wardrobe. Get your hands on these and you're well on your way to mastering her awesome style.
Jessica Alba Style
The Sweaters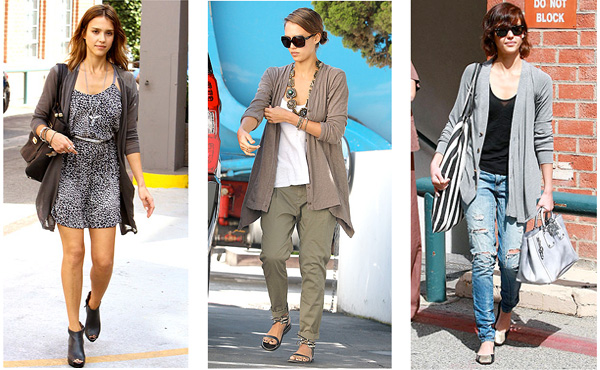 Her go-to style may be classic and elegant, but Jessica isn't afraid to inject some fun prints and bold colors into her wardrobe. We adore her penchant for fun sweaters with eye catching and kitsch designs. Jessica ensures her quirky sweaters always look grown up by pairing with key separates, such as leather pencil skirts, cigarette trousers or skinny jeans.
Dress, jeans, leggings: Jessica Alba will throw a sweater over anything. We love how, amazing as her body is, she's not opposed to covering it up. The actress doesn't need to show off, she just wants to be comfortable, and that makes her even hotter.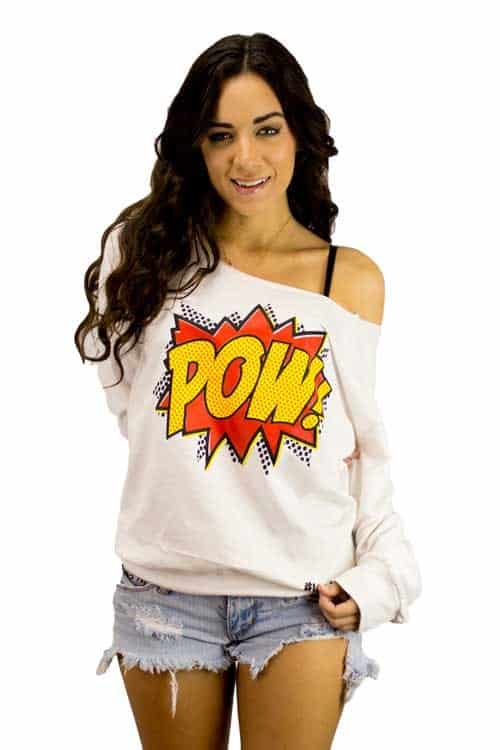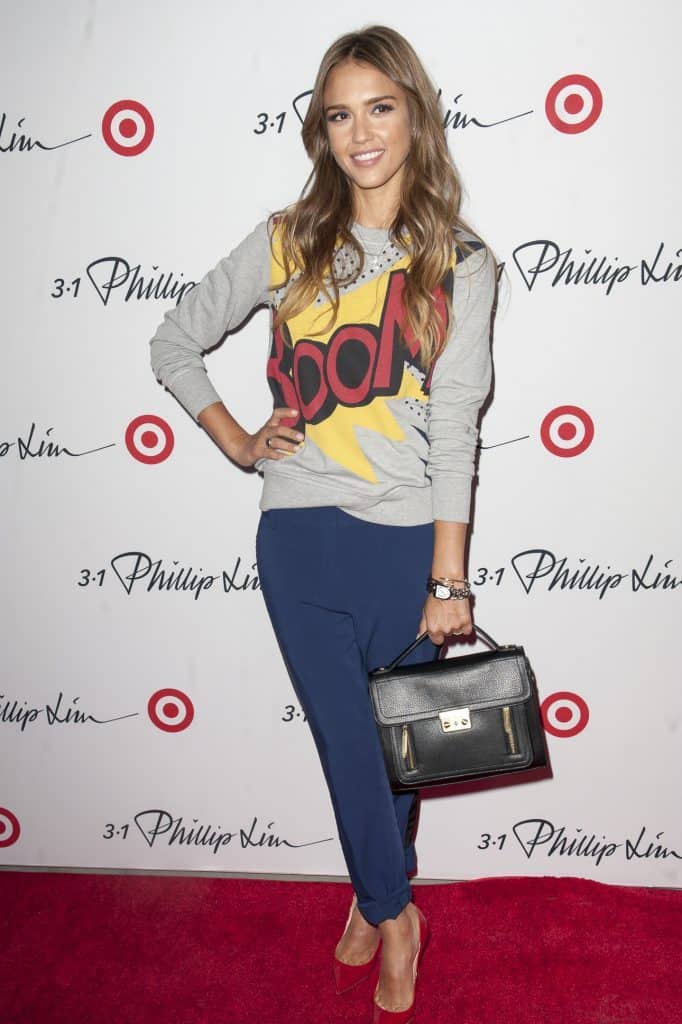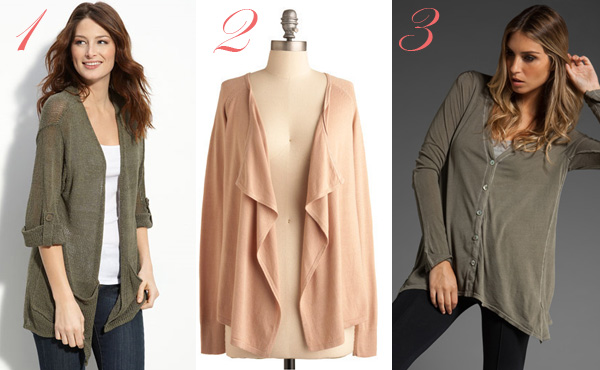 1. Press Tab Sleeve Cardigan, $68, Nordstrom
2. Butterfly Away Cardigan, $30, Modcloth
3. Micheal Stars Assymetrical Cardigan, $34, Revolve Clothing
The Dresses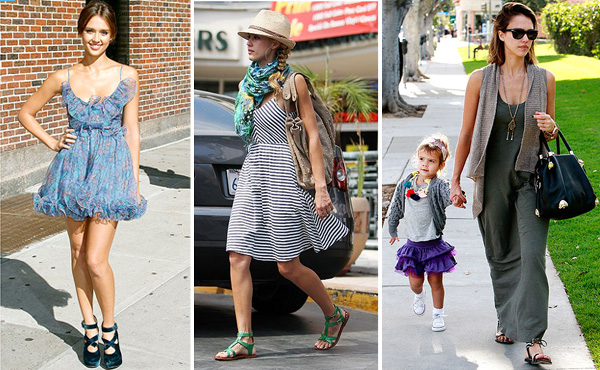 When it comes to dresses, Jessica is always changing it up. Long, short, frilly, sheath, floral, striped… we could go on forever. When stepping out for date night with hubby Cash Warren, Jess dons a sexy mini, but during the day, she runs around L.A. in a flowing cotton confection. So don't worry about the style of the dress, if it looks comfy and fits a little loose, she'd probably wear it.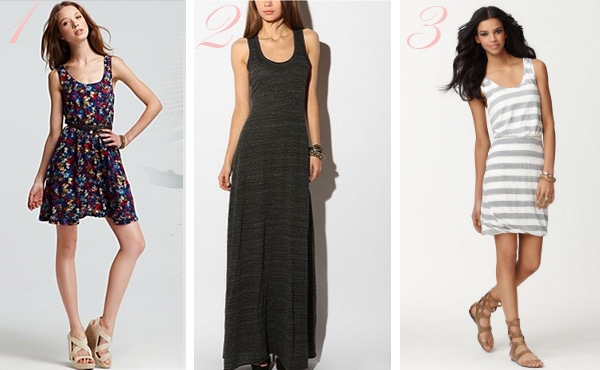 1. Aqua Belted Print Dress, $88, Bloomingdale's
2. Alternative Apparel Maxi Dress, $68, Urban Outfitters
3. BCBGeneration Sleeveless Striped Dress, $98, Macy's
Demure a-line dresses in pretty prints have become something of a signature style for the actress. While she may rock hers to media events, these styles work perfectly for weddings and other special occasions. Jessica always teams her flirty dresses with nude accessories to ensure all the attention is kept firmly on her frock.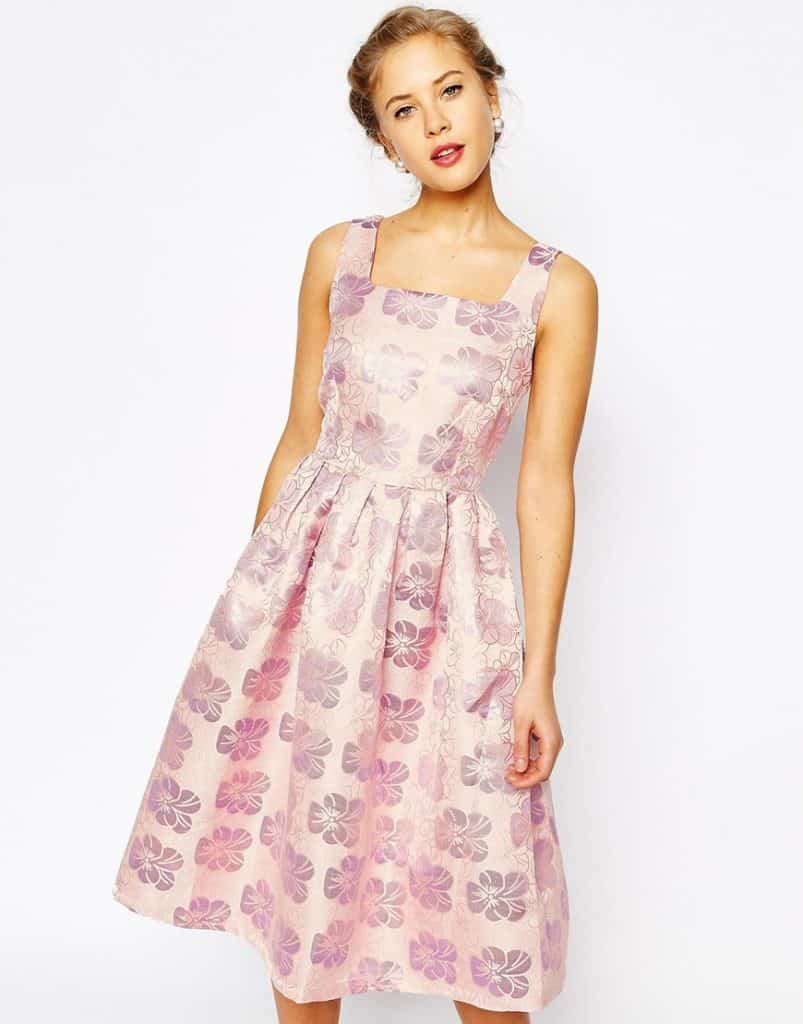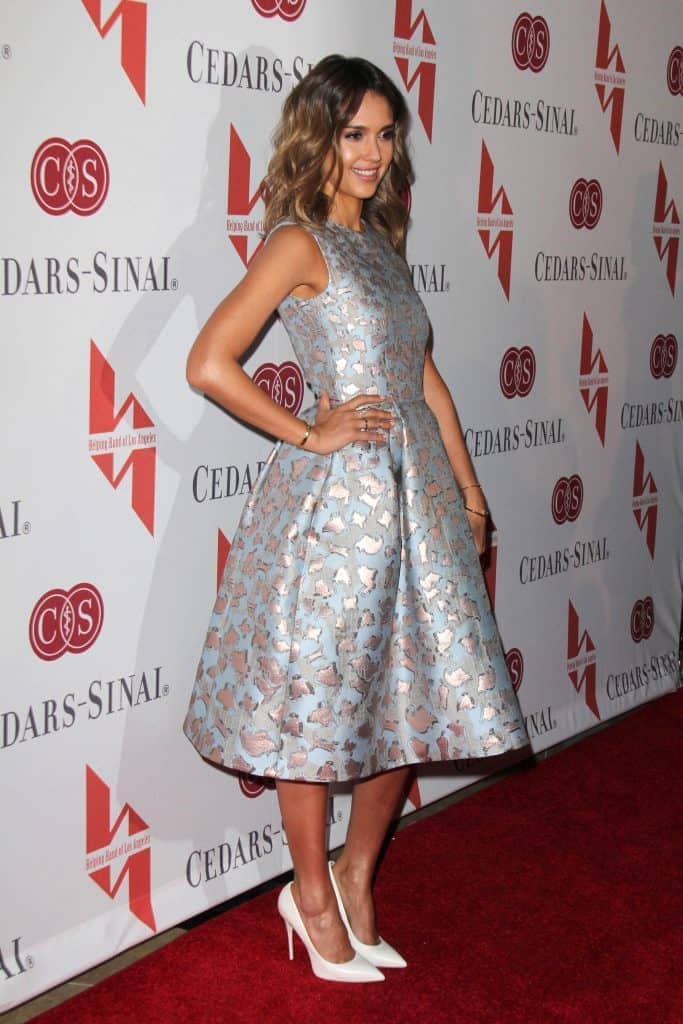 The Scarves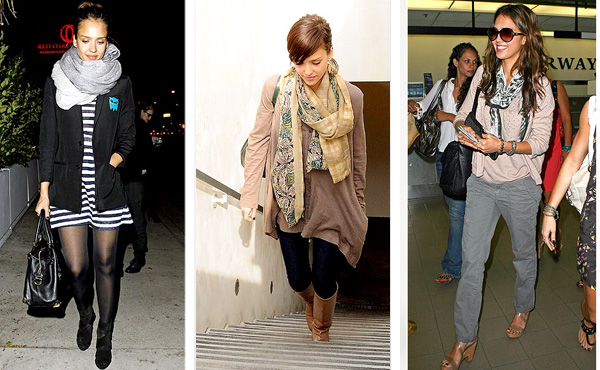 No matter the season, no matter the occasion, Jessica Alba would wear a scarf. A big scarf. On her mommy-daughter days with Honor, her go-to look is a simple tank accessorized by a colorful scarf tied or draped loosely on her shoulders.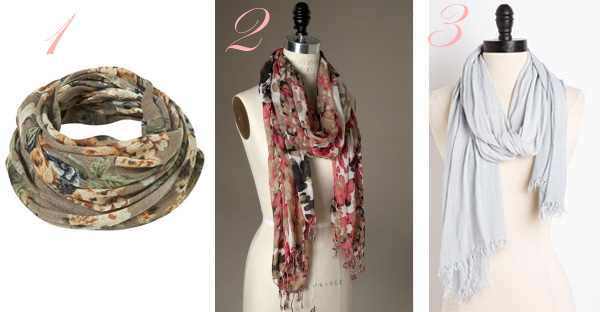 1. Pale Green Spring Floral Snood, $32, Topshop
2. Artistic Spots Scarf, $30, The Limited
3. Italca Gauzy Wrap, $38, Lori's Shoes
The Pants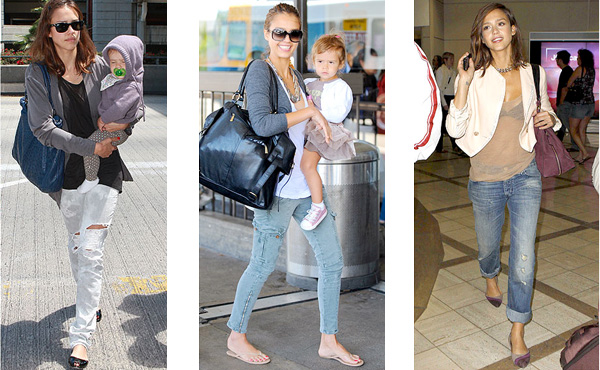 The "J" in J Brand must stand for "Jessica" because the star is always stepping out in the designer's jeans and cargo pants. Jess wears all the trendy pants such as cargo, distressed denim, wide legs and boyfriend jeans. If you're the kind of girl who goes trendy with tops and accessories, but keeps your pants basic and classic, it's time to shake things up. Pants are an awesome, but often neglected, way of showing off your style.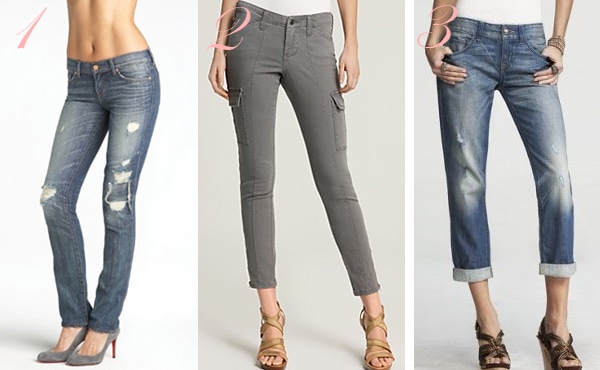 1. J Brand 912 Lowrise Pencil, $90, Boutique to You
2. Worn "Jasmine" Cargo Pants, $80, Bloomingdale's
3. Cropped Boyfriend Jeans, $70, Express
The Accessories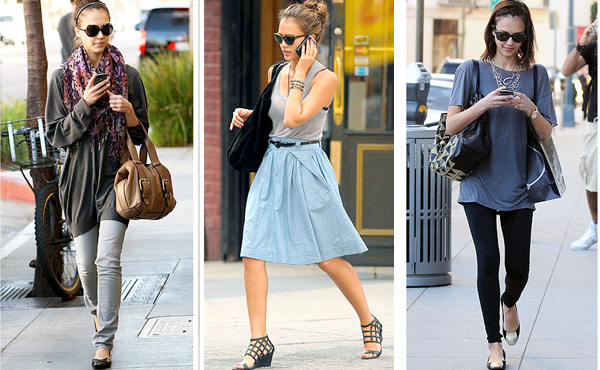 The ultimate California girl is never seen without certain accessories, the most imperative of which is a pair of sunnies. When it comes to shoes, it's always either embellished flats or detailed sandals, and Jessica loves accessories such as headbands (she wears one almost every time she puts her hair up), chunky bracelets, statement necklaces and totes… all in the same outfit. It sounds like a lot, but thanks to her low-key, easy-going style, it never looks over the top.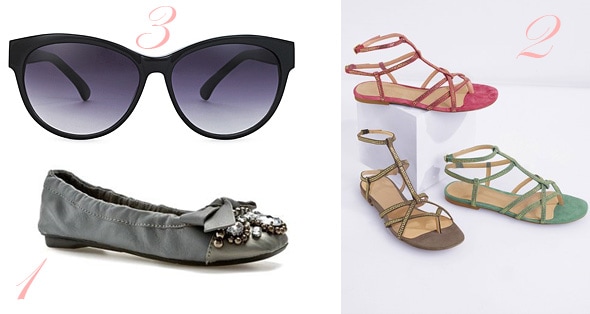 1. Kenny Loves Penny Treasure Flat, $50, DSW
2. Multi-Strap Studded Sandal, $48, Victoria's Secret
3. Cats Eye Sunglasses, $65, Vince Camuto
Tailored Jumpsuit
The Sin City star knows that a tailored jumpsuit is great alternative to a dress for a glamorous event. Jessica keeps the lines clean and tailored to give her look a contemporary feel. We love this timeless monochrome number. While Jessica has already been blessed with a slender frame (and heck, we've seen her heading to the gym enough times to know this girl workouts to stay in shape), this classic style works on women of all shapes and sizes. The black trouser section is super slimming while the white top draws the eye upwards. Team with a structured bag, statement necklace and strappy sandals for foolproof evening style.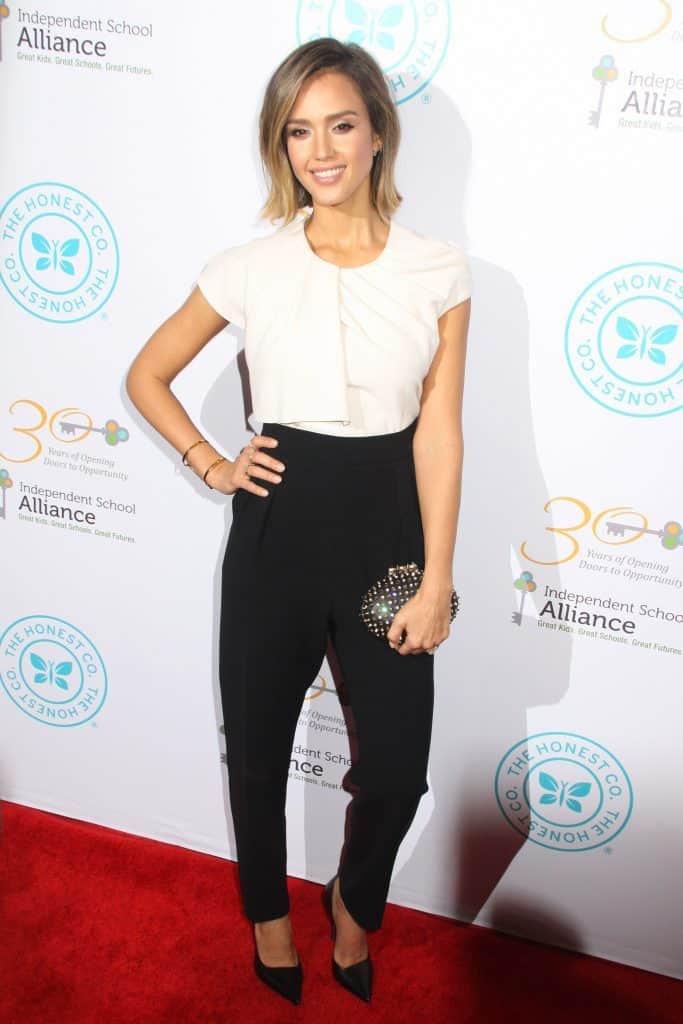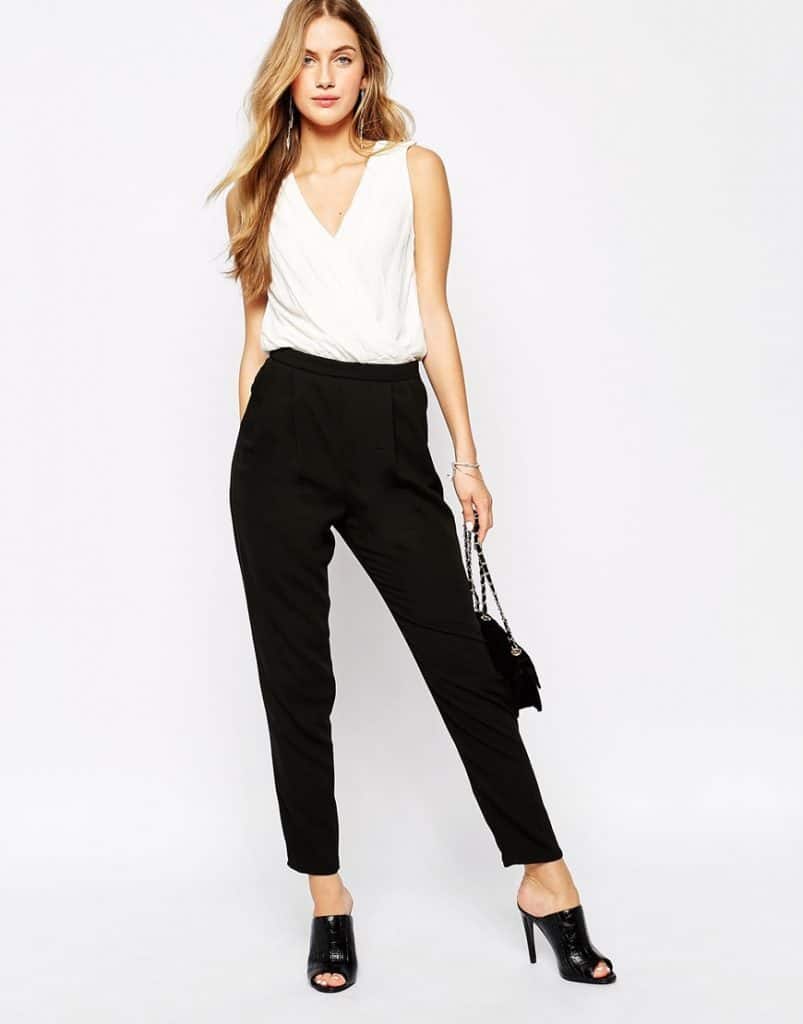 Skater Midi Skirts
Jessica Alba has been rocking printed midi skirts long before they became a closet must-have. While Jessica has the abs to team hers with midriff-baring crop tops, a-line skirts work equally well with tucked in blouses or simple tees. A midi skater skirt is an oh-so versatile piece that can work for any occasion. Team with a blouse and nude pumps for the office, strappy heels and camisole for evening drinks or with a plain tee and flats for daytime.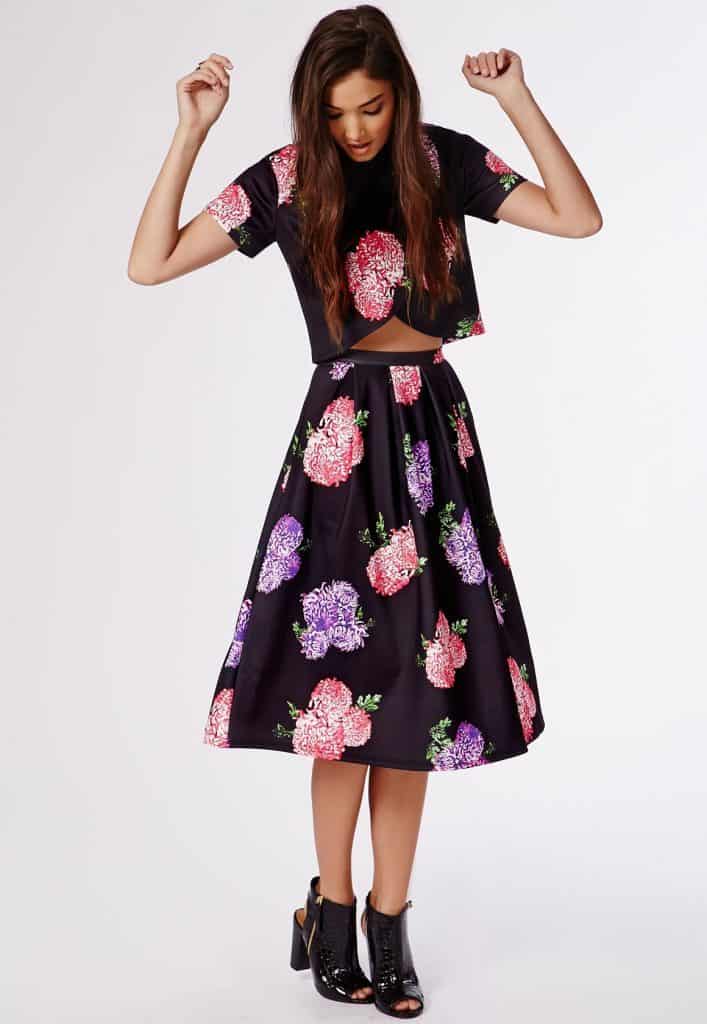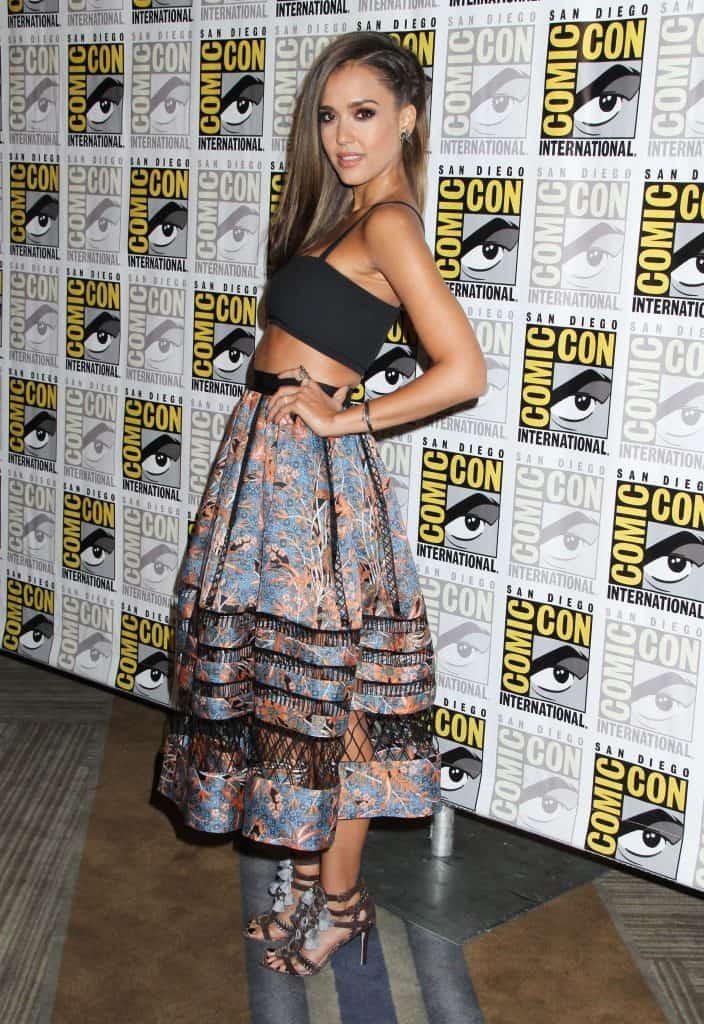 Which look will you try first? Leave a comment and let us know!