If you've spent some time on our site it should be clear that we're fans of ASOS. The site, whose acronym stands for "As Seen On Screen," is the UK's largest independent fashion retailer, and just a couple of short years ago, ASOS finally launched its U.S. dedicated site. With operations out of Atlanta, American shoppers now enjoy cheaper and timelier shipping. LOVE.
This post may contain affiliate links. See our privacy policy.
We also enjoy ASOS because their collections are nearly always on-trend and boast that special, stylish Brit edge (LOVE, part 2).
The site has a pretty wide range of prices; a dress can run you anywhere from $15 to $600, with the majority of the prices hovering under $100 (which we, of course, like). We consider it similar to H&M (but with a bit more British eccentricity) … the kind of place you'd go to get fabulous, trendy pieces at great prices, but not our stop for high quality basics that we want to last forever. Because the enormous inventory can be overwhelming, we have a few tips to improve your ASOS shopping skills:
How to Shop Asos
Outlet section hard to find – now Outlet/Clearance
Hang Out In The Outlet. Well it used to be "The Outlet" but now it's harder to find, and been given the sad sack name of "Outlet/Clearance." Regardless, the ASOS Outlet section is naturally our first stop on the site because it's the best place to find true steals. The Outlet has thousands of pieces to choose from and it's rare that we don't find something to satisfy our hunger for trendy items in there. If you're looking for a piece that's still very of-the-moment we recommend looking in the "New In" section of the outlet. The prices are still usually around 50% off but you'll also find the latest looks, along with some even cheaper items that are, well, pretty random. That's not to say that seasoned budget shoppers couldn't find some great things in there, just be prepared for a lot of "what were they thinking?" items to be thrown in the mix.
Learn The ASOS Brand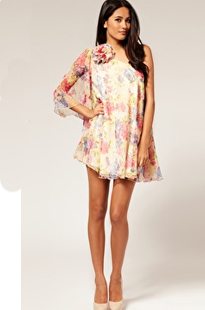 Though the ASOS site also has items from over 850 brands, many of our favorite items come from the in-house ASOS design team because their collections are usually directly reflective of trends, and very reasonably priced. Within the ASOS brand there are different collections and if you're looking to get in and out of this virtual shop quickly you should learn the collection for you in order to save time.
"ASOS Collection" is the main line and also the trendiest of the bunch, full of feminine dresses, vibrantly-colored clutches and super cute-and-quirky accessories. It's also the place to find ASOS basics and accessories. "ASOS Black" boasts fancier pieces with the collection consisting largely of dresses with amazing detail and texture, as well as higher prices to match the luxe fabrics. "ASOS White" is the stylistic opposite of "ASOS Black" (again, hence the name… they're quite clever over there) and full of clean lines and must-have basics likes silk shift dresses and chic handbags. "ASOS Revive" and "ASOS Salon" are two small collections of vintage inspired pieces-think antique lace and colorful caftans. "ASOS Curve" is the brand's plus size collection which is about one tenth the size of the "ASOS Collection." And finally, they also have "ASOS Maternity" and "ASOS Petite" lines, "ASOS Green Room" (environmentally-friendly) and "ASOS Africa".
Phew, got that? Go ahead and read through that again – we'll wait.
Refine Your Price Range
We love when sites offer the option to specify your price range for items and departments because it takes away the temptation of just looking at the expensive pieces. The ASOS site makes it easy for you to specify your price range down to the dollar with a handy tool in their sidebar. If you're looking to be especially frugal you can also choose to list items from lowest to highest price which is not a revolutionary ability for sites but still extremely useful for shoppers on a strict budget.