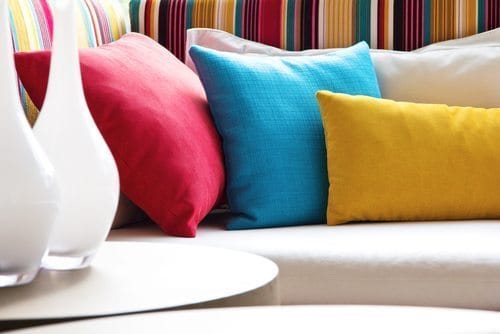 Blame those addictive home makeover shows on HGTV, or maybe you've simply had one too many drinks during your last girls' night out. Whatever your motivation may be, we would like to congratulate you for finally deciding to give your house a more updated look.The good news is, you don't have to spend $40 to $75 per hour to hire an interior decorator to give your crib the style it deserves. You can so do this on your own! And to get the ball rolling, we gathered the most common home decorating myths that seriously need to retire already. We also included great tips and links to free, useful resources and inspirations for home decorating.
Common Home Decorating Myths Dispelled
Myth: Everything must match.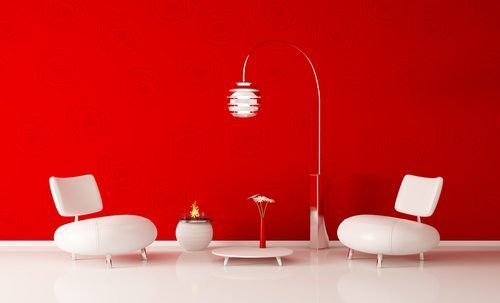 Modern interior of room via Shutterstock
No way. Matchy spaces can feel thick and boring, lacking in depth and warmth.
A Better Idea: Mix and Match!

1. Coordinate your house by finding an inspiration piece like china, fabric, a photograph or painting, and pull three to four inspiration colors from there.

2. Use those colors as your main palette for each room but give each room an individual feel by coordinating accessories that fit that color.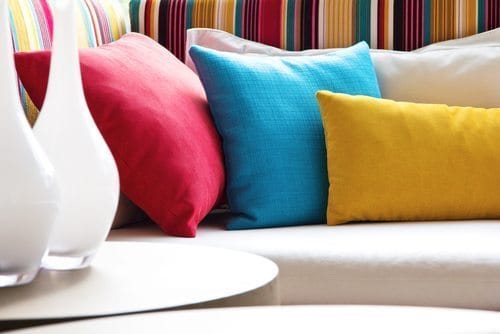 Decorative Pillow Natural Fabric via Shutterstock
3. Coordinate colors by uniting them in pattern or medium. Or coordinate disparate patterns by uniting them in color.

4. While you should think of rooms as unique, also remember that they are part of a whole. In our house, from the front door you can see into four different rooms. Knowing that, we planned a scheme using both bright and neutral colors. The main room is a bright blue-green, the next room is a neutral tan, and the following room (the kitchen) is an orangy-red. To go from blue-green to orangy-red, we kept them in the same warm color family, and used two prominently displayed pieces of artwork that incorporated those colors to ease the transition.
Myth: Line up furniture against the wall (symmetrical furniture)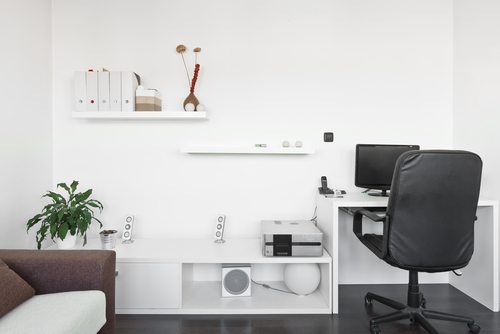 Modern living room via Shutterstock
Pushing furniture against the wall limits what you can do with your space. Furniture is not only a comfortable place to watch TV, but it can act as a space facilitator, which is just a fancy way of saying, you can use it to create spaces. Not everything has to be organized around the TV.
A Better Idea: What about putting two chairs together in the corner by a book shelf? This would make a great place to read and facilitate more intimate discussion.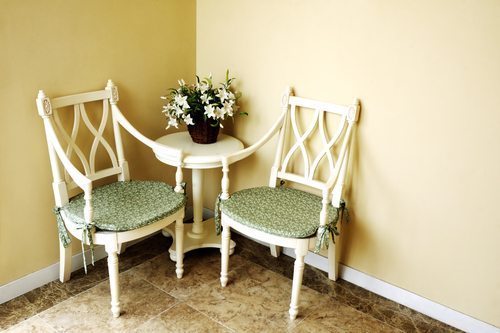 Interior of a room corner via Shutterstock
Here are some great sites if you need help designing a furniture floor plan, room layout, or simply rearranging your furniture. All of these sites offer floor plan and layout ideas for free.
1.Jordan's offers a free web-based program that lets you experiment with layout, before you do the heavy lifting.

2. We love to browse the BHG web site for room ideas. Registration required.

3. Normal Room is basically our new Web addiction; you can browse photos of normal homes from across the country and get great ideas. Upload your own.

4. iVillage also has a fun collection of room inspiration ideas.
Myth: Neutral colors are classic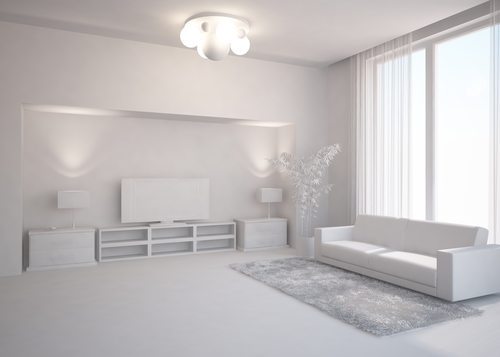 Grey interior via Shutterstock
Actually, neutral can just be boring. Don't let your living space fall into the monochromatic trap.
A Better Idea: If you don't have the luxury of painting your walls, staple colorful fabrics over wooden frames and add them to the wall for a burst of color.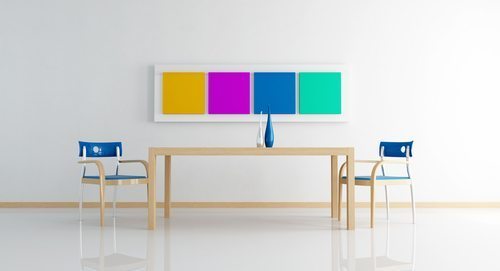 Minimal white dining room via Shutterstock
Paint your bookshelves with bright yellows and greens to make those white apartment walls pop.
Myth: Don't mix florals and plaids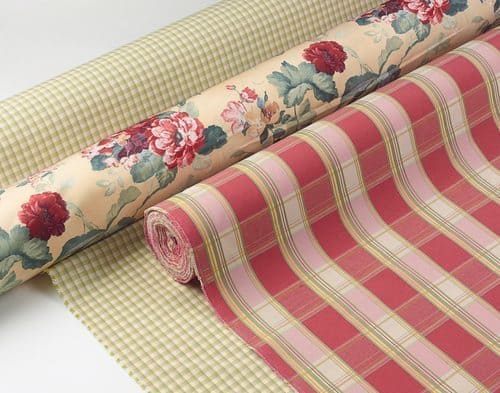 Beautiful fabric texture via Shutterstock
A Better Idea: Please, mix florals and plaids. Mixed patterns create depth and warmth in a room. You can go too overboard with this idea (you can go overboard with any idea). So if you are afraid of messy excess in your design, consider rotating favorite decorating pieces. You don't have to display them all at once. Create cohesion by looking for common color schemes and themes. This will let you mix patterns and fabrics and styles. Mix them all. Find what you like and bring it home. Odds are you will find a recurring theme. Are they all green? Does everything have birds on it? Find the common thread and go with it.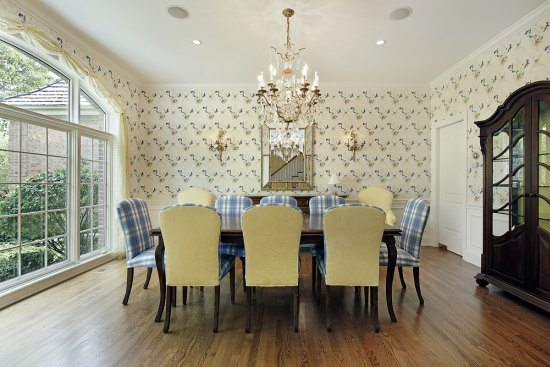 This elegant room (pictured above) marries blue and yellow plaids with the pale yellow and blue floral wall patterns to give a warm country touch to the upscale dining room.
Myth: Stick with one style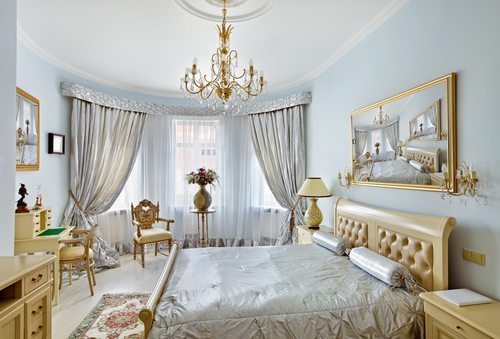 Basically see above. Just because your lamps are art deco, doesn't mean your coffee table has to be.
A Better Idea: Again, find what you like and create cohesion to your look by uniting with color and theme. Use a picture, a print, or a pattern on china or a pillow to unite this look and display it prominently in your home.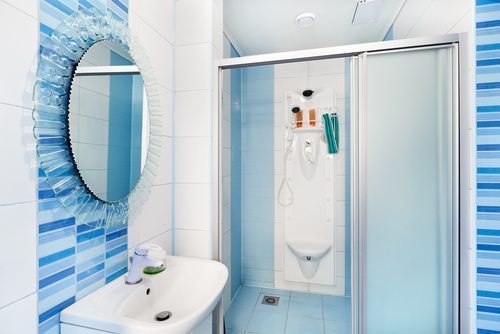 Modern bathroom interior via Shutterstock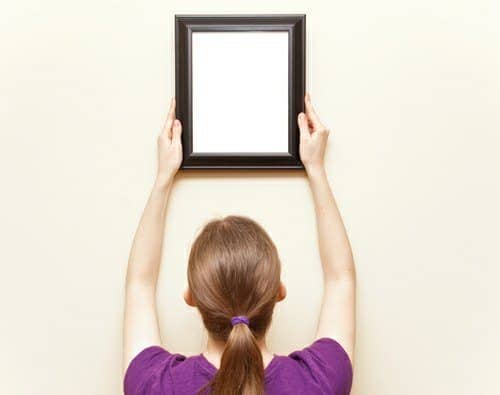 Myth: Hang pictures at eye level

Young woman putting up a picture frame
A Better Idea: Don't do it. After seeing our neighbor hang pictures, not above her fireplace mantle, but beside it, we decided to do something similar in our living room. We love the result. Think outside the picture hanging box. Consider a wall of pictures that extends to the ceiling and reaches to the floor. Your walls are the only limit.