This post may contain affiliate links. See our privacy policy.
Thank you to FSJ Shoes for sponsoring this post about spring shoe trends. All opinions are my own.
Clothing designers do their best to keep things interesting, season after season. This time around, they're pulling out all the stops: new textures and shapes mixed with old trends revisited (we're talking to you, neon). All of that makes shopping super fun, but it's not very practical if your day job requires a somewhat-subdued appearance.
All is not lost though. You can still play with this season's high-impact styles, just in smaller doses. When the trends go big and bold, we say go shoe shopping! Because you probably wouldn't wear a neon blazer to the office. But a neon shoe? That's doable.
So let's go play with the spring shoe trends, shall we? Read on for 10 budget-friendly picks you'll love.
10 Spring Shoe Trends to Watch
1. Feather embellishments
That's right, feathers. Valentino's spring 2019 ready-to-wear collection featured on a chunky, flatform sandal with a feather embellishment. That shoe showed up on the runway in maroon, red, tan and black — becoming a guidepost for spring shoe styles.
Now, you'll see feathers all over your favorite shoe store. And, you can easily find less colorful options than our feathered pick above, but why would you want to? This shoe, priced at an affordable $90, is the perfect anchor for a basic black dress or skinny jeans, belt and a lightweight white blouse.
2. The (sort of) practical sandal
There's always one style that feels almost anti-fashion, like it's poking fun at all of us trend-chasers. This season, we have the utilitarian sandal, updated with a platform wedge. The thick, chunky straps are made for stability over style. And the espadrille heel feels very organic — miles away from the runways.
But there is beauty in practicality. After all, you can wear this sandal with all of your favorite casual outfits. Jeans? Yes. Shorts? Of course. Dresses and skirts? Definitely.
3. Bold buckles
Buckles are popping up in new and interesting ways on the shoe scene. You'll see buckles big and small this season, which means you can dip a toe in this trend or go all-in. A modest buckle embellishment is office-friendly, too — even for career-minded ladies who don't like to stray too far from the power suit.
Our pick for this trend is the classy black-and-white slingback above. With a closed-toe, it's wearable in conservative offices. But the contrasting colors and metal details make for a very polished style statement.
4. Statement straps
Michael Kors' SS '19 take on the flatform sandal included high-impact straps that wrapped up the calf. And just like that, statement straps became a thing. Look for styles with long straps. If you're feeling bold, take the straps higher up the calf to mimic a gladiator style. Or, keep the straps closer to your ankle for more conservative occasions.
Our pick for strappy sandals comes in a gorgeous blue velvet that's sure to update your midi skirts and summer dresses.
5. The weave
Basic leather gets updated this season with woven textures — sure to make even the simplest shoe more interesting. You'll see the weave on almost every style, from ballet flats to wedges.
On a conservative pair of mules, woven leather speaks of elegance and wisdom. But it's also a fabulous, eye-catching detail on a racy pair of stilettos.
6. Rhinestone bling
If you can't resist a bit of sparkle, pick up a pair of shoes with rhinestone details. Stay on the conservative side with this shoe trend — shoes that look like chandeliers won't last more than the season. But a suede loafer with a girly bow? That's a classic choice with staying power.
7. Embroidery
Custo Barcelona featured embroidery in a big way in its SS '19 collection. True to runway form, Custo Barcelona embroidered ankle boots are not the most wearable footwear. But embroidered elements make for an interesting style upgrade to a casual summer sandal or a party pump to wear with an LBD.
As with the rhinestone trend, go into embroidered shoes lightly. A wildly colorful boot may feel right now, but you'll feel weird wearing it next spring.
8. Ocean-inspired elements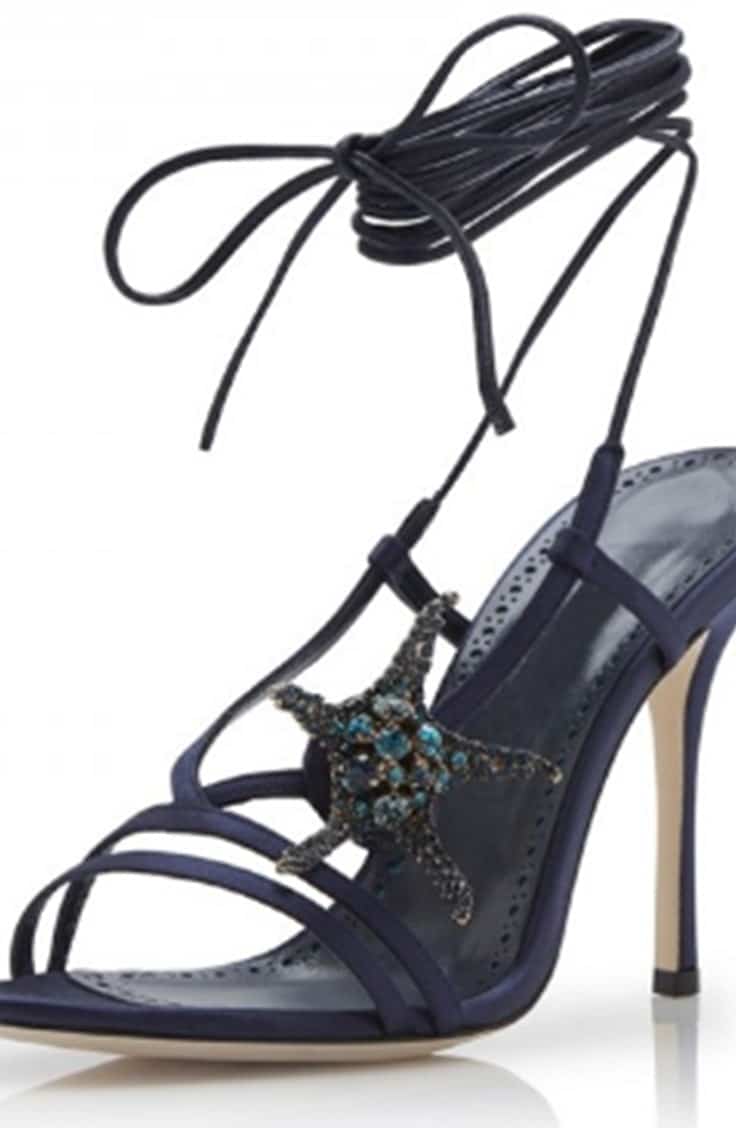 Ocean-themed elements are also on the style radar. Look for shells, fishnets, anchor details and even starfish on all your favorite shoe styles. A flat-soled sneaker with a sea print or even a boat shoe are obvious choices here. But we love the strappy pump with a starfish detail for dressing up on date night.
9. Clear shoes
The clear shoe trend had momentum last year, and it's still hanging around on the style scene. Buy a pair of these babies and you have the perfect excuse to upgrade your pedicure regimen for the warmer months. Or, if you don't feel comfortable baring your whole foot, look for styles with clear panels or elements.
10. New heel shapes
Runway designers will have you wearing heels that look like artwork — with spheres, cones, pyramids and even mismatched designs replacing traditional heel shapes. To make the most of this trend, look for fairly simple shoe styles that are upgraded with a sculptural heel. That way, the shape of the heel makes the statement (instead of competing with other features of the shoe).
These orange loafers are a lovely on-trend wardrobe addition for spring. They have a fun heel design that's perfectly wearable and will add a pop of color to your neutral spring outfits.