This post may contain affiliate links. See our privacy policy.
Ask most about buying for a boyfriend, or men in general, and the response is usually "They're impossible!" But once you narrow it down to a more specific category of interest, selecting boyfriend gifts becomes infinitely easier. Whether your guy is the type to spend the weekend in the woods, cooking up gourmet meals (count your lucky stars), or making fart jokes, we have just the thing.
Take a look at the holiday guide below and get your guy checked off early this year.
Boyfriend Gifts For…the Outdoorsy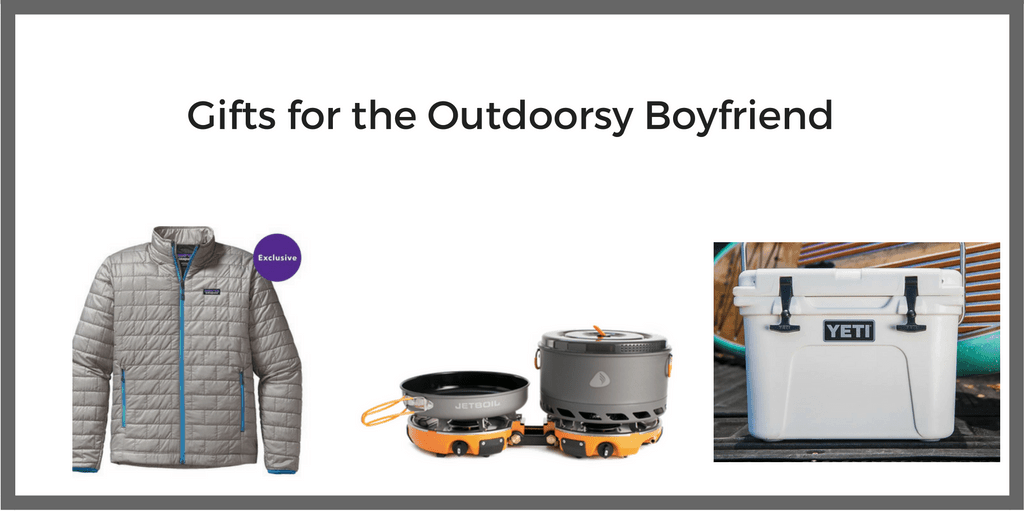 1. Patagonia Nano Puff Jacket
You really can't go wrong with anything Patagonia. This is the cream of the crop when it comes to outdoor wear. And, the brand is often jokingly referred to as Pata-Gucci, for its very fine quality and notoriety in the outerwear realm.
So, if your guy is the camping, hiking and general outdoor enthusiast, he'll be nothing short of pleased with Patagonia's Nano Puff Jacket. It's windproof, water-resistant and lightweight. Plus, it uses the highly compressible PrimaLoft Gold Insulation with 55% post-consumer recycled content, so it's eco-conscious as well!
2. Jetboil Genesis Base Camp System
Ask any outdoor enthusiast — the Jetboil is a camper's best friend. Whether it's making a cup of Joe at camp or heating up some soup after a day of backpacking, Jetboil's Genesis Base Camp System is a must-have for your avid outdoorsman. While Jetboil offers several different models, the Genesis Base Camp System comes with a fry pan, lid/strainer, two-burner stove and flux pot.
3. YETI Roadie
YETIs are pretty much the highest end cooler on the market. The brand offers several different types of coolers, but the YETI Roadie is the perfect size for a camping trip and is easily stored in a truck cab. It holds 14 cans and a recommended ice-to-contents ratio of 2:1. However, its patented design keeps ice colder much longer than your standard cooler so your guy's less apt to have a swimming pool inside after only a couple hours.
For the Comedians
1. Funny Holiday Shirts
Hilarious Christmas shirts are pretty much a holiday staple, especially for those with a healthy sense of humor. This idea is sure to serve as the perfect holiday fashion statement for your less-than-serious SO.
2. Potty Putter
Never again will you wonder, "What are they doing in there?" Because you'll know exactly what's taking so long. The Potty Putter comes with its own mini green (which works double duty as a floor mat if you so desire), cup with flag, two golf balls, putter and "Do Not Disturb" door hanger.
3. The Ultimate Richard Pryor Collection
If your guy is loyal to the art of comedy, then he'll get endless enjoyment from a collection that honors a true comedy king. The Richard Pryor Ultimate Collection is comprised of 5, feature-length DVDs as well as Pryor's biography.
For the Gourmand
1. Himalayan Salt BBQ plank
Real culinary experts know the value of a good Himalayan salt plank. This serves as an exquisite, chilled serving platter for sushi, or for enhancing the flavor or grilled veggies. Its multi-functional properties makes this a score for any guy who's looking to take his culinary game to the next level.
2. Shark Attack Sushi Platter
Sushi and sharks….I mean, what else is there to say really? This is everything you could want from a food platter of any type. You can find this one on Etsy, but you may want to be quick — the artist, who makes each by hand, will soon be closing up shop.
For the Fashionistos
1. Nixon Mission Smartwatch
The brand is known for making stylish, high-performing wrist watches for the fashion- and function-conscious guy. The Mission 48mm is a sleek, all-black action sports smartwatch containing software that works in tandem with both Android 4.3+ and iOS 8..2+.
2. Trunk Club
Trunk Club's motto is "personalized style without the struggle." If your guy is clotheshorse, then your search is done. Gifting Trunk Club gives him access to personalized stylists and a customized shopping experience with just the click of a button.
3. Piquadro Coleos Pack
If a briefcase is too stuffy and a gym bag too underwhelming for your style-conscious partner to tote between home, the office and gym, then he'll love one of these high-end packs offered from Piquadro Coleos. They come in an array of fashionable materials, pairing leather accents with colorful textiles.
That's our big list of boyfriend gifts. Is there one here that your guy will love?