Back in high school, you saw curves show up on the other girls in your class and waited impatiently for the same to happen to you. But sadly, your five-year class reunion rolled around and your curves still had not come. A small bust, narrow hips a non-existent waist define the boy-shaped body, but this figure can still be sexy. Some of the world's most beautiful women share your body type: Keira Knightley, Gwyneth Paltrow, Kate Hudson and more look gorgeous all the time despite their ruler shape. It's all thanks to a few style principles which we're now going to share with you.

1. Tops
Women with boyish figures can pull off a lot of shirts that other women can't, particularly tops with high necklines. Look for crewneck tops and blouses that bunch at the neck. You can also create curves by wearing tops with ruffles, pleats and embroidery, which will give your bust a soft, feminine look. Stay away from tunics, sweetheart necklines, baggy tops and anything strapless.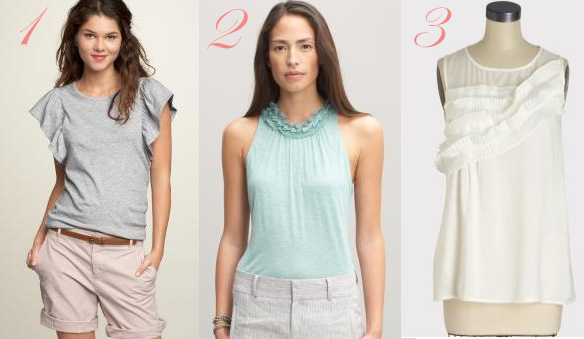 1. Flutter Sleeve Crewneck Tee, $24.50, Gap
2. Lace Trim Ruffle Halter, $45, Banana Republic
3. Tinley Road Pleated Ruffle Top, $44, Piperlime
2. Bottoms
With your slim hips, every pair of jeans looks good on you, but if you want to look curvier than you are, look for a pair of low-rise jeans with embellished pockets. Distressed jeans can also give you some contour. While you can wear anything, we suggest skinny jeans and leggings, mainly just because you can. They enhance your hips, show off your slim legs and transition from day to night.
With skirts, it's not so simple. Yes, you look amazing in a slim pencil skirt, but a tight mini will make you look boxy. Your best look is a swingy skirt that creates shape without making you look frumpy. You can accomplish the same look with a tulip skirt.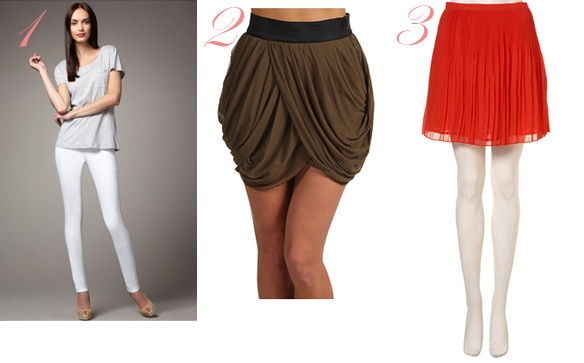 1. Spring Street Pull-On Skinny Jeans, $98, Bergdorf Goodman
2. LaRok Tulip Skirt, $98, Zappos
3. Red Pleated Short Skirt, $70, Topshop
3. Dresses
If you really want to make a boyish figure look fabulous, a dress is the way to do it. Most dresses are actually made for women with smaller busts, so you can wear about any dress you like. You'll look best in a sheath dress (think Gwyneth Paltrow wearing Calvin Klein) which shows off your trim figure or an empire waist dress, which hides your boyish frame. For this season, we think you should wear a maxi dress. It's on trend and accentuates your long, slim frame.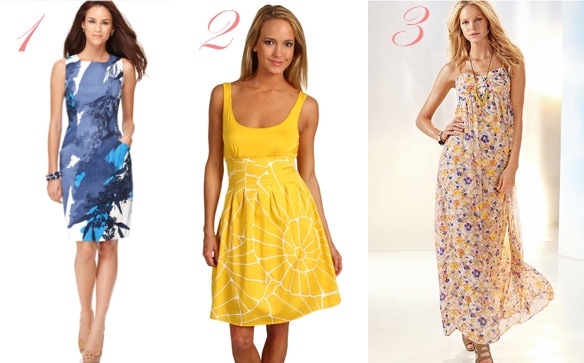 1. T Tahari Sheath Dress, $129.50, Macy's
2. Jessica Simpson Sundress, $98, Zappos
3. Henley Maxi Dress, $78, Victoria's Secret
4. Extras
Beyond the clothing basics, you can do a lot to add some oomph to your figure. Statement necklaces and belts at the hips can give you the illusion of curves. You can also give your figure a boost with the right bra. Padded or push up bras can help you make the most of what you've got. Frills and patterns to any bras or panties can add the appearance of fullness to your chest and hips.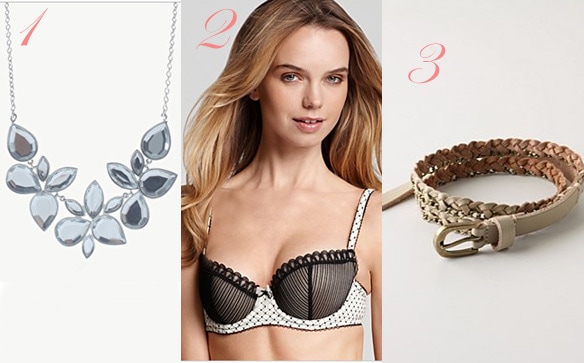 1. Karen Millen Statement Jewel Necklace, $84.27, Asos
2. b.tempt'd by Wacoal Push Up Bra, $38, Bloomingdale's
3. Finely Braided Belt, $28, Anthropologie
5. Image
You may look in the mirror wishing you had a more voluptuous figure, but remember that the grass is always greener on the other side, and a lot of curvy girls wish they had your supermodel-esque frame. A small bust and slim hips are not flaws, and they actually make clothes shopping a lot easier. You don't need to stress yourself out trying to create the illusion of curves– with your slim legs, svelte shoulders and tight figure, you don't need curves. So relax, throw on any pair of jeans you want, and love your body exactly the way it is.