Humanitarian, actress, supermom. These are just some of the words that have been used to describe Angelina Jolie. Director can now be added to that list, as Ms. Jolie's debut, "In the Land of Blood and Honey" was released earlier this year. No matter what hat she is wearing though, you can be sure it will be one that is tres chic. Angelina has amazing taste not just in men (hello, Brad!) but in clothes, as well. She often opts for neutrals rarely wearing prints, and her style is refined, elegant and classic, evoking Parisienne chic even when she's walking through the streets of New York with one (or two or five) of her children by her side.
This post may contain affiliate links. See our privacy policy.
Angelina Jolie Style Deconstructed
Neutrals – Perhaps it's because of her breathtaking beauty that Angelina sticks to a mostly neutral color palette. She consistently wears blacks and creams with a little gray or brown thrown in for good measure. Wearing neutrals is a great way to show off other attributes like your hair, eyes or your smile. In Angie's case, we guess that'd be all of the above!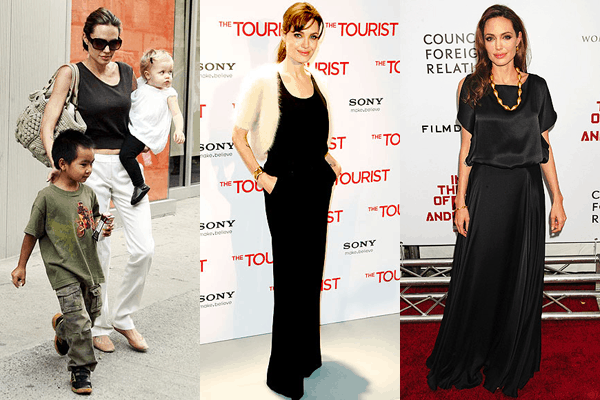 Credit: INF; Michael Murdock/Splash News Online; Jennifer Graylock/INF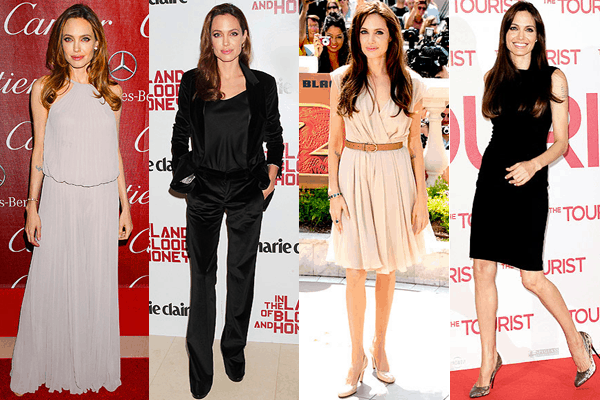 Credit: Francis Specker/Landov; Dave Allocca/Startraks; Doug Peters/PA Photos/Abaca; Adhemar Sburlati/Broadimage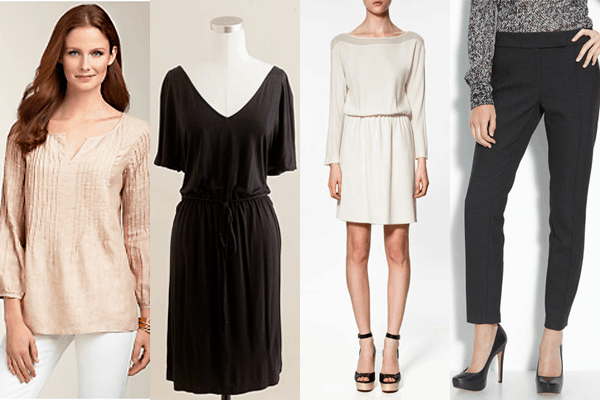 1. Linen top, $69.50 from Talbots
2. Black rayon dress, $49.99 (down from $88.00) from J Crew
3. Cream colored dress, $79.90 from Zara
4. Ankle length black pants, $59.97 from Nordstrom Rack
Trench coat – A classic trench is the perfect piece for any busy woman's lifestyle; it is the perfect blend of form and function. With a family of six, a post at the United Nations, and a steady career in Hollywood means Ms. Jolie is practically always on the go, so it makes sense that she would integrate such a chic piece into her wardrobe.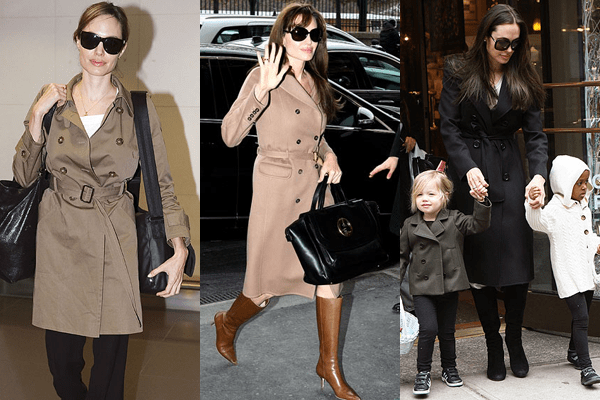 Credit: INF; Pacific Coast News; Splash News Online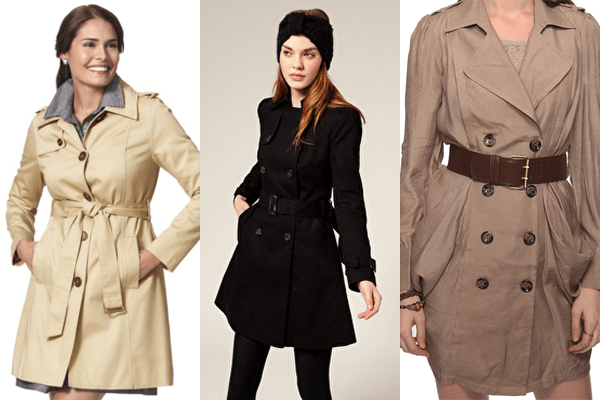 1. Trench coat, $49.99 from Target
2. Classic trench coat, $98.48 from Asos
3. Belted trench coat, $39.80 from Forever 21
Long Sleeve Dresses – This is one of our favorite looks of Angie's. The long sleeve dress is an elegant alternative to the oft worn strapless dress and Angie proves that just because her gown may have wrist grazing sleeves, that doesn't mean you can't still be one helluva knockout.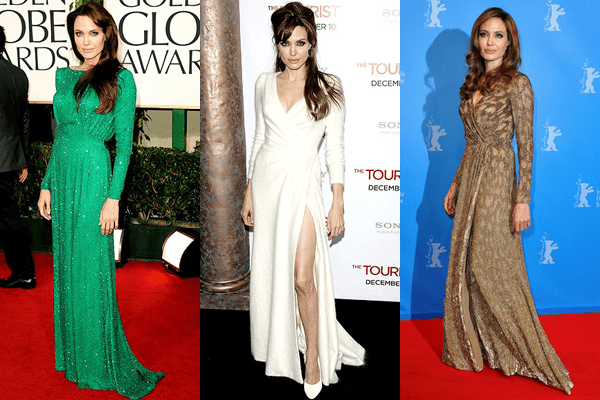 Credit: Steve Granitz/WireImage; Henry Lamb/Photowire/BEImages; Pascal Le Segretain/Getty Images Europe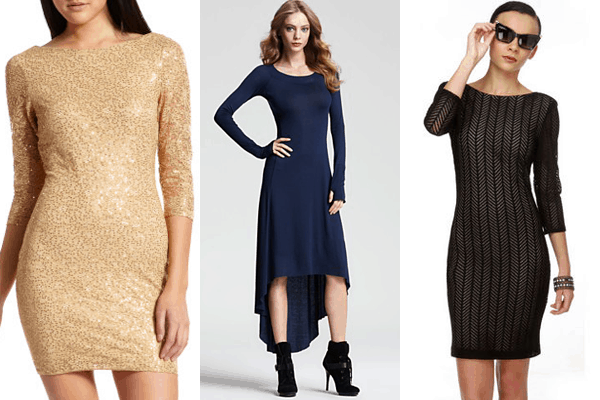 1. Floral lace dress, $44.99 from Charlotte Russe
2. Long sleeve dress, $118.00 from Bloomingdale's
3. Black mesh overlay dress, $59.00 from LuLu's
Tangerine – We all know how intelligent Angelina Jolie is, but this particular style choice has us wondering if she might be a bit clairvoyant as well. Angie is an early adopter of one the hottest hues for the spring/summer season: tangerine. Taking a break from her neutral choices, Angie looks divine in this deeply saturated color. It suits her dark hair, light eyes and creamy skin beautifully.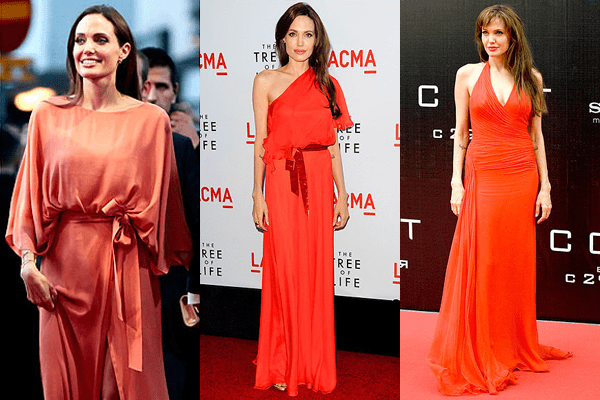 Credit: Dado Ruvic/Reuters/Landov; Sara De Boer/Startraks; Starface.ru/Splash News Online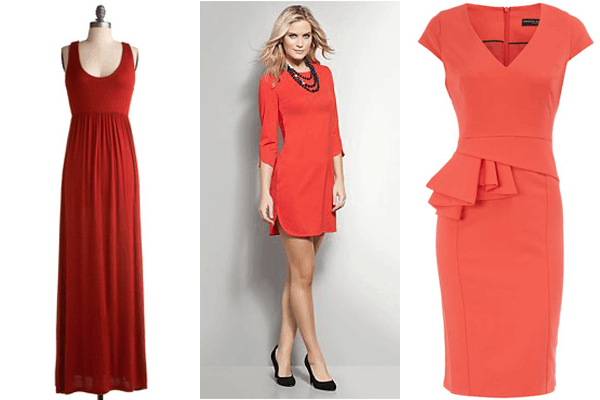 1. Tank maxi dress, $42.99 from Modcloth
2. Tangerine shift dress, $64.65 from New York & Company
3. V neck peplum dress, $49.00 from Dorothy Perkins
Aviators – Nothing if not consistent, Angie's favorite sunnies are the classic aviator style. She has been seen wearing them so often, they have come to be part of her signature look. If you were one half of the most photographed couple in the world, we suspect you'd never leave home without them either!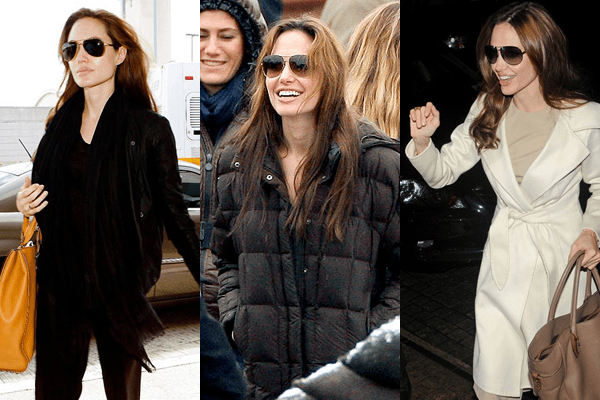 Credit: X17; INF; Bauer Griffin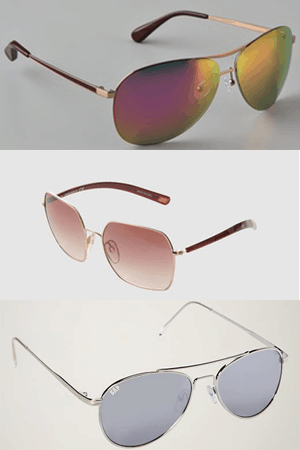 1. Marc by Marc Jacobs aviators, $98.00 from Shopbop
2. Miss Sixty sunglasses, $32.00 (down from 85.00) from YOOX
3. Classic aviators $9.95 from Gap
Angelina Jolie is a timeless beauty and her style echoes that. Her style is so minimal, that we often get the feeling that she wants her work (i.e. her advocacy for refugees, mothering her motley crew of adorable kids, directing films that tell stories that need to be told) to speak for itself, letting her wardrobe be just a subtle complement to all that she has accomplished. And she couldn't do it in a more elegant way.