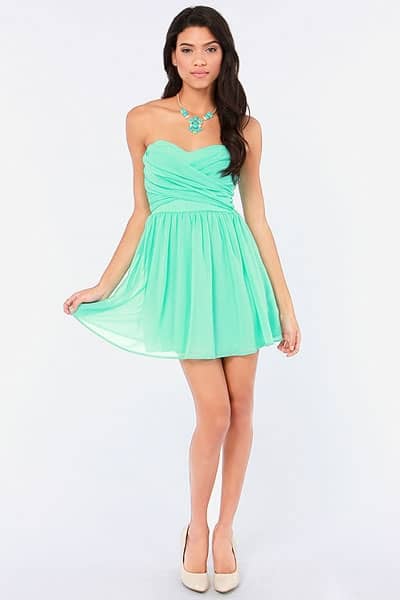 You need the best bridesmaid dresses under 100 bucks. But first, let's take a step back and say congratulations! You've found that perfect somebody who'll nurse you back to Soberville when you've had one too many Midori sours at the bar, and who'll love you despite your poor music choices in the car. (Admit it! You've been bopping your head to the Biebs' new song on repeat.)
You're that cloyingly sweet, so-in-love couple that you used to hate when you were single, and now that you're getting hitched, you've recruited your herd of besties as your bridesmaids. Assuming you're not having a theme wedding where requisite attire mandates the bridal party's wardrobe take a cue from Marilyn Manson, we've got 27 bridesmaid dress suggestions for you that:
won't have your bridesmaids screaming "the horror, the horror," and
won't have your bridesmaids filing for bankruptcy (Waiting for the bachelorette party and the colorful "performers" for that one…kidding!)
Bridesmaid Dresses for Less Than $100
What to Look for
Dresses that are designated as bridesmaids dresses are often more expensive. You'll have better luck finding less expensive options if you avoid the bridal store and just shop for nice dresses. Whether you're picking the same dress for all bridesmaids or letting your girls pick their own, you do need to set the ground rules upfront. First, make some decisions on what you like:
Fabric. If you are picturing a light, floating and feminine look for the bridesmaid dresses, look for chiffon, organza and tulle. For more structured looks, satin is a great choice. Charmeuse has a luxurious feel to it as well, but it can be unflattering and, styled incorrectly, can look like a nightgown.
Length. Decide early on what length you like. If the bridesmaids are wearing different dresses, consider their heights — a tall friend wearing a long dress may look like a lumberjack next to a petite friend wearing a short dress.
Color. You don't need to pick an exact color before you start shopping, but you should decide between the feminine pastel family and the bold solid family.
Style. Browse the collections below to get a sense for your style options. You can go with a fun, beachy motif or create a more formal experience. Remember that it's your day to show off your style!
For more specifics on finding cheap bridesmaids dresses, see our shopping guide here.
Pretty Pastels
A sleeveless pastel with ruching or embroidered details makes for a feminine choice for a warm-weather wedding. Pastels are popular for wedding because they're so soft in appearance and easy to complement. All three choices below are warm weather styles; if your wedding is in the colder months, pair these styles with a bolero jacket.
Bold Solids
Make a statement with these bolder bridesmaids dresses. A sleeveless shell in a rich color generally flatters and shows up beautifully in photos. A shorter length dress is a safer choice in these bold colors, so you don't run the risk of overpowering the whole experience with too much color.
Backyard Fun
Casual summer dresses can make beautiful choices for your bridesmaids. Look for a solid color and built-in styling — these options, for example, all have a fitted waist, which adds structure.
A Formal Affair
Complement your more formal wedding with long bridesmaids dresses in satin. The strapless gown is a timeless choice, but one-shoulder gowns or gowns with small straps can be equally elegant.
Beachy
Beach weddings create a gorgeous backdrop for light and flowy dresses in blues and greens. You can go long or short, but look for dresses that still flatter even with flats on.
Classic
Classic simple styles work well for bridesmaids dresses. Remember your girls will have flowers, updos and makeup to complete their look — which is why the tried-and-true styles are such popular choices.
Quirky
Go against the grain by choosing bridesmaid dresses that have interesting lace or metallic details, dark or very light colors, or even a multicolored design.
If the bridesmaids are wearing different dresses, these styles can be difficult to combine into one cohesive bridal party look — try sticking with the same colors and lengths, but then differentiating with textures and necklines.