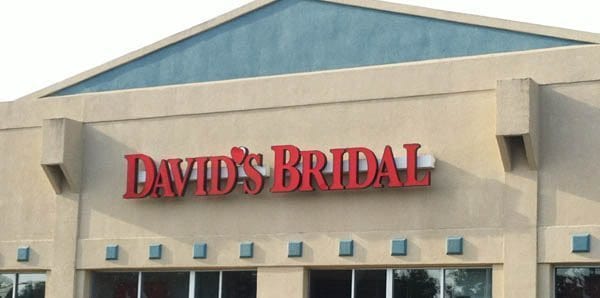 When we found out our own Michelle Y. was getting hitched (woo-hoo!), the topic around here was the dress, the dress, the dress. All this talk got me thinking: What's a day in the life of a sales associate at a wedding gown store like? We already know the bride-to-be is filled with tons of emotion, but does anyone ever ask how the associate is holding up? (Yeah, people say I'm too nice, but I'm just a super caring fashionista, that's all.
To find out, I caught up with Crystal Jeffers, who's been a wedding consultant at the Clearwater, Fla. David's Bridal for 10 years. She's dressed thousands of ladies so, needless to say, she's seen a lot. From dealing with potentially awkward, "how does this look on me?" moments to why working there could render her gym membership useless, she gave the scoop—plus some great tips and fashion observations to boot.
First, though, I want to give a shout out to David's Bridal, because they GET it. They understand we all have different budgets and therefore, offer options. Plus, I admit to being partial (I got my wedding dress at DB years ago and have memories I'll always cherish). "I love helping the bride on a budget because I know I can find her that special gown," says Jeffers. "While we do have designer brands like Oleg Cassini and White by Vera Wang, our DB studio collection has amazing dresses for all under $249."
Sigh. We're lovin' this.
So, without further ado, let's get to it. Crystal talks about how she deals and what she thinks, starting. . .now.
A Day in the Life of a David's Bridal Consultant
Move Over, Jillian Michaels
David's Bridal Wedding Consultant Crystal Jeffers (yup, she's got toned arms, all right) and husband Michael.
Crystal wants to make one thing clear. Her job is nothing like those "bridezilla" shows. Instead, it's about how she enjoys the "chance to be a part of the big day. It's an exhilarating rollercoaster of emotions," she says. "The best part is when the bride finds her dream dress."
In addition to providing helpful suggestions based on her experience and excitement over the big day, she's . . . wait for it . . . getting a rockin' bod in the process. Seriously, wedding consultants may be putting Jillian Michaels to shame.
"I think people would be surprised to know that I get such a workout every day," Jeffers told me. "I now have incredibly strong upper arms from carrying gowns back and forth to dressing rooms. It's almost as if I don't need a gym membership!"
Does this Dress make my Butt Look Big?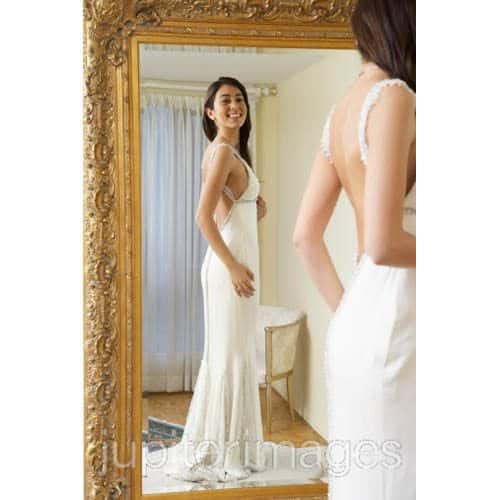 Uh-oh.
And we thought the men in our lives were the only ones plagued with this dead-end question. Well, wedding consultants often have similar moments where they watch the bride-to-be strut her giddy self in something, shall we say, hoochie-mamma snug ill-fitting.
Awwwkwaaaard.
How does an associate say, "Sweetie, it's sooo not working for you" without, well, saying it? As a customer, I've often wondered about this, having observed plenty of ladies emerge from a department store fitting room like they're all that (yeah, in another universe, maybe). So, how does a wedding consultant deal?
"First, I look at the bride's expression as well as the expressions of her friends and family," says Jeffers. "Then I start to narrow the options by asking what she likes and dislikes about this particular gown. I would never be negative to a bride during one of the most important moments of her life. I'd assure her that we have her special gown that she'll fall in love with."
Have Fun (and an Open Mind) When Looking for "The One"
Getting a dress can be overwhelming. So many choices, so little time. Such pressure.
Whoa. . . chill, will ya?
First, "Each bride should come in relaxed and ready to have a good time," says Jeffers. She's absolutely right. This is supposed to be fun, ladies, so don't lose sight of that.
Secondly, Jeffers recommends checking out the store's Web site for style inspiration. "This will give the consultant an idea of what to put together for the bride-to-be's visit. Also, keep an open mind." She explained that the consultant may have suggestions that, while they may not be what the bride would typically gravitate towards, could actually become an "a-ha!" style moment. Who knows? It might become THE one.
Right again. I can't tell you how many times friends have urged me to break out of my solid-color shell when I'm in the department store. When I try on a pattern, wow, I end up loving it. So trust your salesperson. Fresh advice can go a long way.
Finally, brides should not continue shopping after they've found "the one" (um, metaphorically AND literally, ladies). Jeffers says prolonging the search can be confusing, filling the bride's mind with doubt. Bottom line? Follow your heart. She suggests purchasing your gown if you've found the one of your dreams, because it might not be there tomorrow.
To Veil or not to Veil?
Just like gown styles change through time (right now, Jeffers says the sweetheart neckline is the most popular trend), so do veil preferences.
"When I started working at David's Bridal 10 years ago, every bride I worked with asked for a full headdress including a veil, blusher and tiara," Jeffers explained. "At that time, this is what all the major magazines were dressing their models in. It was very popular."
"Today, some of my brides are unsure about the traditional veil. But once I explain the meaning of the veil and that it's not just something an older relative wore when she got married, brides started warming up to the idea."
It also helps that Crystal doesn't just talk the talk. She gets into it.
"I start by putting veils on for fun. I romance the veil so that she can see the whole picture," she says.
"It really gets the brides involved."
Not before long, requests for Russian tulle blushers or colored hair clips are flowing in.
Here Comes the Bridesmaids
Secret: I used to cringe when I was asked to be a bridesmaid. Okay, more like get a bad case of room-spinning anxiety. My over-imaginative mind whipped up thoughts of slipping into a hot-pink- -'n'-pea-soup color combo with pouffy shoulders. Thank goodness for Crystal's advice:
"Find a dress for your bridal party that they can wear again. No one wants to spend money on a dress they will never use again," she says. "Especially in light of the economy, choosing a wear-again style will be a big hit among the bridal party."
Whew. No pouffy shoulders. Amen to that, Crystal. Amen.
What experiences have you had shopping for your own gown, or as a bridesmaid?