We are delighted to inform you that there is a very easy way to remember the top colors for 2012. All you have to do pretend you're at the farmer's market! Hang on a second… the farmer's market? Yes, we know this might not sound quite right (last time we checked blue overalls and brown rubber boots were not part of the 2012 runway shows… or runway shows from any year for that matter!) but, you know what was trending strong? The vibrant colors that are (hopefully) found in our reusable grocery bags! Let us introduce: lemon, tangerine, raspberry, lime and tomato – four fruits and a fruit/vegetable!

Top Fashion Colors for 2012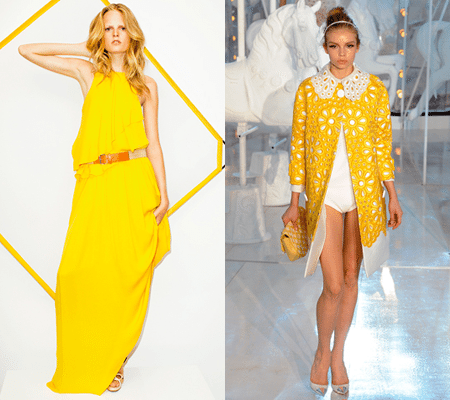 Credit: 10 Crosby Derek Lam/Style.com, Louis Vuitton Spring 2012/Yannis Vlamos/Go Runway.com
Lemon – This cheerful, sunshiney hue is just the relief we need after a dull, grey and (for those of us who are Northerners) slushy, damp, icy, snowy winter. Once seen only on rain slickers worn by fisherman in Maine, this particular shade, a bright lemon yellow, has become tres wearable! This is the boldest of the five top colors for 2012 and wearing it head-to-toe is not for the faint of heart. But don't be discouraged! A little pop of lemon here (or there), say a sheer blouse or sweet cardi can have a most pleasing effect. Having spent so much time looking at all this beautiful brightness has definitely given us a perma smile!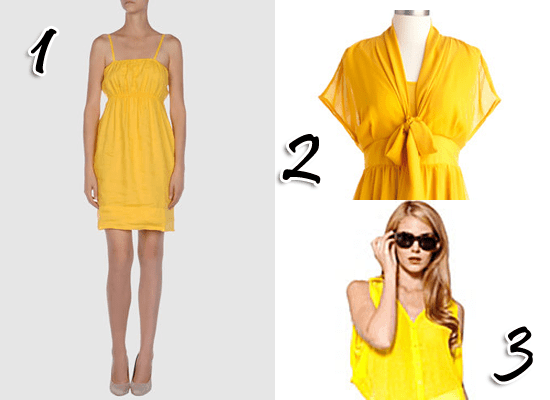 1. Chiffon dress, $49.99 from Modcloth
2. Spaghetti strap Calvin Klein Jeans dress, $59.00 from YOOX
3. Sleevless BB Dakota top, $69.00 from Dillard's