We're sweating through an historically hot and sunny summer, with no relief in sight. If you don't already have a great pair of sunglasses on hand to protect your eyes and face, it's time to make that purchase a top priority.
Once you commit to investing in a new pair of shades, one question naturally follows: What kind of sunglasses to buy? You're a style-minded, value-oriented lady, after all — which means you want to invest in sunglasses that are uniquely you, whether you're buying high-design, trending sunglasses or a cheap pair from Target.
Read on for five essential sunglass-buying strategies.
What kind of sunglasses to buy?
Here's the short answer. Buy sunglasses that look amazing on you.
Um, yes, of course. Fortunately, I also have a longer answer. You can identify that perfect pair of sunnies by focusing on your face shape, skin tone, personal style, the colors in your closet, and your lifestyle.
Ugh, so many factors to consider when buying, right? Don't stress — I'll walk through each one below.
1. Face shape
You've likely heard this advice before. Know your face shape and you'll know what shape of sunglasses to buy. It makes sense. Except that identifying your face shape is no straightforward task. You might be an oval with a frown on your face and a square when you're smiling.
To sort this out, try these methods of determining your face shape.
Use a photo. Take photos of yourself while looking directly at the camera. Start with a relaxed expression, then smile, and frown. Keep your chin level. Print the photos out and outline your face with a pen. Analyze the shapes of the outlines for similarities. Chances are, you won't see an exact oval, heart, circle, or square. But you will see something close to one of the shapes listed below.
Use a mirror. Repeat the process using a mirror and a tube of lipstick you no longer want. Make faces and outline them with the lipstick.
If you're still not sure of your face shape, show your photos to a friend. Sometimes we just don't see ourselves objectively, so a friend's perspective can help.
Now let's talk about the most common face shapes and the sunglass styles that work best with them.
Oval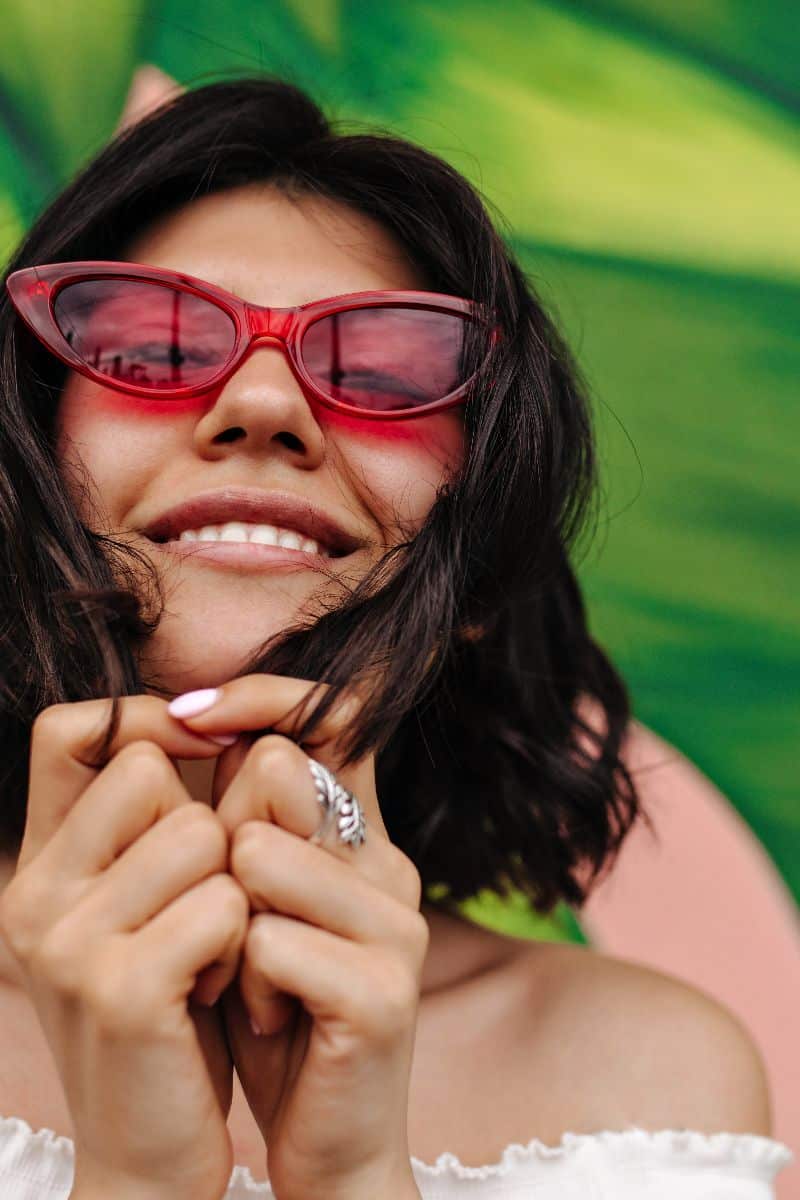 An oval face shape will look like an upside-down egg. Your cheekbones are the widest part of your face and your forehead is a tad wider than your chin.
This is the most versatile face shape. You can wear rounded frames or angular ones. The only style you shouldn't wear is a very wide frame.
Popular choices for ovals include square frames, rectangle frames, cat-eyes, and aviators.
Heart
Your heart-shaped face is wider at the top and narrower at the bottom. You have a slightly pointy chin. Think Reese Witherspoon.
The most flattering frames will balance out the softness of your face with angles. Or, they'll detract from your wide forehead with rimless frames or wide endpoints. Try rectangle frames, wayfarers, or cat-eyes.
Square
Square faces have a wide forehead, prominent jaw, and strong cheekbones.
Soften those strong features with round frames, oval frames, or cat-eyes.
Round
Round faces are similar to square faces, but without the sharp angles. Rounded chin and wide cheekbones are your stand-out features.
You can balance that softness with some angles. Go for rectangular frames or square ones. Cat-eyes and wayfarers can also flatter. Avoid rounded and narrow frames.
2. Skin tone
Knowledge of your skin tone will help you find a flattering color for your frames. If you don't already know your undertone, try Popsugar's skin tone quiz.
If you have cool-toned skin, choose cool-colored frames. Greens, purples, blues, and pinks work well. Warm skin tones, on the other hand, look lovely with red, brown, beige, or gold frames.
You can also go for a bit of contrast. So if you have fair skin, choose a darker frame — but not black. And if you have darker skin, go for a lighter frame that's not white.
As for lens color, the same rules apply, with one caveat. Check with your optometrist to see if you have any eye sensitivities that require special filtering. Lenses can vary dramatically in the level of protection they provide. Your doc may be able to recommend the best sunglasses to protect your eyes.
3. Personal style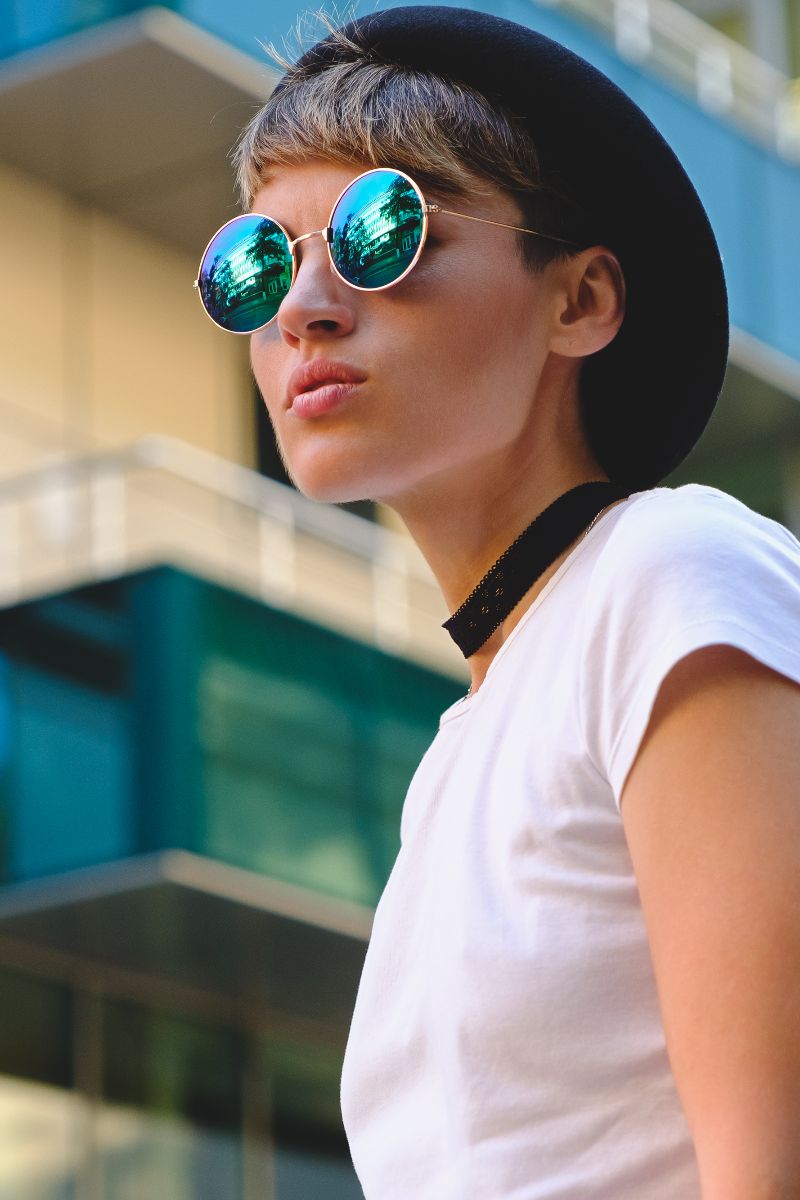 Your personal style can override the rules. Let's say this guide definitively implies that cat-eyes are the kind of sunglasses you should buy. If you don't like them, don't go that route. You'll end up with an accessory you'll never wear.
Since every face shape works with more than one frame style, just pick something else that suits you. These tips may help:
Rectangle frames have a practical, professional vibe.
Cat-eyes are quirky and confident.
Aviators are for thrill-seekers.
Oval frames are artsy.
Round frames are hipster.
4. Colors in your closet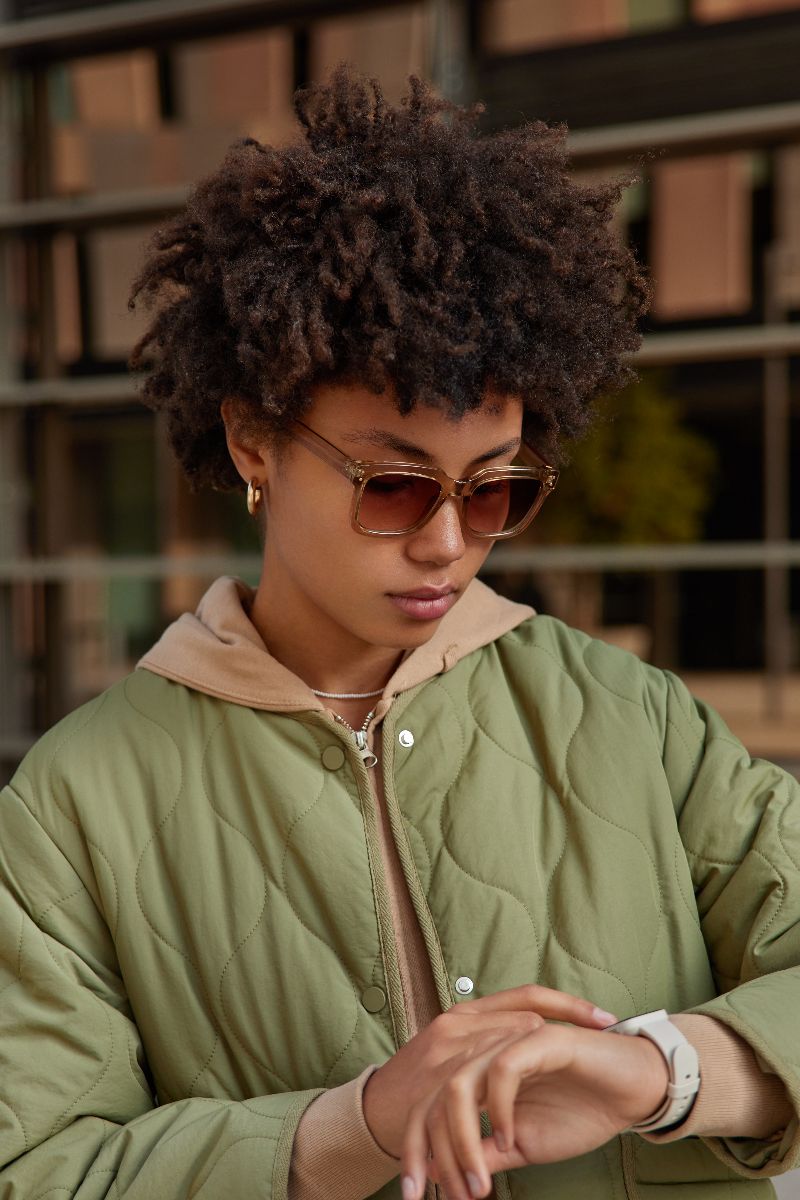 It can be tempting to ignore the rules of color with respect to sunglasses. If your only pair of sunnies are nude, for example, you might not think twice about wearing them with a yellow sundress — even though this color combo is usually a mismatch.
A better approach is to color-match your sunglasses as if they were a pair of shoes. Ask yourself if you'd wear nude shoes with a yellow dress. If the answer is no, don't make that pairing with your sunglasses.
To avoid getting locked into weird color combos, do two things. One, if you have no functional sunglasses today, start with a neutral-toned frame. Dark gray and tortoiseshell are usually good choices. And two, when you buy your next pair of sunglasses, consider the colors you wear most often.
5. Your lifestyle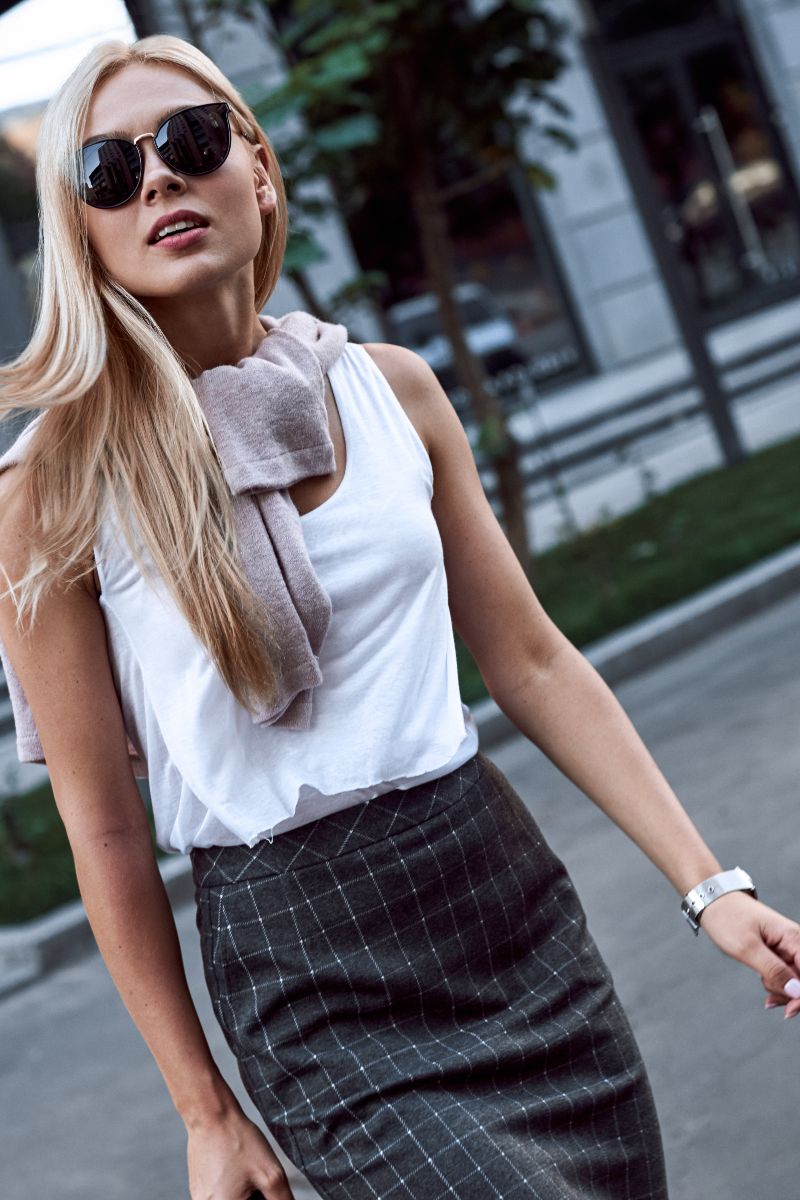 Think about aligning the vibe of your sunnies with the spirit of your lifestyle. Aviators are beachy and outdoorsy, for example — a great fit for boat parties and backyard BBQs. Cateyes are eclectic, perfect for antique shopping, art crawling, and city sightseeing.
Now obviously you're not going to buy a separate pair of sunglasses for every activity on your calendar. But as you're pondering what kind of sunglasses to buy, think about the things you do outside in your free time. That analysis should point you to a sunglass shape that suits your lifestyle. It may also reveal some features you'd enjoy, such as a durable frame material, polarized lenses, or scratch protection.
Sunglasses for protection and style
Sunglasses protect your eyes and your face from the harsh summer (or winter) sun. But they can also be a chic accessory and a representation of your own personal style. So here's the final answer to our headline question, what kind of sunglasses to buy: Invest in sunglasses that flatter your face shape and skin tone, align with your wardrobe, and fit seamlessly into your lifestyle.