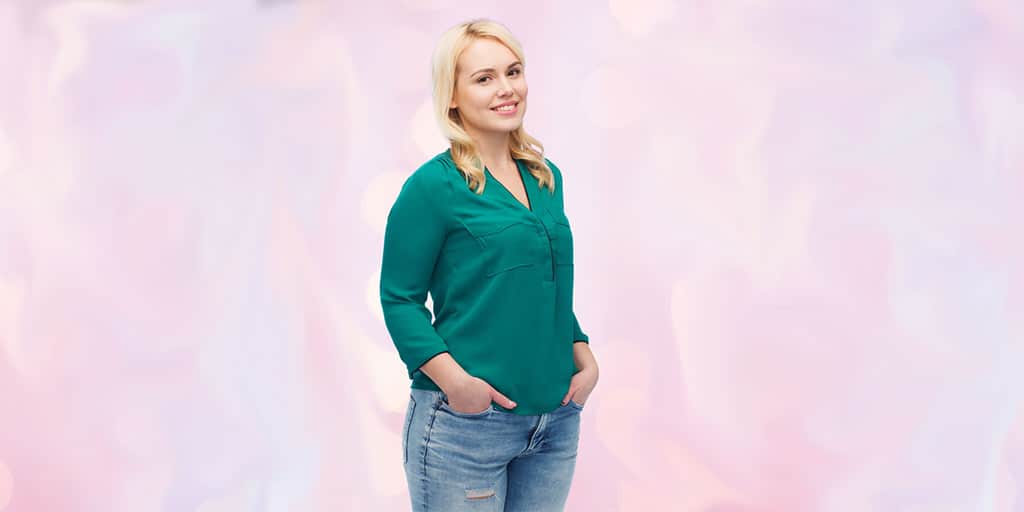 This post may contain affiliate links, which means I earn a small commission if you click and buy something (at no cost to you). See our privacy policy.
Need an adaptable wardrobe that still works for you through weight change? Here's how.
It's standard for many women to experience weight change, either throughout the month or over the course of the four seasons. Whether your body gains a few pounds according to your hormone levels or sheds weight in the warmer months, feeling skinnier doesn't have to mean you're swimming in your clothes. And "having a fat day" isn't a synonym for feeling your worst.
When the scale numbers tip higher, you don't have to hide away in sweatpants or bulky sweaters. Just follow these tricks to keep your look on point at every size.
Dressing Well Through Weight Change
1. Get familiar with fabrics
By the time we're in our 20s, most of us are pretty aware of which styles suit us, and more importantly, which ones we feel good in. But we may not be as versed in how fabric affects fit. Some pieces, for example, may look amazing on day 1, but end up stretching and looking sloppy after one wash.
To manage through weight changes, choose lightweight fabrics like rayon that drape well. This strategy works best when the piece has shape but isn't form-fitting. Tunics and peplum tops in a rayon blend will follow your shape, whether it's bigger or smaller, without adding bulk.
Chambray is another option. It doesn't drape as well as rayon, but it holds it's shape better than cotton.
2. Grab two
This is where you get sneaky — or, as I like to call it, practical. If you find a piece you love, get one in your biggest size and one in your smallest. If you had an outfit in mind that requires your favorite black pants, there's no time to rethink the ensemble when one pair is fitting too snugly, and certainly no reason to blame your body. Similarly, if a loose pair of pants is ruining a sharp look, just swap them out for your smaller pair. No one will notice a thing.
3. Watch out for the wash cycle
This one may seem obvious, because of course your clothes can shrink or stretch in the wash. But in those moments in front of the mirror, you may be too quick to blame your body for the weird fit — and it might just be your clothes.
Be diligent about the care of your clothes. Even if it seems like a hassle, follow those care instructions on the tag. And always pay attention to how the wash cycle changes the fit. If your favorite jeans are feeling saggy, throw them in the dryer for a minute. And when those same jeans are feeling tight, skip out on the washes for a bit.
4. Make accessories the edgiest part of your outfit
This is a tip that's as kind to your budget as it is to your body. Make sure your trend-driven, spur-of-the-moment buys happen in the accessories section. Have fun with dangly earrings that draw attention to the color of your eyes, rose gold platform sandals that'll bring some shine to everyday outfits, or that statement bag you've been eyeing for weeks that just went on sale.
5. Shop for clothes with purpose
Scratch the creative style itch in the accessories department, and then go with what works when choosing your mainstay pieces. Give yourself time and space to shop for tops, bottoms and dresses that flatter year-round. Pass on the ripped, acid-wash jeans that fit snugly on a skinny day. Say yes to the neutral, stretchy pencil skirt, straight-leg denim, lightweight patterned blouse and chambray shirt dress.