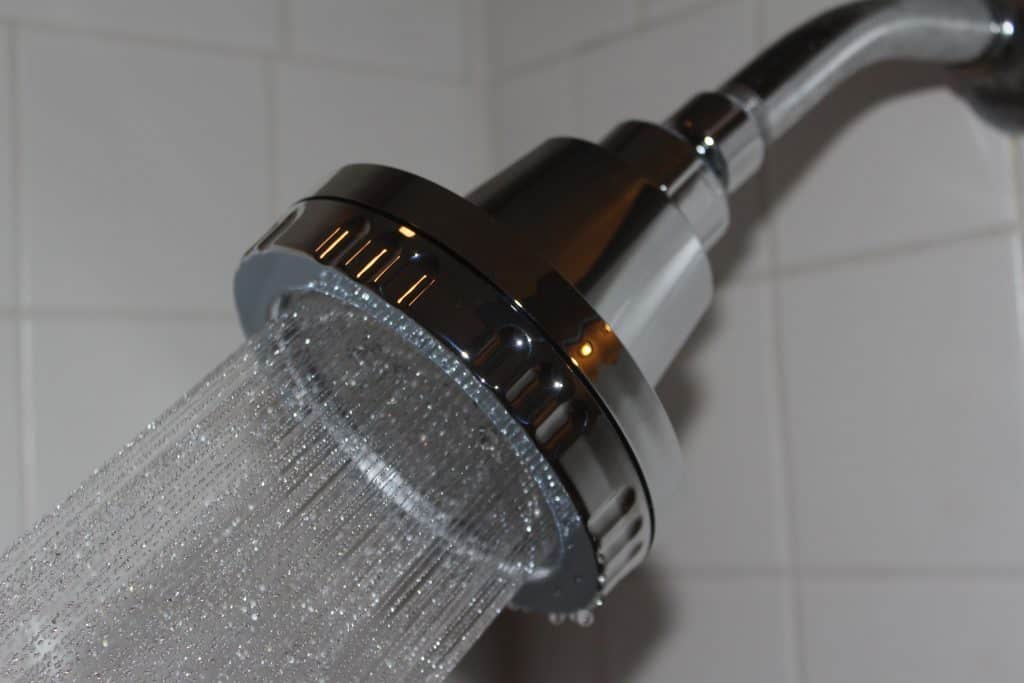 This post may contain affiliate links, which means I earn a small commission if you click and buy something (at no cost to you). See our privacy policy.
Readers, Aroma Sense sent us a luxury shower head for free and asked us to check it out. I did, and I found it to be a unique and fun product–definitely worthy of sharing!
Aroma Sense promises a high-pressure, scented, Vitamin C infused, clean water shower. And it delivers. I live in an old house, and the water pressure is pretty marginal. I've tried to address the issue with shower heads in the past, but none have been as effective as the Aroma Sense head. The wide head delivers a hefty stream of water that's strong enough to feel a little like a scalp massage.
Combine a firm flow of water with a mild lemon scent and you have pretty sensory shower experience. This luxury head also infuses Vitamin C into the water for healthier skin and hair.
The Aroma Sense Luxury Shower Head also has two other features that contribute to the experience in less obvious ways. First, ceramic beads inside the head create negative ions. Do a quick search on Google to understand the benefits of negative ions—the gist is that they promote feelings of wellbeing. Secondly, the shower head has a micro fabric filter to reduce contaminants and rust in the water.
Gift for the Girl Who Needs Pampering
This shower head would make a great gift for the girl who needs a little pampering in her life. And that girl could be you—especially if you're the type who looks forward to the shower as a little escape in your day.
The Details
The wall-mounted Aroma Sense shower head retails for $79.99. Other options include a medium or large hand-held shower head, which retail for $69.99 and $74.99, respectively.
These luxury shower heads are equipped with a Vitamin C infused cartridge that lasts sixty to ninety days. Replacement cartridges are $24.99-34.99, and are available in lemon, mango, jasmine, eucalyptus and lavendar. The head also has a micro fabric filter, which can be washed.
If you want to check out the Aroma Sense before you make the investment, you might find one at a Ritz-Carlton hotel or Burke Williams spa. But I'm guessing that will cost you more than buying yourself an Aroma Sense shower head outright.
Learn more at https://aromasenseusa.com.