This post may contain affiliate links, which means I earn a small commission if you click and buy something (at no cost to you). See our privacy policy.
My issue with most budget jewelry is that it looks costume-y. And I'd rather go sans-jewelry than wear cheap-looking stuff.
Fortunately for me, the nice folks at Joseph Nogucci recently sent me a nice package of bracelets to try. And I love them. Here's why.
Bracelets Designs
I received three beaded bracelets. All three feature polished stone beads with metal bead accents, strung on an elastic cord. The simple bead design is perfect for everyday wear, and I can stack them for more impact. Today I wore an Aura bracelet made of purple amethyst and polished steel. It was a perfect complement to my outfit, a silver and black blouse with black, high-waisted pants.
The three Joseph Nogucci bracelets I have are:
Selfless, Gold Aura Red Picasso Jasper Bracelet. Regular retail price of $38. On sale right now for $14.99.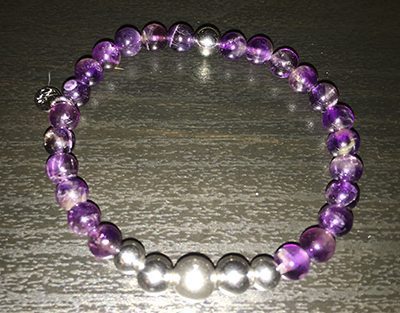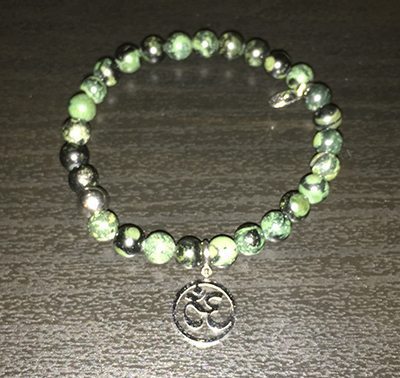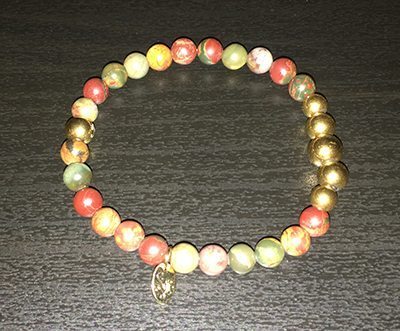 Take a spin over to JosephNogucci.com and you'll find pages and pages of bracelet designs, stone colors and bead combinations.
Fit
Since Joseph Nogucci bracelets are strung on an elastic chord, they're pretty versatile size-wise. I probably have smaller-than-average wrists and they fit just fine. If you have large wrists, you'll have less movement, as the bracelets will sit close to the smallest part of your wrist.
One downside I noticed is that the beads do occasionally pull on my arm hair when they roll up and down my wrist. It's not a big deal in my book, but you may think differently.
Bracelet Prices
Prices range from about $12 (on sale) up to $98. There are a good many choices below the $20 price point, which is a great thing from a jewelry designer. As of right now, there's a sale code (Zen) on the site that's worth a 60% discount on your purchase. That's a deal worth talking about.
Bracelet Packaging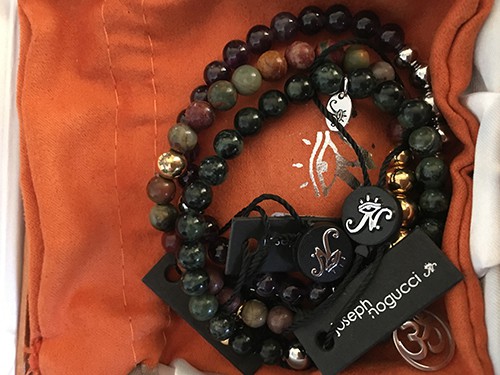 I don't buy products for the packaging, but it's always a pleasant surprise when something shows up beautifully wrapped. The bracelets arrived in a lovely white and gold box. Inside the box was a soft, orange draw-string bag to keep the bracelets in, plus a certificate of authenticity. The wrapping alone is enough to make a girl feel pampered.
So, thumbs up for Joseph Nogucci bracelets — they're perfect everyday wear for this budget fashionista.