'Tis the season for holiday movies, wearing toasty hats and getting some fake ones that everyone will admire. Wait, I'm talking about fake flowers. (What'd ya think?!) Anyway, real flowers are 1) are a tad too pricey for my budget and 2) die way too soon (ah, water, schwarter) so I'm all about snatching up artificial ones. But the trick is to make them look off-the-florist-truck real. Here's how to spruce them up this holiday season.
How to Make Fake Flowers Look Real!
Tag, You're Not It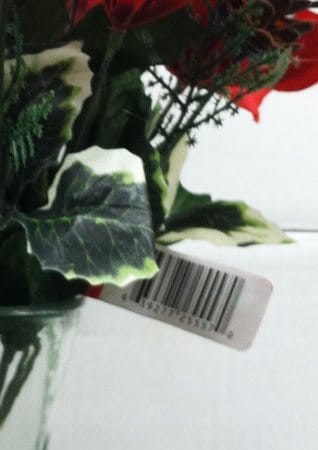 I'm always embarrassed when a friend reaches over to tuck in the tag that was poking out from my blouse for hours. Point is, people notice that stuff. On clothing, it's understandable. It happens. But nothing says fake flowers like a store tag still stuck to your lovely bunch of poinsettias. Give your fake flowers a good once (or twice) over to make sure people will see a flower, not a bar code (or a frayed leaf edge – do a string check too!)
Peek-a-Boo, I Shouldn't See You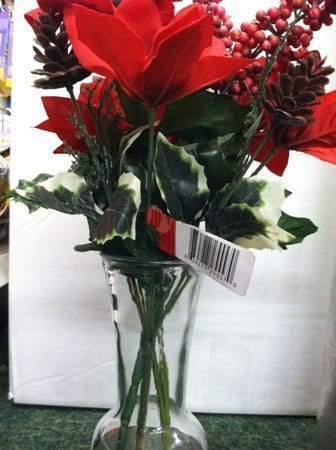 A fake flower "don't." Stay clear of clear vases and please, remove the tag.
I used to plop my artificial flowers in a clear vase and call it a day. My flowers looked great. But the stems? Not so hot. All I saw were a mess of plastic and wire "stems" that ruined the look. Sounds obvious, but making fake flowers look real means thinking about the entire picture, not just the pretty petal part. Silly me for not realizing sooner that clear vases aren't always the answer. If I can't help myself though, I at least add water to give the appearance that those thirsty stems are happy. Frosted vases or wicker are now my favorites for showing off all the real looking parts while hiding the rest.
Be Natural – Nothing's Perfect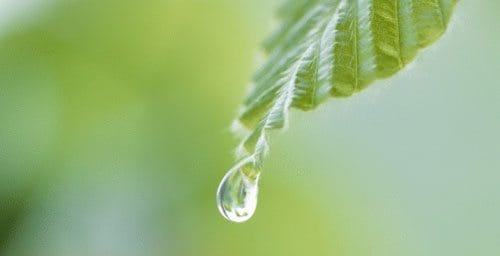 Making fake flowers look real is not about perfection. Nothing's perfect (well, a nice pair of booties maybe, but beyond that . . . ) Real flowers bend, droop and have a few funky leaves. To give them that same look, I dig in . . . literally. I crumple a couple of leaves, bend one flower so it's down lower than the others or so it has the appearance of stretching towards sunlight. When I'm really caffeinated, I bring in some dirt or real pine cones from the outside or even spritz with water before guests arrive for a fresh-plucked, snow-melted look.
Get your Glitter On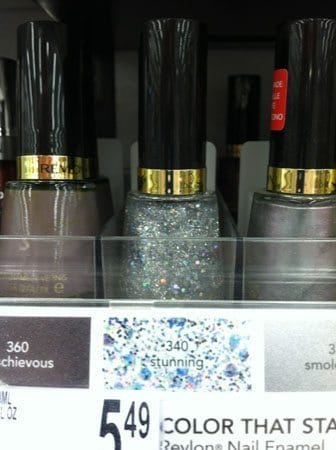 Glitter nail polish is perfect flower "frost."
Ah, gently falling snow as it dusts the landscape. So Currier and Ives, so winter wonderland-ish. So . . . tacky if it looks like pine sprigs were rolled in vanilla frosting. Or worse, the very unnatural gold "snow" look. I mean, it's pretty, but everyone knows it's not real. I love that wintry look, but break out the glitter and glue like I use salt: sparingly. (Who knew? Flowers and health tips, all in one). Glitter on every petal or down the entire length of every stem is not only time-consuming (let's face it, there's shopping to be done, ladies!) but it's unnatural. For a fast and affordable glitter fix, I turn to my clear glitter nail polish and dab some on a few leaves.
Use Common Scents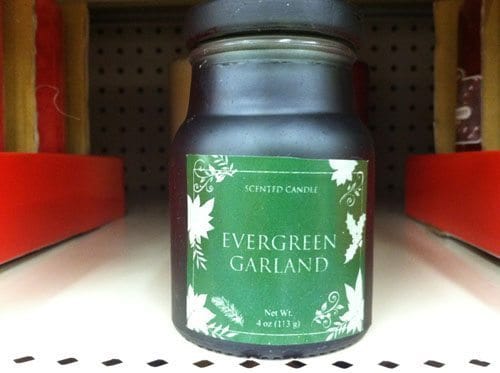 Nice as it is to have gingerbread or peppermint scented candles around, when it comes to making fake flowers seem real, Mocha Mint Melody don't necessarily do much in the realism department. I like to keep pine or earthy scented candles nearby. I've tried my best to make my flowers look real so I'm not going to blow it with Cotton Candy Breeze wafting through the air.
Take Your Places, Please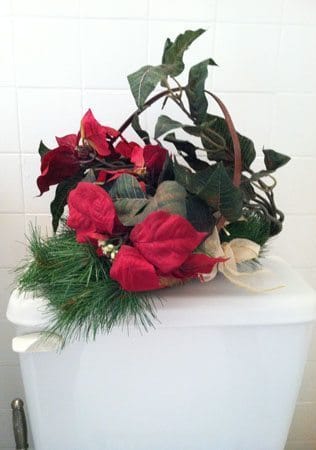 Um, no.
My grandmother used to have fake bowl of fruit on a table at end of a hallway. Dusty grapes and pears greeted my entrance to the bathroom and it was years before I could bring myself to eat fruit of any kind. Kidding. But she really did do the fake fruit/random hallway placement thing and to this day, I try to keep it real. Seriously, would spruce sprigs really reveal themselves on a toilet tank? I like to place my artificial lovelies in as realistic a setting as possible: the mantel (of my artificial fireplace, lol), near the door, on the steps outside or near a window.
Pine Trees Don't Grow Presents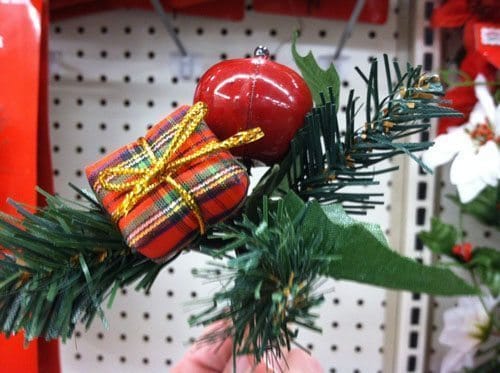 "Ooohhh, look! Money doesn't grow on trees, but teeny gifts do." (Avoid this – it just isn't natural).
I love cute things. I really do. Kittens and puppies and those Facebook images of reunited families make me hit the "like" button constantly. However, I'm all about forgoing those extra fake flower elements like glued-on mini presents, bells or ribbons lined with Mickey mouse faces. The vase or bowl they rest in can have a gold ribbon or cute decorative element, but a shimmery elf dangling from a poinsettia leaf is an, er, dead giveaway that these suckers aren't the real deal. I'm quick to remove, and find other non-flower related uses, for the accessories.
What things have you done to make your fake flowers look real?