When you buy via links on this page, I may earn an affiliate commission. Learn more.
One lesson we learned from the recently concluded New York Fashion Week is this. Sequins are back, baby. Coach, Tom Ford, Oscar de la Renta, Michael Kors and others doubled-down on the little shiny discs for their Spring 2018 collections.
To celebrate the return of sparkle, we're revisiting (and revamping) our advice on styling sequins, first published way back in 2010. Back then, about wearing sequins, we said: above all else, keep it classy. Here's how to do it.
How to Style Sequins — Dos and Don'ts
Don't double-up on sequins.
As with most trends, overdoing it is a huge fashion don't. Yes, it's easy to get hypnotized by all that shimmery splendor. But if you have a sequined skirt, just say no to the sequined clutch and sequined strappy sandals.
Instead, choose understated classics. A soft, cashmere-like sweater, for example, would balance nicely with the harshness of that sequined skirt. Add solid-colored pumps to the mix and you're golden. Pun intended.
Do tone down your daytime sequined looks and play up your nighttime ones.
You can wear sequins when the sun's out! Just wear them more sparingly than you would at night. I'm not sure on this, but I've heard too many sequins in daylight hours causes cornea burns in your onlookers and admirers.
For the daytime, try a burnished gold sequins cami, under a cream cardi with wideleg tan pants and some monochromatically appropriate platform pumps.
At night, you can wear that sequined pencil skirt or mini-dress. Same goes for the sequined handbag. And since we're on this topic, a sequined handbag should never be anything but a clutch or wristlet. No fully sequined gym bags or totes. Please.
Don't wear sequins in bright patterns or colors.
A black sequined sheath for a holiday cocktail party? Yes. It's a fabulous take on the traditional Little Black Dress. But a fuschia sequined dress with a poufy prom-esque skirt? No. Adorable on the mannequin, but nearly impossible to pull off unless you're 17 and heading to the Sno Ball.
Sequins by themselves standout. Don't pair them with a bright color unless you want your clothes to feel like a visual assault to everyone around you. Stick with neutral, solid colors. That's your safety zone.
Do buy knowing everyone will remember it.
If you're shopping with cost-per-wear in mind, a sequined dress often doesn't work out. You can use a sequined handbag over and over again, but a dress? Not so much. If you have a whole season of parties to get through, and a limited budget for party-wear, skip the sequined dress, because everyone will remember you wore it party to party. You'll get tired of it fast, too.
Instead, pick a sequined clutch or sequined skirt. Then you can change up your look with brightly hued tops and versatile shoes. You'll stand out for all the right reasons.
Our Top Budget-Friendly Sequined Finds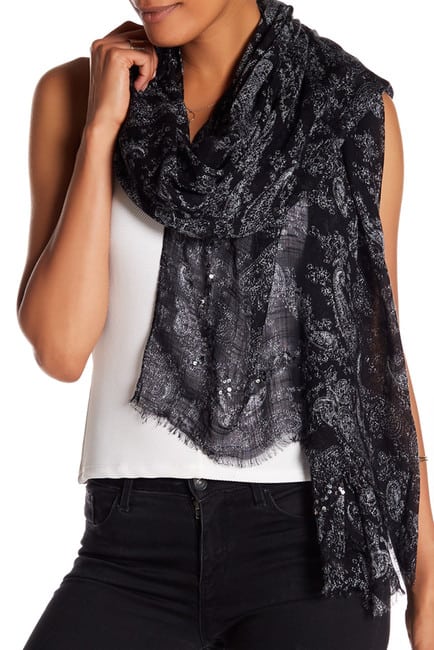 Will you be jumping in on the sequins trend? Let us know in the comments!
Are you a fan of flashback fashion? You'll love our article about Norma Kamali and Budget Fashion.