This post may contain affiliate links. See our privacy policy.
Everyone is abuzz about Fenty, the new luxury clothing line launched by Rihanna in partnership with LVMH Moët Hennessy Louis Vuitton. Why all chatter? Besides the Rihanna factor, Fenty is the first new LVMH introduction since 1987's Christian Lacroix launch. It's also the first original brand created by a woman for LVMH, and the first run by a woman of color.
So, yeah, we love all that. But to the clothes — are the styles themselves worthy of the hype?
At a glance: mostly yes. The obvious drawback of the line for a budget fashionista is the designer price point. But let's assume our local TJMaxx gets in a big shipment of Fenty overstock. Would we actually buy these pieces?
Fenty: What We Hate
As you'd expect, there are a few questionable options in the bunch. For most of us who aren't Rihanna, it's impractical to walk around the mall in a denim corset dress.
Nor does the overwhelmingly large Reversible Parka ($1,360) do much to inspire any thoughts of glamour or high fashion.
Fenty: What We Love
Pleated pants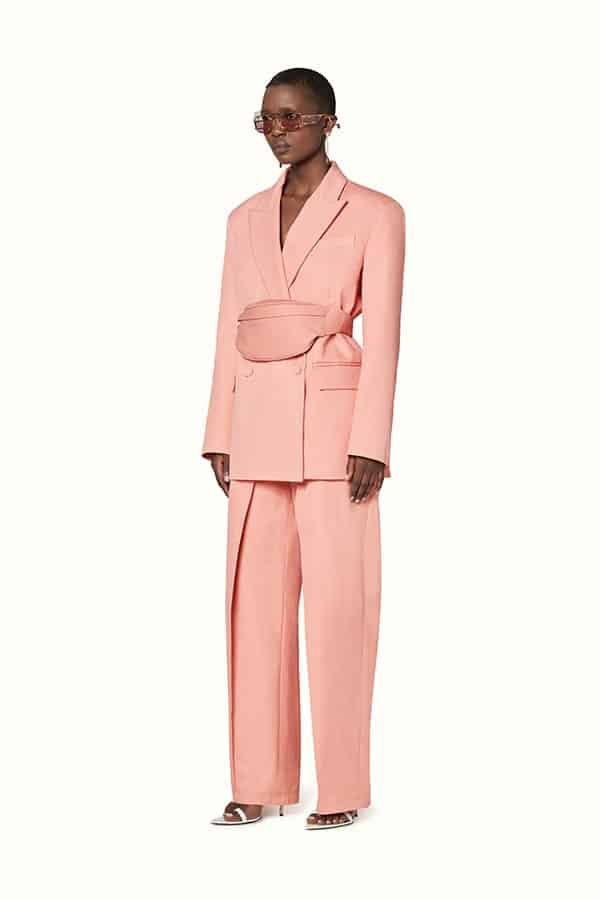 There are plenty of solidly beautiful pieces in the mix, though. One such example: the pleated pants in Marjan Rose. The soft blush hue alone is worth a second, third, and fourth glance.
But what's really admirable is the unique construction of these fluid, elegant bottoms. They're right on trend with their oversized silhouette, while a pair of front pleats takes them in an unusual direction. They feel fresher and more runway-worthy than the standard pair of trousers.
Straight fit jeans
There's also something to be said for tracking down the perfect pair of jeans. Would anyone have guessed Rihanna would be the one to bring that into our lives? Granted, the denim straight fit pants aren't really the budget-friendly Levi's you trust on the regular, but you might call these classics true investment pieces instead.
Ear cuffs
As for the jewelry, it's all about the drama. The Roped-In Rose-Tone Ear Cuffs are hyper elegant. They're beautifully shaped, with an intricate curve that nestles the top of the ear and a lower embellishment that drips with soft glamour.
Sandals
Many of the shoes feel a little uninspired and drab — surprising, given that Rihanna is the queen of fab footwear — but not the Spiraling Sandals in denim blue. These are delightfully spring- and summer-ready. Add a cute denim skirt, a plain white tee, and a slouchy shoulder bag and you'll have a cover-worthy ensemble that keeps you cool and comfortable all day long.
The Final Word
The final verdict? Don't start counting your pennies unless you desperately want in on the Rihanna label. The pieces are worth a temporary ooh-and-ah, but not necessarily on track to be your most-worn, lifetime favorites.