This post may contain affiliate links. See our privacy policy.
As white tees go, there's almost nothing more exciting than finding one that somehow ticks all of the boxes on your list of sartorial musts. Great fit? Check. Exact amazing shade of white? Check. Utterly soft fabric? Definite check.
The only downside is that there seem to be far too many options out there. What's the best way to narrow it down?
Rule one is to focus on fit. An ill-fitting top of any kind can be desperately uncomfortable. But the right size will keep you cool and relaxed on a hot day.
Best of all, once you track down a white tee that you can consider a reliable favorite, you can easily wear it year-round, layer it beneath your favorite blazers and jackets, and make it an integral part of your wardrobe.
8 White Tees You'll Love to Wear
The Hi-Lo White Tee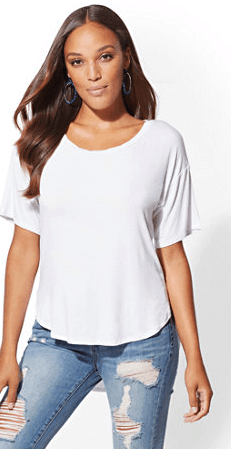 Featuring a trendy hi-lo hemline, the Soho Street Hi-Lo Tee from New York & Company ($17.47) boasts a relaxed fit and airy sleeves that make it ideal for a steamy day. Try it with a pair of dark-rinse jeans and ballet flats for a polished everyday look. Or throw it on with leggings and heels for a night out.
The Ruffle White Tee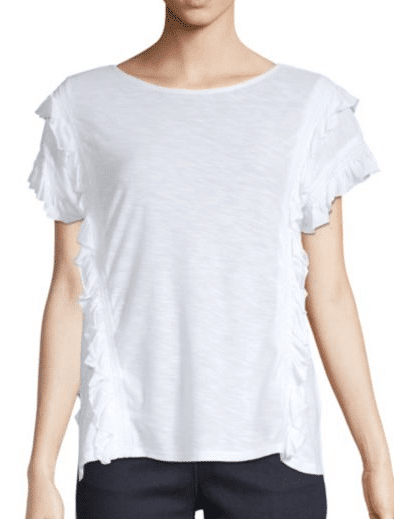 Taking its cue from the distressed denim trend, the Ruffle-Front Top from Vince Camuto ($34.99) follows suit with a decidedly more pulled together take on the look. The sides are strategically ruffled to lend the plain white façade a more intriguing look. Pair it with those well-worn jeans for a study in contrasts.
The Pocket White Tee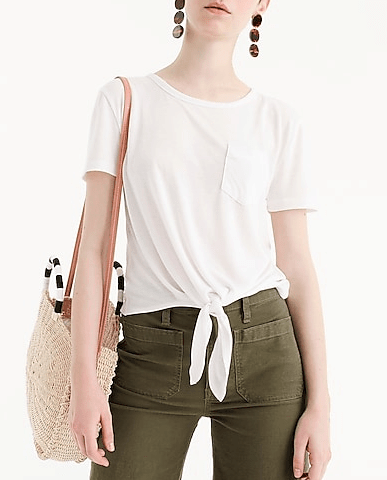 For every errand run, last-minute visitor, or lazy Sunday on your agenda, the Knotted Pocket Tee from J. Crew ($13.99) fits the bill nicely. In fact, it's basically made for those things. It retains the simplicity of your favorite white top, yet features a small knot at the front for a hint of visual intrigue.
The Long Sleeve White Tee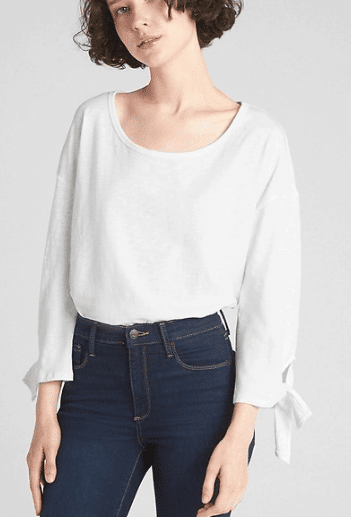 Dreaming of the type of white shirt that just might pass muster in a slightly more relaxed office environment? GAP's Long Tie-Sleeve Tee ($19) could be the one, thanks to its long sleeves and delicate tie details that lend it a more dressed up look.
The Balloon-Sleeve White Tee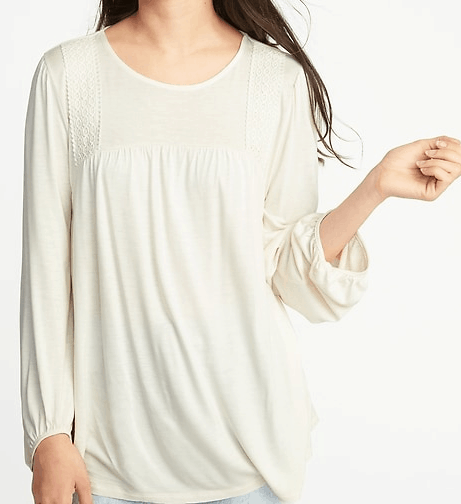 There's no need to think twice once you find out that the effortlessly comfortable Crochet-Lace Balloon-Sleeve Jersey Top ($22) is made with jersey fabric, AKA the softest material on the planet. Not only does this tee feel like a dream, but it also includes a delicate crocheted design for a romantic touch.
The Grecian White Tee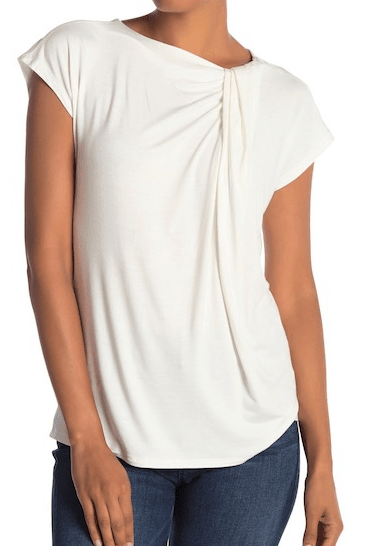 It's no wonder we're always vying for a Greek goddess-inspired look. In between the glorious sandals and the healthy diets, we're also eyeing this amazing Grecian Twist Tee ($19.97) that takes its inspiration from the classic tee — and then takes it to the next level with a delicate, sophisticated neck twist.
The Square Neck White Tee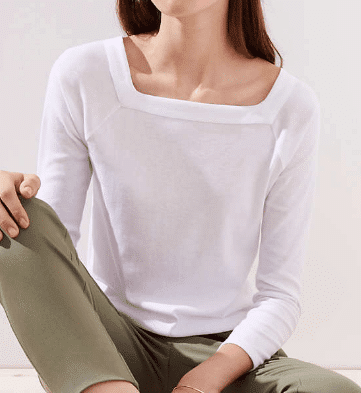 All it takes is the slightest shift in design to transform a simple white top into something far more unique. That's the case with LOFT's Square Neck Tee ($34.50), which features an atypical square neckline that sets it apart from the usual suspects.
The Crop White Tee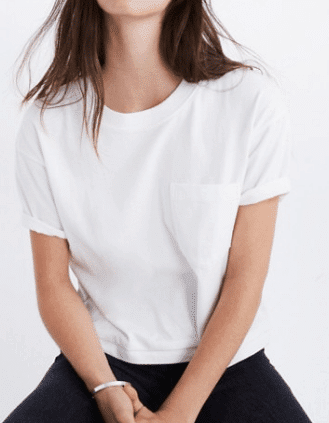 Keep things sweet and simple in a crop tee that pairs perfectly with all your high-waisted bottoms. It's the perfect addition to a low-key look that begs for something a little more pulled together than your basic white tee. Add a colorful statement necklace and you're done.