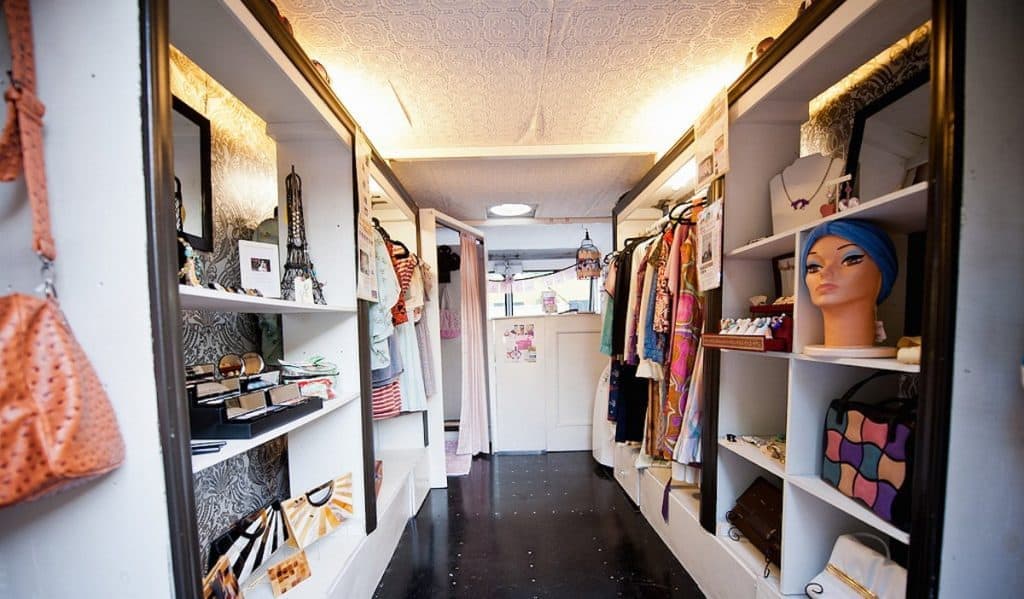 This post may contain affiliate links, which means I earn a small commission if you click and buy something (at no cost to you). See our privacy policy.
The fashion truck exploded in popularity in the early 2010s, following the crazy fast rise of the food truck. Whether you call it a clothing boutique on the go or a clothes truck shop, these mobile retailers bring a nice range of garments and accessories to your favorite local event or street corner. Many fashion truck owners buy their goods wholesale, but some feature the work of local designers.
According to the American Mobile Retail Association, more than 500 fashion trucks currently exist across the U.S., and more are popping up every day. The AMRA's website lists some of these trucks by region, though it's tough to say if these listings are current.
Fashion trucks and their owners shine at providing a personalized shopping experience, along with garments you won't see at Target and Old Navy. You'll usually deal directly with the owner, who is likely a style diva in her own right. That's a big step-up from the distracted college student who retrieves sizes for you at Express.
5 Ways To Shop a Fashion Truck
Intrigued? Here's how to shop a mobile boutique.
1. Search frequently
Fashion trucks cover a local circuit. Within that region, they'll move from place to place to seek out new customers. The easiest way to find a mobile shop is to search Google for fashion trucks in your area. You could also frequent community events, as that's where the trucks pop in to find new customers.
Once you locate the trucks in your city, you can get to know your favorite and follow them on social media to see where they'll be next.
2. Get the goods
As fashion trucks are constantly on the go, it's crucial to grab the goods while you can. Don't wait until the next time the truck comes around to snatch that chic blouse or that bohemian purse you love, because it will most likely be gone. Most mobile fashion boutiques only carry a small supply of like items, and the pieces can go fast.
3. Try it on
Mobile boutiques offer small fitting areas where you can try on clothing before you buy. While you may feel slightly awkward undressing behind a curtain in a truck, it's better to be safe than sorry. Spend the time to try on your garments to ensure that they fit properly and that they suit your personal style tastes.
If you're really worried about try-on privacy, wear leggings and a sports bra. You can put dresses, skirts, and blouses on over these to assess the fit.
4. Check out events
If you love to shop and adore the idea of mobile fashion boutiques, you'll certainly want to hit up a fashion truck event. From monthly festivals to extravagant shopping events, these events are a fun way to see the latest trends from up-and-coming designers. Fashion truck events typically feature table vendors with fashion, health, and beauty products.
Sadly, there is no longer a reliable, nationwide listing of these events online. But you could search for them or check out the calendars of your local travel bureau and chamber of commerce.
5. Shop often
One of the best things about small boutiques is the ever-changing selection of goods, and fashion trucks are no exception. Unlike major retail stores which carry a large supply of like-items for extended periods of time, boutiques are constantly updating their goods. You're sure to find new treasures during each visit to a fashion truck.
Shopping at a fashion truck offers fashionistas a whole difference experience than that of malls and big name box stores. If you're a fashion truck fashionista, let us know your tips and tricks for successful shopping!