Diane Kruger is a fashion force to be reckoned with. The famously stylist-free actress makes the best dressed lists literally every time someone snaps a photo of her, and she's been solidifying her reputation as one of the most stylish women in the world by stepping out in gorgeous, often daring outfits, without one single misstep in years. That's got to be a record.
It may not seem like there's much rhyme or reason to the former model's mindblowingly fabulous clothes, but after careful consideration, we discovered otherwise. Diane's style is very french, and we're not just referring to her affinity for Chanel. The star goes for chic, crisp, tailored clothes, minimal (often messy) hair and makeup styling, with the ittle white dress serving as her go-to outfit. Now that you've got an understanding of her overall style, here are five more things you'll need to know in order to deconstruct (and imitate) Diane's enviable ensembles.

1. Forget the trends
Photo Credit: Dave Allocca/Startraks and Francois Durand/Getty
Diane likes to look the opposite of what is being predicted, which is why we've never seen her in a bandage dress. This star doesn't dress for trends– she dresses for herself. To capture her style, the first step is to let go of the "in," "it," and "hot" looks and see things from Diane's perspective, meaning that if hardly anyone else is wearing it, that's probably a good thing.
French Connection Dress, $80, Figleaves
2. Don't show too much
Photo Credit: Richard Young/Startraks and INF
Kruger's number one fashion pet peeve is vulgarity, in other words, showing too much skin. The star swoons for high slits and hemlines, but don't hold your breath waiting for her to show up on the red carpet in a plunging neckline or midriff-baring dress. Diane knows how to flaunt her body without actually showing it. With clothes that are fitted to your figure, you can do the same.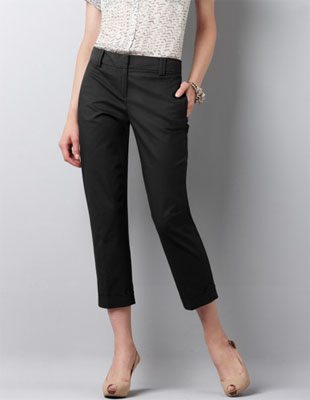 Cuffed Black Pants, $59.50, LOFT
3. By day, go simple with clothes and bold with accessories
Photo Credit: Billy Farrell/Patrick McMullan/Sipa and Lionel Hahn/Abaca
The little white dress. It's simple, chic and a favorite of Diane's for daytime, but even in one of these, she still turns heads because of the way she accessorizes. With a bold clutch and edgy or embellished heels, the star easily turns an outfit from "eh" to "OMG."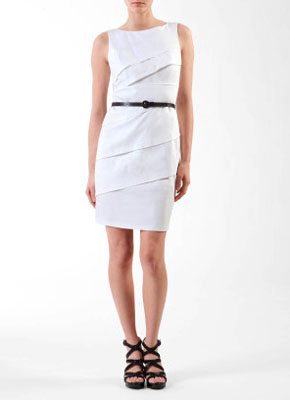 Tiered Shift Dress, $96, Calvin Klein
4. By night, go bold with clothes and simple with accessories
Photo Credit: Pascal Le Segretain/Getty and Alberto E. Rodriguez/Getty
Yes, by day, Diane likes to keep her dresses simple and event appropriate, but by night, she never holds back. It's not thigh-high slits or super-tight skirts that make Diane stand out even among other stars; it's the unique textures, colors and silhouettes she chooses. For budget purposes, you may sway toward simple dresses that are versatile and wearable, but when you find a fabulous dress, who cares if everyone knows you wear it all the time? One tip for wearing daring dresses: follow Diane's example and keep jewelry to a minimum.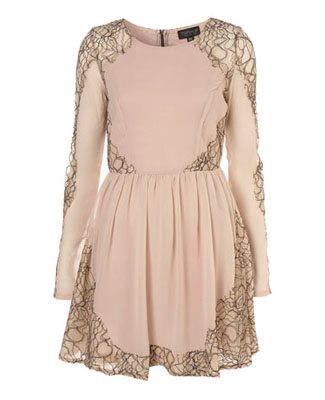 Cream Lace Dress, $80, Topshop
4. When in doubt, decide it's a dress
Photo Credit: Jon Kopaloff/FilmMagic and Sharky/Splash News Online
When you're shopping, do you ever pick up a garment off the rack and think to yourself that while it's gorgeous, you're not sure whether it's a shirt or a dress? Diane doesn't. While she always has modesty on her mind, there's one sexy, skin-baring rule she loves: if it covers her butt, it's a dress. Diane loves super short skirts, and in spite of showing off all that leg, she always looks classy in them. Why? Because of how little skin she's showing anywhere else. Follow Diane's lead and show some leg, but make sure that's all you're showing.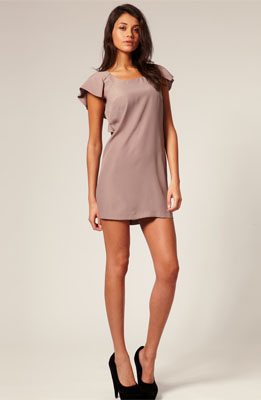 Cape Back Shift Dress, $62.76, Asos
5. Match your man
Photo Credit: ANG/Fame and KCSPresse/Splash News Online
Aren't Diane and boyfriend Joshua Jackson the cutest? While we're not suggesting that you and your man step out in matching sweaters or even in the same color, we believe the two of you will make double the fashion statement if you adapt to wearing the same style. When strolling down streets with Diane, Joshua picks up her French style and occasionally dons similiar garments such as a straw hat or blazer. Don't think you could get your man to roll up his pants like that? No worries. Start him off with a pair of chic sunglasses and you'll both be looking like stars in no time.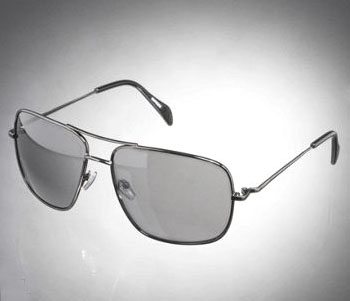 Polarized Metal Sunglasses, $40, Express