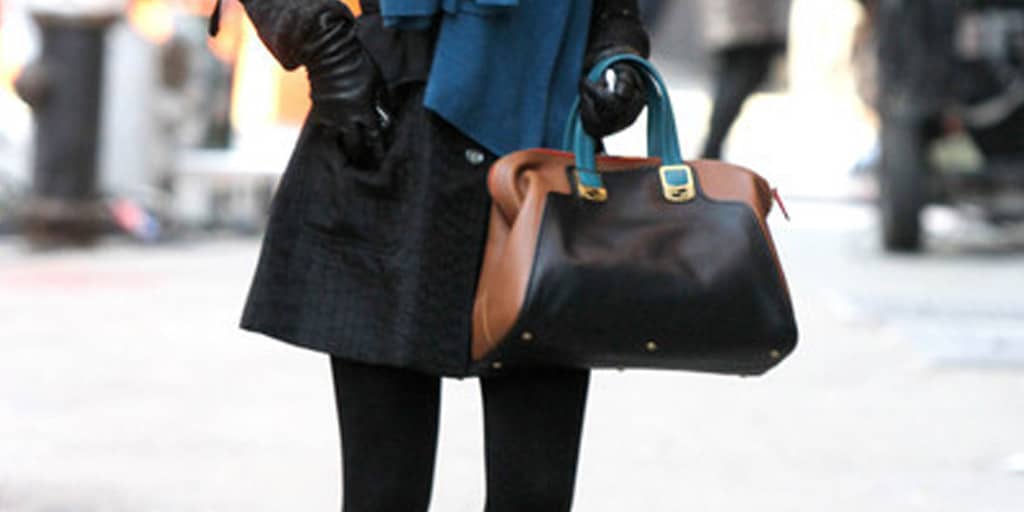 This post may contain affiliate links, which means I earn a small commission if you click and buy something (at no cost to you). See our privacy policy.
We figured as much about the staying power of the color blocking in fashion. The Budget Fashionista originally wrote about the color block bags trend back in 2014 — and the style had already been hanging around for a few years at that point.
Fast forward to 2019, and we are loving our bold patterns and colors this winter. And that means the color block accessory still fits right in.
Even better, color blocking has grown up beyond the blue-yellow-black styles of yesteryear. Now, we're teaming pinks and reds and even soft neutrals.
So if you need a fresh statement for your closet, a color block bag is a fabulous option. They're easy and affordable, and oh-so-versatile. Here are 10 gorgeous picks, all priced at $50 or less.
Suede Clutch
Pull on those trusty jeans and sneakers without a second thought — with this bag in hand, you're running errands in style.
Neutral Satchel
Thanks to a cool and neutral color combo and a zip closure, this satchel can be your daily go-to.
Shoulder Bag
This bag is all about convenience. It's a hands-free model with adjustable shoulder strap and several interior pockets. The style is understated — making it a good choice if bold color blocking isn't your thing.
Pink Clutch
OK, I'll just say it. I was surprised to find this fun clutch at Chico's. The red-on-pink style feels very youthful. This is a perfect choice when you need some sass in your wardrobe.
Hobo Bag
At 20 inches long and 18 inches wide, this hobo bag has tons of space for your stuff. You could probably hold a small dog in it, or use it as your carry-on for air travel.
Fur Clutch
Colorblocking can be an evening affair too — just add fur. And as far as clutch bags go, this one's fairly practical. It's large and equipped with several interior pockets.
Warm-Toned Tote
A warm-toned tote makes a nice choice for the working lady. This bag brings some color to your office attire, without losing that professional feel.
Shoulder Bag
This is another conservative option for the professional fashionista — the lighter palette brightens the mood without getting too whimsical.
Pretty Little Clutch
Reach for this pretty little clutch on your casual days. It'll work equally well with jeans as with a floaty spring dress.
Designer Tote
This all-purpose, colorblocked tote from Barneys New York is majorly on sale right now — marked down to $50 from $200. The top closes with a button, but there's also a zip pocket inside.
This post about color block bags was originally written in 2014, and updated in January, 2019.