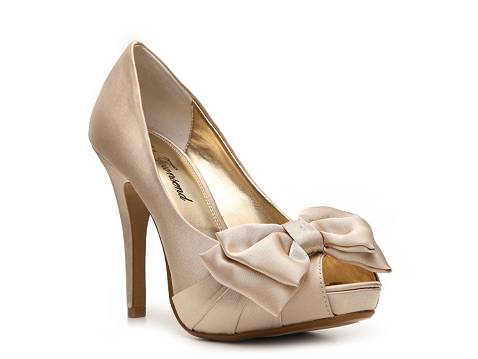 Let's face it, using the word "cheap" in the same sentence as "my wedding" seems like a big fat wedding don't because, well, it sounds so crass. Reality check: cheap is good. With wedding budgets getting tighter and tighter (thanks economy!) saving a buck where you can only makes sense. Take, for instance, cheap bridal shoes—as a fashionista bride, of course you want your shoes to be wedding-day-fabulous, but seriously? YOU WILL NEVER WEAR THEM AGAIN.
So resist the temptation to rack up that credit card debt for a pair of sparkly $200 bridal kicks no matter how cute they'll look in that one his-and-hers wedding shoe picture you've been planning since you were 14—save your bucks for what matters. The good news is adorable cheap wedding shoes do exist, and we found them. The best part? No one will ever know you got them on the cheap, unless you decide to brag about your bridal budget savvy (and we're totally behind that!).
Cute Bridal Shoes on the Cheap
Sexy Diva Bridal Shoes
No dowdy run-of-the-mill bridal shoes here—for the diva bride who wants her wedding shoes to say "BAM", a sexy stiletto is a wedding day must-have. Brides, you can be diva-licious and frugal with these sexy wedding shoes on the cheap: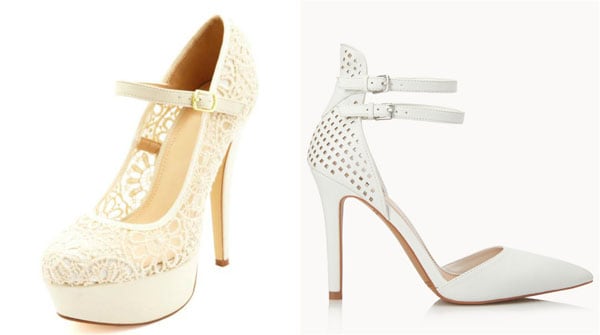 Crochet Lace Mary Jane Platform Pumps, $42.50 from Charlotte Russe
Perforated Faux Leather D'Orsay Pumps, $32.80 from Forever 21
Beachy Hipster Bridal Shoes
No heels here—comfort is king, but even the most boho of brides wants to be special on her big day, from head to toe. Some chic bride-worthy sandals and flats we, love for less of course: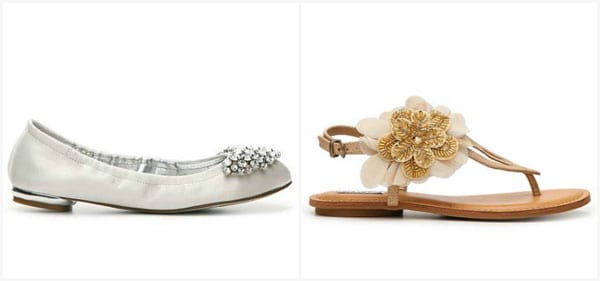 Nine West Faycie Satin Ballet Flat, $49.94 from DSW
Not Rated Bumble Flat Sandal, $39.95 from DSW
Something Blue Bridal Shoes
From blue suede shoes to pretty dyeables, some budget-loving brides long to make a colorful statement with their wedding shoes. Whether you're going to use your shoes as your traditional "something blue" or branch out into your own version of being a colorful bride (i.e. "something fuchsia"), colored or dyeable wedding shoes totally fit the bill (and are totally affordable):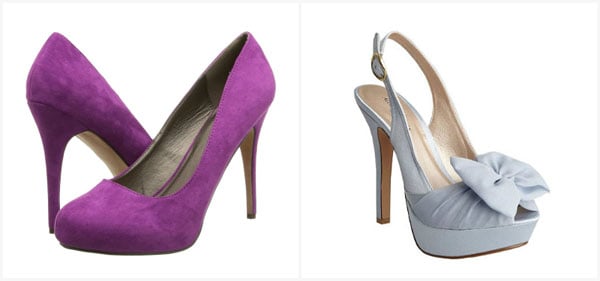 Michael Antonio Love Me Sue 2 Cobalt, $14.99 from 6pm.com
Allure Bridals Sunrise, $28.95 from Shoebuy.com
Traditional Romantic Bridal Shoes
Comfort and sex appeal aside, lots of modern brides still heed the call of tradition – these aren't your mother's bridal shoes, but they're shoes you can still take home to meet your mom (finding the groom that fits the same profile is up to you). Some perfectly cheap traditional bridal shoes that will make you say "I do":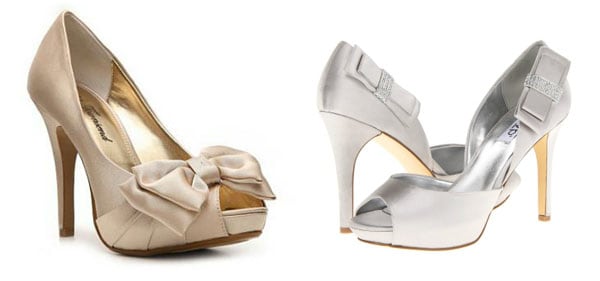 Lulu Townsend Valentine Platform Pump, $49.95 from DSW
rsvp Flavia, $24.99, from 6pm.com
Love this post? Subscribe for Updates.