The best budget shoppers always talk about finding and using coupons, but that's easier said than done. Searching online for coupons is just plain overwhelming. You often end up on something other than the best coupon sites (you know, the ones that offer legit savings).
Considering that your time is valuable, you can end up losing on the deal — spending three hours to save $5 equates to well below what you're worth.
So where, exactly, are these magical coupons? Here's a list of 10 of the best coupon sites we've come across.
Best coupon sites for fashionistas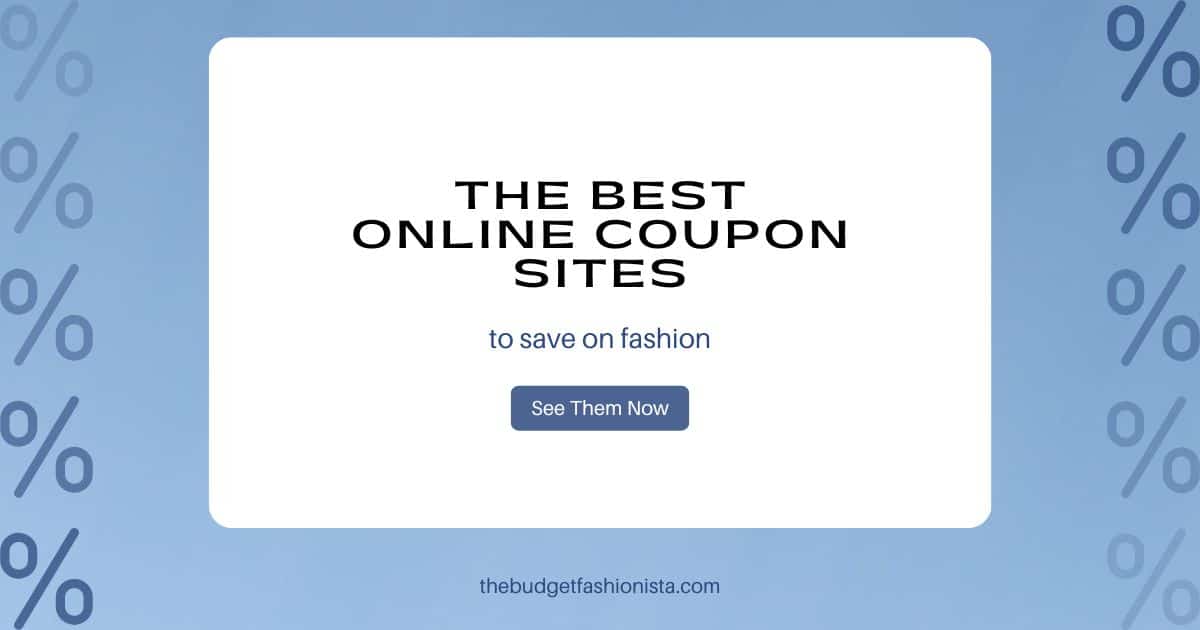 RetailMeNot.com
Retailmenot has coupons for online and in-store purchases. The search function is easy to use, and the site features some of our favorite retail stores: Macy's, Neiman Marcus, Kohl's, JCPenney, Nordstrom, 6pm and more. Go straight to the selection of fashion coupons here.
You can also try the Retailmenot Dealfinder, a browser extension that automatically scans for coupons on the sites you shop.
Also, you can download the Retailmenot app and take it with you wherever you go. After all, why not save on impulse purchases too?
Dealspotr
Dealspotr has a large collection of fashion coupons for all the stores you love to shop: Macys, SHEIN, Old Navy, Lululemon, Uniqlo, and more. Even better, those fashion coupons are easy to find, because Dealspotr organizes them by category and store. Jump right to Dealspotr's fashion coupons here.
TheKrazyKouponLady
TheKrazyKouponLady is a very popular choice when you're looking to save on in-store grocery and toiletry purchases. But while you're there lowering your grocery bill, check out the coupon listings for tried-and-true fashion retailers like JCPenney, Old Navy and Sephora.
For each deal, you'll see when it was posted, plus any comments made by users — and users are a great source for validating deals.
SavingSays.com
Savingsays.com is a different kind of coupon site. The site's standout feature in my opinion are the discount listings. These show which stores have special discounts for seniors, military personnel, teachers, nurses, and first responders. There are also lists of credit card discounts and stores that give you discounts on your birthday. Click into the student discounts section, for example, and you'll see dozens of fashion stores that offer lower prices for college students, ranging from 5% to 30%.
The site also has savings guides and buying guides. The savings guides share shopping tips, while the buying guides are mostly product reviews for non-fashion items. You can also click to store pages to see discounts for popular fashion brands, including Under Armour and American Eagle Outfitters.
CouponFollow
CouponFollow is a larger coupon site that organizes discount codes by store. Fashion retailers covered include 6pm.com, Boohoo, Macys, Modcloth, Target, Torrid, and Tory Burch. I wish there was a category page for women's apparel stores, but alas no. You can search for stores by name or use an alphabetical directory.
DealCatcher.com
DealCatcher features online and printable coupons (which we love) and rebate notices. You can sign up for deal alerts by store, which is very cool. Say you've earned some Kohl's cash and you want to wait for a great sale to use it. Sign up on the Kohl's page and you'll get an email when new Kohl's deals are added.
Groupon
Groupon isn't as talked-about as it used to be, but the site still deserves a spot in your favorites list. See the coupon page for 70,000+ offers at stores nationwide.
And then — because you deserve it — check out the spa discounts for your city. A quick look at the spa discounts in Santa Fe, New Mexico shows I can get spa services and massages for up to 50% off. And I do like the sound of that.
Clothingric
Clothingric.com is a coupon site with a heavy focus on apparel. Codes are tested and verified. A nice feature is the store search bar on the site's homepage. If you have, say, a chic waterfall jacket in your cart at Marshalls.com, use the search to jump straight to all codes for that store.
You can also browse coupons by category, and there are categories for women's fashion, men's fashion, lingerie, designer wear, swimwear, accessories, and more.
Emucoupon
Emucoupon.com is for our Australian readership. The site carries a range of coupon codes across categories for Australian stores and brands sold on Amazon's Australian site. A dive into the apparel category reveals many product-specific discounts — which is great when you know exactly what you want.
The subcategories within the apparel section that can help you save. Two that seem most useful are top clothing stores and top women's cardigan stores.
And finally, there are coupon codes for global brands, including Phillip Lim, Missguided, and 32 Degrees.
PriceBlink
I like PriceBlink for its store pages. You can see all coupons for a given store, including ones that have recently expired. For each deal, you'll also see when it was last verified. And you have the opportunity to help other shoppers by telling PriceBlink whether the deal worked for you.
On the downside, PriceBlink doesn't have a category page for women's fashion. So we recommend this site only when you are looking for a specific store's coupons.
Budget Fashionista deals
OK, yes, this is shameless self-promotion. But we have deals too! We only promote compelling sales from our favorite, reputable retailers plus confirmed sample sales.
Take a peek and see for yourself — it'll only take a minute, we promise!
One to avoid: Coupert
I used to recommend Coupert but I need to rescind that recommendation. Coupert actually doesn't pay out its obligations. So the "cash back" you earn is a worthless sham to encourage you to spend so they can earn commissions. In return, you get nothing. At least this has been my experience. Apologies to everyone who downloaded this browser extension. I was wrong.
If you listed your best coupon sites, would you include any we don't show here? Let us know and we can add it!