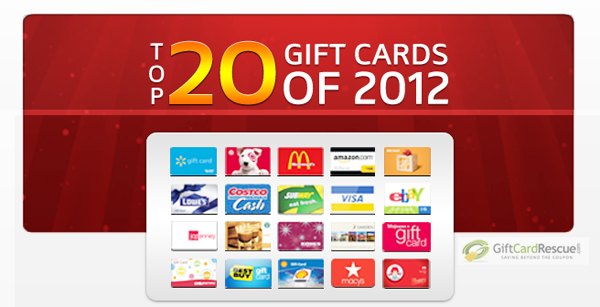 So the world didn't end on December 21st. You know what that means: you'll have to face your own personal apocalypse for not finishing your holiday shopping on time because you were soooo heavily invested on the holiday not happening. Well, it's TBF and GiftCard Rescue to the, er, rescue! The good folks over at the gift card buy and sell site compiled the top gift cards of 2012, which we hope will appease even the trickiest giftees on your list this year.

The Most Popular Top Gift Cards of 2012
Wal-Mart
Target
McDonald's
Amazon.com
Home Depot
Lowe's
Costco
Subway
Visa
eBay
JC Penny
Starbucks
Kohl's
Darden Restaurants
Walgreens
CVS
Best Buy
Shell
Macy's
Wendy's
Interestingly, aside from McDonald's, the rest of the Top 5 gift cards have remained pretty constant this year, as noted by Kwame Kuadey, CEO & Founder of GiftCardRescue.com. Anyone thinks that the anticipation for McRib's delayed annual release this year is the culprit here? *wink*
Love this post? Subscribe for Updates.