Remember SwapStyle? Way back in 2005, we had this to say about the clothing swap site:
I'm the queen of buyer's remorse, which is why I have a closet full of crap I just don't need. Luckily, I can swap out these items using sites like SwapStyle.com.

For a small yearly membership fee ($9.95), you can "swap" unwanted clothing from your closet with other fashion lovers. You can also sell/buy items on the site — but the swap function is the site's strongest selling point. Now I've got some closet cleaning to do.

Budget Fashionista
Sadly, the clothing swap destination seems to have faded away. The Facebook page has no activity and, as of January, 2019, the website is inaccessible.
When you buy via links on this page, I may earn an affiliate commission. Learn more.
But all is not lost for online shoppers craving a clothing swap. Try these options instead.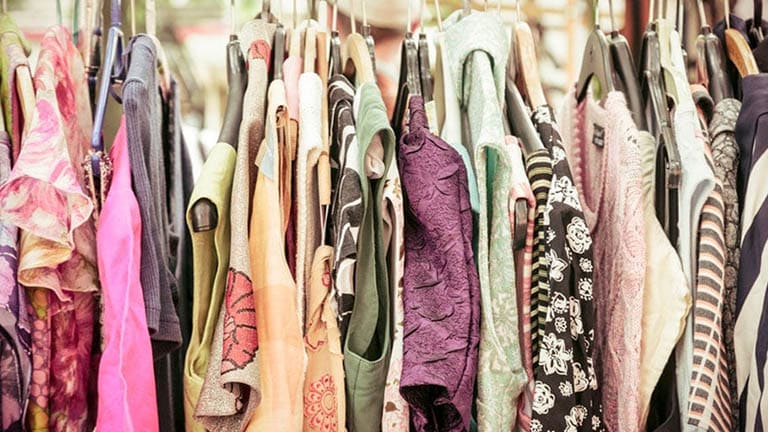 Rehash Clothes
Rehash is a true swap site. You upload photos of your old stuff and then look for pieces you'd want. When you find something, you can make an offer to the person who listed that coveted piece — which can be accepted, rejected or negotiated.
There are no fees to use Rehash. You do pay for your own shipping when you finalize a deal.
I did find a couple of interesting pieces on Rehash, including a pretty, navy blue cocktail dress by Pinup Girl Couture.
Swap.com
Swap doesn't offer a straight swap exactly. You send in your old stuff and, if accepted, you get cash or store credit when it sells.
Swap pays the shipping but doesn't accept every item. If your pieces are rejected, you can ask Swap to recycle them for you. Or, you can pay $9.90 to get them back.
Swap has a much larger selection than Rehash Clothes. And the prices are fabulous — you can take your pick of cute summer rompers for under $15 for example.
Of the two sites, Swap looks to be more active. I imagine it might be difficult to finalize many trades on Rehash Clothes. The experience might be like playing Fantasy Basketball, when someone asks if you'll trade Steph Curry for Justin Holiday. No, 1000 times no!
Another strategy is to shop used or consigned pieces. It's not as economical as swapping clothes, but it's certainly cheaper than buying new. See our list of online consignment shops here.
Have you swapped clothes online? Share your experience in the comments please!