This post may contain affiliate links. See our privacy policy.
Let's take a trip through the mineral makeup offerings from the drug store beauty aisle!
Make-up marketers are savvy folks. When Bare Minerals burst onto the scene years ago with its now-famous mineral makeup foundation, all the major makeup brands followed suit. While the hype has died down somewhat over the last several years, there's still plenty of options to be had for anyone who prefers powdered makeup formulas.
Mineral makeup and its benefits
What the heck is mineral makeup anyway? Here's the scoop: mineral makeup is made of natural, finely ground natural minerals — specifically, iron oxides, talc, zinc oxide, and titanium dioxide, according to WebMD.
More importantly, mineral makeup does not contain pore-clogging oils or irritating fragrances, which means it's often a better match for sensitive skin. As well, many of these powdered formulas look more natural than liquid makeup, but still provide that full coverage for those who need it.
Some formulations also have SPF. But as WebMD points out, this can be a tricky benefit. You may need to apply a lot of makeup to get the full SPF as labeled. If you tend to wear foundation lightly, it's wise to continue applying your regular sunscreen underneath your mineralized formula.
Mineral makeup from Target
L'Oreal Paris True Match Loose Powder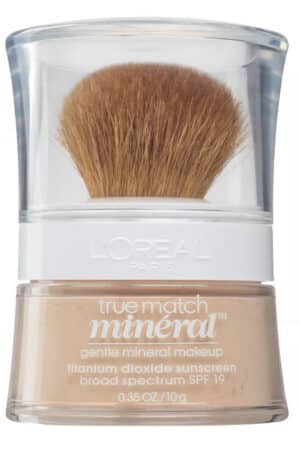 I've used True Match liquid products before, but never the powder. It does come with its own brush, which is a nice perk (assuming the brush is high quality). It's also formulated with Pro Retinol A, vitamin C, and SPF 17.
This formula has a four-star rating from 222 customer reviews, with high marks for value and quality.
The price is $11.99 for 0.35 oz. Buy it here.
Neutrogena Mineral Sheers
Neutrogena Mineral Sheers, $11.99 for .18 ounces: Just tried the Powder Foundation here, in "light to neutral," and had high hopes because I generally love Neutrogena products. The container is genius—powder and brush applicator all in one convenient piece—but the results? Just so-so. The color blended fine, but didn't cover as completely or stay in place as well as Sonia Kashuk.
Yay or Nay: For the money, a Nay—functioned more as a glorified face powder than a true foundation.
Jane Be Pure Mineral, $6.99 for .18 ounces:: Again, just the powder foundation, this time "colorless." And again, great container (this time with a puff instead of brush), which gave better coverage than Neutrogena's. Being that it goes on almost like a pressed powder, I'm actually using it to cover shiny spots—but as a mineral foundation? It's just okay.
Yea or Nay?: It's inexpensive, so I'll give it a Yea for affordability, but I'm on the fence for quality.
A word of caution: While mineral makeup is great in terms of being natural and easier to match for color, we have to note that it can be drying to the skin, which is not particularly good for those of us over 30. The mineral powder does settle into lines a bit more readily, as well. My thoughts? If nothing else, it's a great option for summer, especially for those of us who live in humid locales where that liquid foundation just seems a bit too heavy.