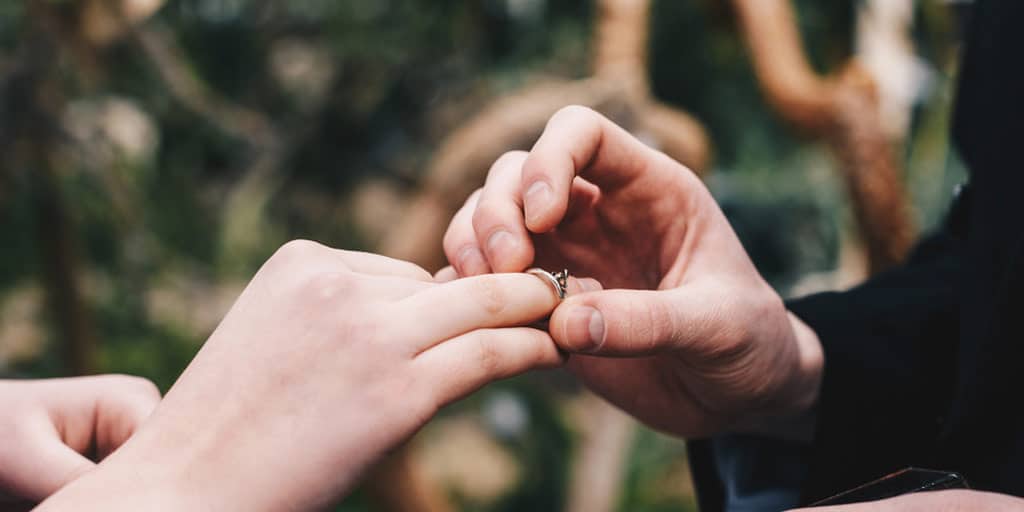 This post may contain affiliate links, which means I earn a small commission if you click and buy something (at no cost to you). See our privacy policy.
Oh! How many torments lie in the small circle of a wedding ring.
English actor Colley Cibber commented on the torments of the wedding ring centuries before it became fashionable to design a ring yourself. In today's world, the custom wedding ring adds a whole 'nother level stress for brides-to-be.
But don't fret. It is possible to design your own ring — while staying sane and on budget. The key is preparation. Taking the time to think through your must-haves pays off in spades when you're ready to talk to your custom jeweler. With a detailed list of your preferences on hand, you can talk through the options calmly and avoid any compulsive decisions.
Step 1. Choose Your Diamond Color
Colored Diamonds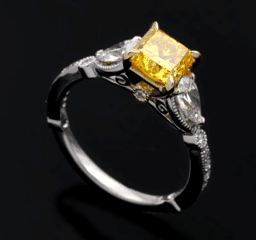 What catches your attention? Do colored diamonds turn your head? Know that natural, untreated colored diamonds are usually very pale, as are their lab-created twins.
To make a colored diamond pop, add accent stones, which will bring out the beauty of the larger colored diamond. Some brides like the effect of using extra-bright white diamond accent stones to make the barely-there color stand out. Others prefer to use contrasting colored accent stones to magnify the beauty of the colored diamond centerpiece.
The most expensive and most rare colored diamond is red. Other colors in the high price range are purple, violet and blue. The least expensive are Fancy Pink (intense or vivid), Black (only one intensity), Yellow (intense or vivid), Fancy Brown (only one intensity), and Fancy Green (intense or vivid) diamonds.
Traditional White Diamonds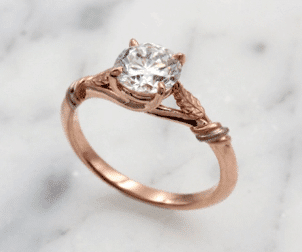 If you prefer a traditional white diamond, focus on the purity of the stone. Don't be fooled by size. If your budget includes enough for a small, pure stone, you can add accent stones to make the centerpiece diamond appear larger, without adding too much to your cost.
Step Two: Your Choice of Metals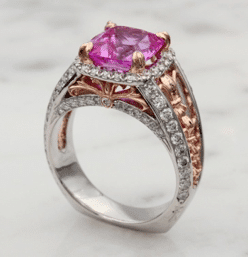 These days, fashion-minded women are very opinionated about their metals. (Meghan Markle, for example, loves yellow gold). Here's a brief rundown of your options:
Platinum is a very hardy and rare metal which holds its natural, white sheen and doesn't fade or change color over time. It is considered the best option if your budget allows.
Palladium, part of the platinum group is known for being low maintenance and durable. It's more affordable than platinum, but also holds a natural, white sheet.
White Gold uses pure gold combined with other white metals (i.e., palladium and silver). Most are plated with rhodium to protect the white gold but it wears down over time. Re-plating is possible and additionally you can request your white gold ring not to be plated at all.
Yellow Gold is a classic choice that's quickly coming back in style. The higher the carat content, the softer the metal, so a 22-carat ring will be more expensive and easier to damage than a 14-carat gold. The color depends on the how much gold, copper and silver is mixed in to create the vibrant warmth yellow gold gives.
Other less expensive metal options include: rose gold, silver, titanium, zirconium, tungsten and steel. The latest in wedding ring trends include mixed metals, so you don't have to limit yourself to one.
You want your metals to showcase the beauty of your stone(s). Stick with metals in complementary colors. For example: If you have a pale blue diamond, consider a polished white metal, like platinum or white gold. The stone's hue will really stand out.
If you love pale pink accent diamonds then consider rose gold, which will emphasize the warm color of the stones. But avoid selecting a rose gold with a pink center stone; it doesn't do the trick.
Diamonds generally have a secondary color, like pink, green, yellow or grey. So choose your metal to enhance the diamond's overtone color.
Are you starting to get a vision of what you might like?
Step Three: Review Different Cuts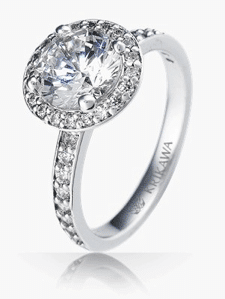 Scour through magazines and discover which rings "speak to you." This will help you understand which cuts work the best with the stones and metals you like the most. Cuts that have corners tend to saturate the diamond's hue. If you have a fancy, colored diamond, you can best emphasize the color with a princess, radiant, emerald, asscher or cushion cut.
A traditional white diamond works well with all cuts, including round cuts. So in addition to the listing above, white diamonds are also beautiful in marquise, pear, oval, heart or round.
Step Four: The Setting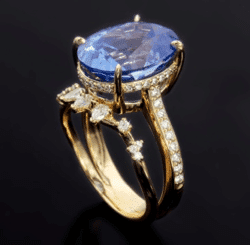 You have so many options when it comes to settings. Honestly, it can be overwhelming. Start by narrowing down your preferences to a list of 10. Sit on that list for a bit, and then try to cut it down to three.
A tip: colored stones look just as beautiful from the side as they do from the top. So you can choose a setting that has an open side profile, such as a bezel or prong and the stone will dazzle from all angles.
Selecting the best setting for a traditional white diamond is somewhat dependent on its size. Larger stones (2 carats or more) will also sparkle from every direction with a prong or bezel setting. A smaller stone will look best in a more enclosed setting with accent stones to magnify its size.
Step Five: Consult with a Pro-grade Jeweler
Once you go through each of the previous four steps, you will have made all of the necessary decisions! You are perfectly prepared to design your own ring on a budget you can afford. Make an appointment with a trusted, experienced jeweler who has a talent for translating your preferences into your perfect ring options. If you don't have a jeweler in mind, get references from friends and relatives and don't hesitate to check online reviews. After all, this ring should last a lifetime!
You may also like these posts: