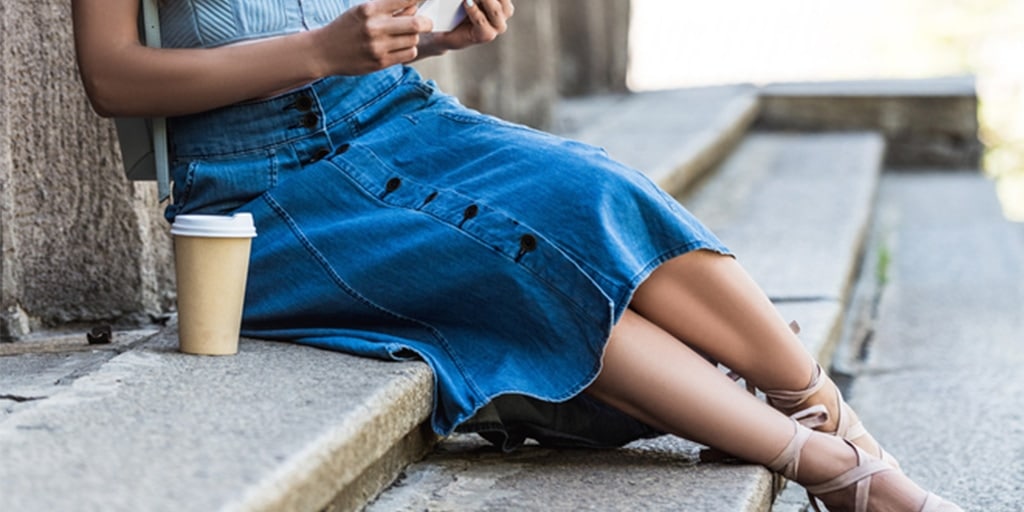 This post may contain affiliate links, which means I earn a small commission if you click and buy something (at no cost to you). See our privacy policy.
Denim skirts are as essential to women's wardrobes as little black dresses, classic white blouses, and tailored black pants. Don't let any voice tell you that they're too youthful or dated. Because when you learn to master this piece, you'll be styling denim skirt outfits that are versatile, wearable in all four seasons, and oh-so-chic.
Here's how to make your denim skirt work for you.
6 Denim Skirt Outfits to Wear Now
Parisian Chic
This denim skirt outfit is easy for any gal to pull off. Truly, the most difficult part might be the soft curls in @lydiajanealice's hair that set off her beret perfectly.
She styles her slim denim pencil skirt with a timeless striped top, a black beret, and a pair of glossy black booties. Add a jacket if you need the extra layer, or let the cool combination of classic colors shine.
For a Cooler Day
When temperatures cool down, you may feel like you need to retire your denim skirt for the season. But the key is in styling it properly. Worn as @elenatalapi shows here, with a cozy chenille sweater, a pair of tights, and colorful booties, you'll be ready to face brisk fall winds with ease and style.
Feel free to opt for a lengthier hemline, too. Either a knee-length or midi option works as long as the skirt has a body-hugging shape.
The A-Line
Speaking of midi denim skirts…while the traditional denim skirt is usually a fitted silhouette, there's something very sophisticated about the longer length, A-line denim piece. This is beautifully displayed by @mariegiammarino, who shows off a midi-length style that flares beautifully to create a feminine silhouette.
Paired with hyper-girly extras, like animal-print heels and a fluffy fur topper, you transform denim into something that is decidedly dressier.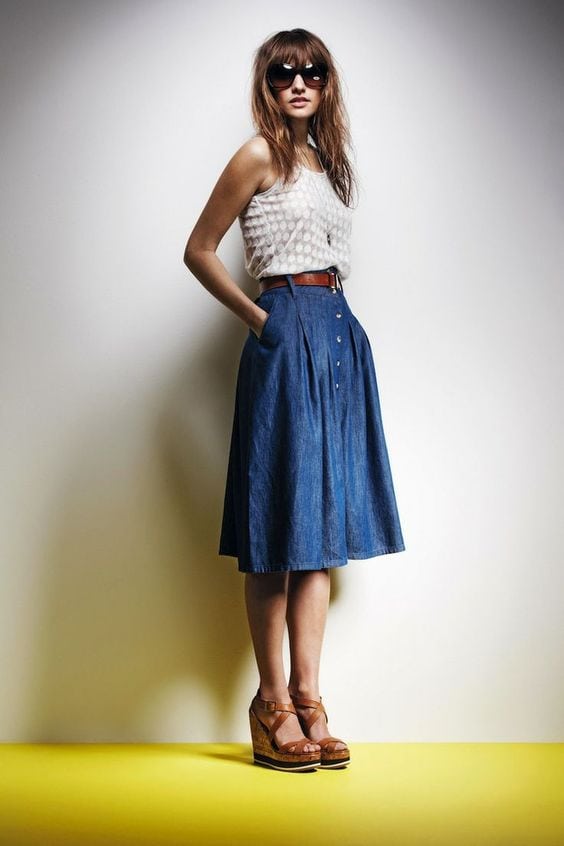 That A-line denim also works for you on casual days. Add a belt, cute tank and wedge shoes for an easy style statement.
With a Posh Blouse
Straight out of the drawer, your denim is a casual piece. But you can easily give it a more polished twist by wearing it with an elegant blouse. This one provides dramatic contrast with its lace embellishments and puffy, old-world sleeves. A pair of tan suede knee-length boots completes the ensemble seen on @biancalunagram nicely.
This is another look you can adjust to work with a longer length skirt. The key is choosing a blouse that's light and airy, which balances out the heaviness of your denim.
Balancing a Logo Tee
Since logos and emblems are trending right now, it makes sense that you might want to pair yours with denim. Instead of slipping into jeans and sneakers, though, make like @the.suntrap and try it with a maxi-length denim skirt and a pair of strappy heels. The effect is at once low-key and luxe.
In an Unexpected Shade
Who says denim has to be blue? Remember — no rules! As @dollhouseas proves, the right denim skirt can be any shade of the rainbow. You can easily create a balanced, attractive, and polished look by pairing a neutral hue, like this off-white, with a dark top. A colorful scarf worn as a belt adds just the right pop to her look.
Shop Denim Skirts Under $50
Here are some of our favorite "grown-up" denim skirts in stores now — all for under $50 each