If you were a teen in the early 2000s, you had a relationship with a denim skirt. They were unavoidable. So unavoidable, I'd argue that if a garment could embody the essence of my adolescence — that garment would be the denim skirt.
The short jean silhouette made up most of my favorite outfits, and was the uniform of choice for everyone I knew who was the same age. Even after high school, the denim skirt became a sorority staple, paired with Greek Week tanks or Bid Day tees, as essential as my Rainbow sandals (another lol).
Yes, The Short Denim Skirt is Back
So when I saw frayed jean skirts creeping back into online shops, I smiled fondly. I wanted to love them again, I needed to love them again. But when I went to try them on years later, they are — quite frankly — way too short. I didn't get any taller, so what gives? Was I braver? Were the waistlines lower?
Determined to find a way to relive my youth, I searched (the Internet) high and low for some alternatives that don't leave me feeling self-conscious about my legs and my backside. The originals short denims may be back with a vengeance, but just as I've outgrown the strappy top and cardigan combo Lauren Conrad and her Laguna Beach comrades coined for us all to copy, I've moved beyond the full-blown denim mini. Instead, I'm reliving those younger, carefree days with some 'trend-adjacent' options — nailing the gist of the denim skirt resurgence with just a bit more fabric.
Option 1. Try a Tall
Shop it: Tall High-Waist Skirt, $55, Topshop
I'm 5'8″, which might fall into the shorter side of tall, but typically I choose regular sizing. At sites like ASOS or Topshop though, this convenient option gives me the added benefit of a little length when a silhouette might normally err on the side of skimpy.
Option 2. Try a Pencil Skirt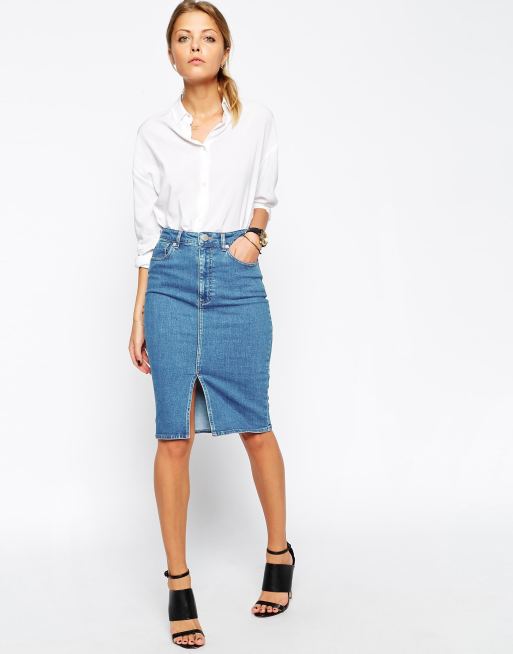 Shop it: Denim Split Front Midi Pencil Skirt, $34, ASOS
A higher rise and lower hem all with the benefit of a curvier fit? Sign me up. Snag it in the same wash as your old mini and you may even find this silhouette suited you better all along.
Option 3. Try a Midi
A casual, cool midi is, hands-down, my favorite way to rewrite the return of the jean skirt. I like to think of it as the edgy, Mary-Kate and Ashley way to do it — and when we're talking style, what other way could you want??
Melissa is creative communications professional with 9+ years of experience writing for the beauty and fashion industries.