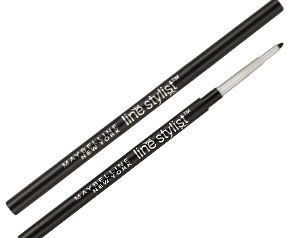 An eyeliner is one of the essential eye makeup products along with eye shadow and mascara. It enhances the shape of the eyes while also giving them an edgy appeal. The ancient Egyptians were among the first to outline their eyes with pigment for beautification, but also for spiritual reasons. Today, eyeliner is mainly used to accentuate the eyes, and to create that ultra sexy smokey eye look. You can find numerous brands at drugstores for under $10, but designer makeup brands are often over $20. So we wondered, is there a big difference between them?
After some research, we decided to test eyeliners from cosmetics giants Maybelline and Chanel. We're happy to report that both eyeliners glided on smoothly and stayed put all day with no smudging. The Chanel eyeliner was firm yet creamy, and glided on smoother than the Maybelline eyeliner, creating a straight line immediately upon application. It also had a sponge tip on one end for creating a smokey look. The Maybelline eyeliner created a subtle thin line after one application, ensuring that first time users wouldn't go overboard with a too-thick line. However, a thicker rim would require two or three applications. The Maybelline eyeliner self-sharpens with a twist of the handle making it quite portable, while the Chanel liner requires sharpening. As far as quality, both liners were excellent. Would we splurge on the Chanel liner? Probably, not.
On the left Chanel's Stylo Yeux Waterproof eyeliner, $28, available at chanel.com. On the right: Maybelline's Line Stylist eyeliner, $6.99, available at maybelline.com.