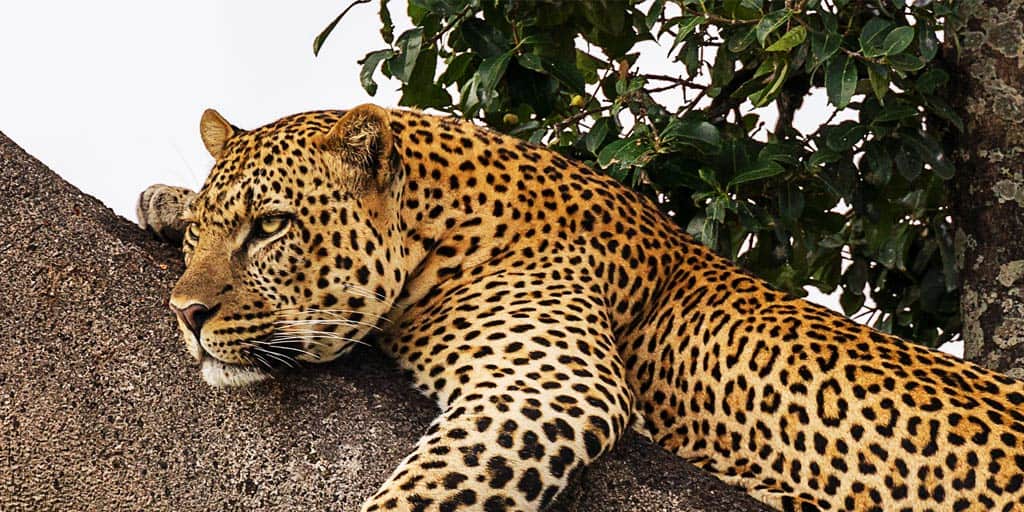 This post may contain affiliate links, which means I earn a small commission if you click and buy something (at no cost to you). See our privacy policy.
Khloe Kardashian has been quoted on her love of the leopard print, and we gotta say, who can blame her? I know the vibrant big-cat pattern gets overused in bodycon silhouettes and ankle-breaking stilettos. But set aside those visions of TV street walkers, and think about leopard print done right. The gorgeous fur-trimmed coat that appeared in Gucci's spring/summer '18 collection, for example. Now that's the stuff of true fashion enthusiasts.
Gucci wasn't the only designer to dabble in spots for spring/summer '18. Balenciaga and Versace joined in on the big-cat fun as well. What's so beautiful about this season's leopard-print revival is that designers have embraced the more wholesome side of the iconic spots.
Certainly you can procure leopard-print bodycon if you went looking — but you can also find a full selection of leopard-print dresses that aren't trashy in the least. And we say that's something to celebrate! Let's get the party started with this collection of affordable animal prints conservative enough to wear to lunch with your SO's mum.
7 Affordable Animal Prints for the Nice Girl
Above the Knee
This cute piece may be short, but it's certainly not tight. The drop waist and ruffle create a girlish appeal that takes the edge off the super-short hemline. Add tights or even leggings if it's cold or just to keep your legs under wraps.
When you feel like flirting with bodycon or hinting at your edgy side, reach for something like this Michael Kors piece. The dress hugs your shape but offers a conservative neckline and a cute ruffle detail at the cuff.
A retro silhouette looks fabulous in spots. This dress has a flattering fit at the waist, plus flirty neckline that stops short of being overdone. And the best part? No accessories needed.
Bell sleeves and leopard print? That's two trends in one affordable package.
Below the Knee
When the traditional yellow-and-gold print feel like too much, you nod to the trend with a softer tone of spots. This polyester blend midi dress features a simple, sleeveless shape that craves to be anchored by a set of heeled sandals.
A little collar goes a long way. The classic shirt dress silhouette brings a smart, no-nonsense aspect to the leopard print trend.
A more convenient version of the shirt dress, this satin wrap dress slips on without the hassle of buttons. Even better, the wrap shape is a classic style that always flatters.
If you liked this post about non-trashy leopard-print dresses, see our post on how to wear animal prints.