This post may contain affiliate links. See our privacy policy.
I know I'm not alone when I get an invitation to a beach wedding and say, "YAAASSS!" And then, the very next thought is "what the heck am I going to wear to a beach wedding?"
As simple and relaxing as a wedding by the water may be, it's one of the more difficult types of weddings to dress for. There is no standard dress code and you have to contend with several variables — weather, time of day, level of formality, seating setup, sand. Yikes.
But don't decline that invite just yet. We've got some strategies to help you hone in on just the right piece.
Dressing for a Beach Wedding: Dos and Don'ts
Do
Accessorize with a hat (if the weatherman isn't predicting gale-force winds). Think big and floppy and you'll make sure your skin is sun protected and your hair is wind-proof.
Choose a tidy updo (if the weatherman is predicting gale-force winds.) There's nothing like a stiff wind mixed with sand to leave you looking like you've been in a fight. If wind is a possibility, get defensive with a pulled-back do. Now is not the time to go soft and romantic.
Wear seaside colors. Blues, greens, turquoises and neutrals are lovely options.
Bring a pretty shawl or scarf. Late-afternoon weddings by the sea can subject you to a full-range of temperatures. Be prepared with a light extra layer.
Ask about the setup. Spare yourself the grief of guesswork and just ask how the wedding will be set up. Will guests be seated on a solid-surface patio next to the sand, or directly on the sand? You can't choose the right footwear until you know the answer.
Do choose a dress with movement. Lightweight fabrics that fall away from the body will keep you comfortable in the damp, salty beach air. Wrap style dresses, wide-legged jumpsuits and empire styles are fabulous choices.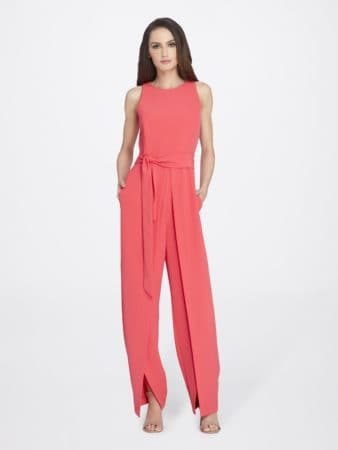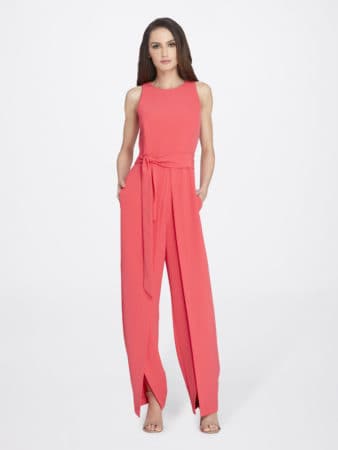 Check your dress length. If the dress is too short, a gust of wind could lead to a peep show for your fellow guests. Knee-length is usually safe — but if that feels too frumpy, at least make sure your foundation layer is G-rated.
Don't
Don't wear flip flops. There's no reason, unless your seat is partially in the waves. Instead, go for leather sandals
Don't wear heels. If you are anywhere near the sand, you'll wreck your shoes. You'll also subject yourself to the possibility of getting your heels stuck and falling over.
Don't forget to accessorize. Just because the event is beach-themed, it doesn't mean you should leave your necklaces, rings, and earrings at home.
Don't wear anything sheer, revealing or tight. Sure, you're at the beach. But remember, this is event with kids, friends and family.
Don't wear black or navy blue or olive green. Dark colors don't fit the seaside vibe. Plus, if the sun is shining, you'll be the first in the crowd to overheat.
The Beach Wedding Outfit — Location is Everything
The key thing to remember about dressing for a beach wedding is that location is key. Not all beach wedding are alike! First, consider the setting:
Will it be a tropical destination wedding? Will the ceremony actually be in the sand? In both cases, sandals, sundress, floppy hat and lei are fair game.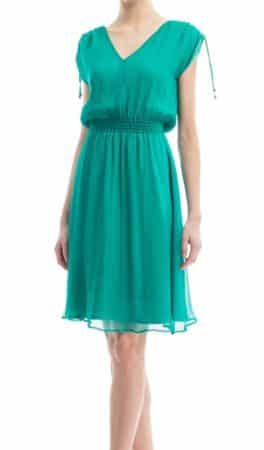 What's the weather pattern like? I remember a trip I took years ago to the Caribbean in late-June. It rained, hard, for 30 minutes every day at 2pm. If you are traveling to this wedding, ask the locals about any interesting weather patterns.
When the Wedding is in the Sand
If the invite tells you the bride will be barefoot and the ceremony is on the beach, it's OK to follow suit. But don't show up without shoes at all — no one wants to walk into a public restroom with no shoes on. Yuck. Instead, bring a cute pair of flat sandals. You can stash them in your bag.
For these ultra-casual ceremonies, your outfit should be light, breezy and casual. Try summer and spring prints, asymmetrical hemlines, or even a halter-top chiffon dress with a longer, flowy skirt. And, these styles will work for a day or evening ceremony. Just remember that shawl in case the temperature drops when the sun goes down.
When the Wedding is on the Boardwalk
If the wedding is "seaside" or "on the shore," then you can bet the bride is wearing heels. There should be a walkway or a hard surface beneath you. (It doesn't hurt to confirm this with a quick call!).
In this case, go a step dressier with your outfit so you can pair it with wedges vs. flat sandals. One of the simplest ways to know you're stepping up the formality level is passing on cotton and linen pieces. Go for polyester blends, silk or chiffon.
What to Wear to a Formal Beach Wedding
When the invite references the word "formal," take that description seriously. Look for a longer dress that's lined, or even a floor-length jumpsuit. You can still dabble in the beachy colors though — just make sure the silhouette has a certain level of sophistication.
Beach Wedding Accessories Tips
Have I mentioned wind yet? Yeah, it's a theme. Avoid accessories that aren't securely fastened down. Flowers in your hair, earrings that dangle, loose ribbons — these delicate touches end up askew, lost or tangled in knots on a windy day. Choose jewelry and other adornments that clip in, stay close to your skin, or are heavy enough (like a pendant) that they won't take flight away from your body.
Beach Wedding Makeup
The rules of thumb to remember when doing your makeup for a beach wedding:
foundation with SPF
waterpoof mascara and eyeliner
lip stain over gloss and stick (sand stuck in your lipstick? gross.)
I'd also recommend skipping the highlighter and going very light on the contouring. You'll be out in the sun — you don't want your highlighter to blind anyone and the warmth will deliver some natural color to your cheekbones.
Are you ready to head out shopping for that perfect beach wedding outfit? Enjoy!