This post may contain affiliate links. See our privacy policy.
Gone are the days of dark outerwear — this season has a fresher take on winter warmth! From moto to trench and faux fur to fleece, my favorite coats of 2017 are showing up in the softest and sweetest of pinks.
I've already added a pink moto to my collection, and I'm ready for another in a different silhouette. Why not? When the skies are dark and gloomy, it seems like exactly the wrong time to wear black or navy or chocolate anyway. Lighter colors boost the mood, and provide a lovely contrast against your darker layers underneath.
Wanna help me shop? I picked out 15 budget-friendly pink coats as contenders. Here they are — let me know which is your favorite!
Pink Coats: The Short Picks
We can thank Game of Thrones for the rise of the statement fur! Go against the grain with this bold pink number that's heavy on texture and personality.
What puffers lack in shape, they make up for in warmth. There are days when nothing but a puffer will do — and on those days, I'd love to reach for this soft pink version.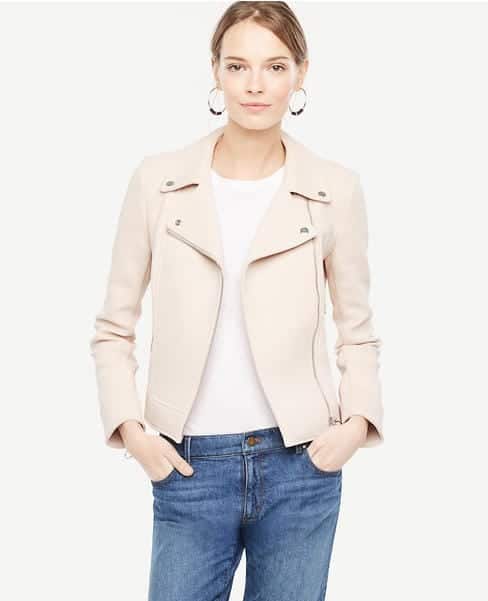 Take this moto with you anywhere, any time of year. It has a subtle, classic style and will play nice with your work clothes and your play clothes.
The casual bomber wears well over jeans, skinnies and even simple dresses. This one features fleece lining and a hood for extra protection.
Pink Coats: Mid-Length Style
If you're looking for more ways to get in on the velvet trend, this pink coat might be your answer. It has a relaxed fit without tons of bulk, so you can layer it over a variety of outfits.
The texture on Anthropologie's Sherpa Coat is amazing, and the piece itself is just the right length. This one might be my favorite of the list — it has structure, but gives enough to feel like a soft robe.
Adding bulk to your top half does have its advantages — this tactic generally makes your legs look thin. This double-breasted coat from Forever21 gives you that look for sure.
A coat that you wrap around your whole body, head included, just looks fun to wear. The rounded edges also give this style a soft, feminine vibe.
Here's a less expensive version of the Anthropologie Sherpa Coat. All that heavy texture and mid-calf length, with that price point? A steal.
Pink Coats: Long & Lovely
The belted trench is a classic, must-have winter piece. I say that knowing that I personally don't have one. Can you believe that? I just haven't found one I'm willing to commit to just yet, but this is a contender (along with the ASOS and Amazon versions below).
This coat keeps things simple with straightforward styling and single-button closure.
If soft pink isn't your thing, maybe this fuchsia coat hits your fancy. It's stunning really, even if somewhat less practical than its lighter counterparts.
This ASOS coat is a tad longer and rosier than the New York & Company trench above. Either would make a fabulous outfit out of skinny pants, random top and heels.
Last but not least is a double-breasted, belted trench for less than $50 from Amazon. According to the customer reviews, this coat is fairly lightweight — not surprising given the price point. It may not bring the warmth factor without layers underneath it. But then you could argue that a lighter-weight coat is more versatile, as you'll wear it in the spring too.
So that's my list of pink coat contenders. What do you think?