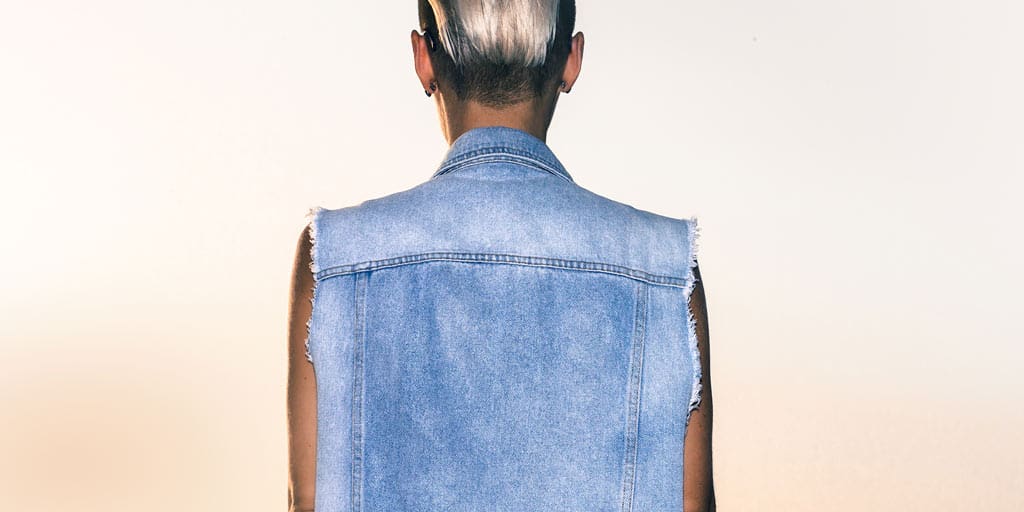 This post may contain affiliate links, which means I earn a small commission if you click and buy something (at no cost to you). See our privacy policy.
What's better than denim? Even more denim. The double denim trend from the '90s and early 2000s is back with a vengeance, and you don't have to be a runway model to make it look good. Before disregarding denim-on-denim as a fashion faux pas, check out these surprisingly stylish ways to rock the look.
Boyfriend Jeans, T-Shirt and Denim Jacket
If you feel like treading softly into the double denim trend, try this daytime casual look. Pair some comfy boyfriend jeans with a neutral or striped tee. On top, sport a classic denim jacket. Finish the look with a leather crossbody bag, a piece of statement jewelry, running shoes, and a baseball cap.
Jeggings, Chambray Top and Heeled Booties
If traditional jeans aren't your thing, you'll love this next double denim ensemble. Put away your jeans in favor of a dark wash jegging. Choose lighter denim for the top to create some contrast. While not exactly denim, a button-down chambray top with chest patch pockets helps create a trendy spring look. Slide on a pair of black heeled booties and sunglasses to complete the look.
Denim Skirt, Denim Jacket, and Scarf
With warmer weather on the horizon, skirts will once again become a staple in our wardrobes. This double denim look features a mid-thigh distressed denim skirt, casual tee, and a denim jacket with fun embellishments like patched elbows. For an extra touch of color and texture, tie a decorative scarf around one of the belt loops of the skirt.
Denim Overalls, Chambray Top, and Heels
Who says adults can't wear overalls? This all-denim outfit features denim overalls with a chambray button-up shirt. The key to wearing it like a grown-up is to choose form-fitting overalls that hug your feminine curves. Add a few key accessories like an oversized watch or choker. Then, bring some instant color to the game with a pair of heels in a fun spring color like aqua, lavender, or yellow.
Skinny Jeans, Button-Up, and Fringe Bag
The double denim trend is not exclusive to two shades of blue. Try mixing up different shades of denim, such as a blue denim jacket and black jeans. Keep accessories dainty and simple, such as a chain bracelet or skinny watch. You can also try combining your fav spring fashion trends — like two pieces of denim and a fringe hobo bag.
Denim on denim is one of the season's easier trends to master — give it a shot and let us know how many compliments you get!
Love this article? Read Street Style Spotlight – How to Wear the Long Belt Trend.