You saw it here: This season, cat eye makeup is hotter than a McDonald's coffee. The trend gives us the perfect excuse to try out this dramatic makeup technique and all its fun variations.
If only cat eye makeup were easier to apply, that is. The winged eyeliner style is notoriously difficult to get right for everyone except beauty vloggers and Tik Tokers. But I have faith in you. With the right strategies, you'll soon be rocking the cat eye like a social media superstar. Read on to learn more.
Cat eye makeup 101
To get the cat eye look, you use a heavily pigmented eyeliner, usually in black, to create an elongated and dramatic lash line — which gives the illusion of a cat's eye.
Breaking this down, you start by drawing a thin line along the upper lash line. As you move towards the outer corner, you gradually increase the line's thickness. At the outer corner, you angle the line up, creating a wing or flick.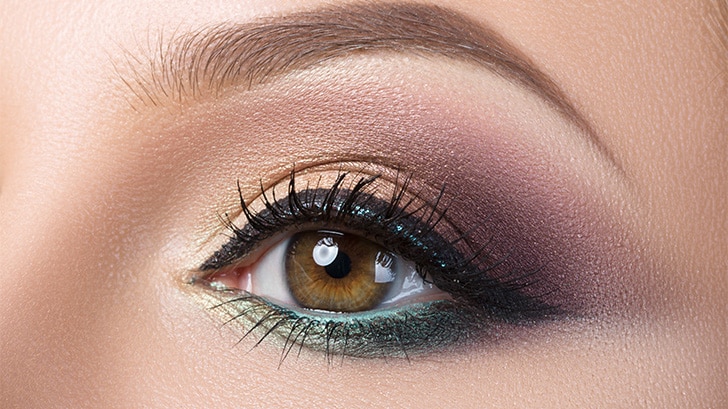 Traditionally, you'd angle the flick so it points to the end of your eyebrow. But that shape doesn't look amazing on everyone — so feel free to modify the angle and length of the flick to suit your eye shape. You can also customize your cat eye with color and/or eyeshadow (see some inspo on this below). Then, finish with fake eyelashes or a heavy dose of mascara.
Here's the process in bulleted form:
Decide on the shape you want.
Line your upper lash.
Flick the edge.
Optionally, customize your look with shadow.
Add lashes and/or mascara.
Now, let's talk about refining your technique and designing a cat eye makeup style that's uniquely you.
Tips for creating your best cat-eye
Describing how to apply cat-eye makeup is easy. Actually applying cat-eye makeup is not. If you've tried it before, some of these experiences will sound familiar:
You can't hold your hand still. As a result, your eye makeup looks like a child's drawing.
You can't get even. One eye has thicker liner than the other, so you add more to compensate. You overdo it, then go back and thicken the line on the other eye. Soon you look like a football player with too much blackout.
Eye wrinkles make it impossible to get a smooth line and flick. The makeup looks great while you're holding your eye skin taught, and terrible when you let go.
You get it right but it doesn't last. Two hours into your evening, you've managed to wipe away an entire eyelid of liner.
You get it right but it just looks weird. Something about the cat eye shape just doesn't suit your face.
You've been there, right? Move on from cat eye fails with these six strategies to minimize messy or uneven application, smudging, and awkward, unflattering cat-eye shapes.
1. Use eye shadow primer
Eye shadow primer gives you a smoother canvas to work on. It also minimizes smudging and the makeup creases that result from blinking and moving your eye throughout the day.
2. Try different types of liners
You can use a eyeliner pencil, liquid eyeliner, or a gel liner. A liquid liner gives you the most control, but is the least forgiving. A pencil is the most forgiving, but delivers a softer line. You'll have more of a smudged cat eye look, which can be quite dramatic. A gel liner is the middle ground between a pencil and liquid.
If none of those options work for you, try eye shadow and a fine-tipped applicator brush in lieu of liner. Definitely use a primer in this case, since shadow doesn't have the staying power of liner.
3. Consider your eye shape
On some eye shapes, a long-winged cat-eye looks awkward. If you're managing the application just fine, but still not happy with the results, this may be the issue.
If you have wide-set eyes, try a shorter wing. Or, even better, skip the wing entirely. If your eyes are closer together, be aggressive with the flick — length at the outer corners of your eyes will look stunning on you. If you have hooded eyes, keep the lash line thin and extend the length of the wing at the outside.
4. Try tape, stamp, cat-eye template, or sticker
Unsteady hand? Skip the freehand work. The beauty industry offers several tools to take the guesswork out of your cat-eye. The simplest option is to apply a piece of gentle tape at the outer corner of each eye. Angle the tape so you can use it as a guide for the bottom edge of your flick. For best results, place the tape at both eyes, check for evenness, then get to work.
Alternatively, you can try:
Cat-eye stamp: This is usually a gel liner with two applicators. One side is a fine-edged applicator for lining your lash. The other is an angled stamp that creates the flick at the outer corner of your eye.
Cat-eye template: If you can't get your makeup to look even on both eyes, a template is your solution. Cat-eye templates come in two forms. There are reusable rubber shapes that you hold against your eye to guide the liner shape. Or, there are also single-use stickers that you apply before you draw in your makeup and then remove when you're done.
Cat-eye sticker: The cat-eye sticker concept is interesting, right? What could be more foolproof than that? The trouble is, the reviews on these products are very poor. Complaints mostly say the stickers don't look natural and don't stay on. So, proceed with caution here.
5. Line with eye shadow
Perfectionists, this tip is for you. Once you have your liner nearly perfect, trace it with shadow using a fine-tipped brush. The added layer smooths out any tiny imperfections, softens the overall look, and also gives your liner extra staying power.
Take care not to put too much shadow the applicator, though. If you don't tap away excess powder before applying, you'll end up with shadow dust all over the place.
6. Wear fake eyelashes
Cat-eye makeup can look unfinished without a full lash. Consider adding a fake lash or going aggressive with your mascara application. I like the fake route with a subtle lash design — this looks much softer than 20 gallons of mascara on your natural lash.
If you've never worn fake eyelashes before, practice ahead of time. Or, ask a friend to help you.
7. Have micellar water on hand
Micellar water or any gentle makeup remover is handy for cleaning up stray liner and eye shadow dust. Dip a clean sponge applicator or Q-tip into the cleanser and carefully wipe away your mistakes.
Customizing your cat-eye look
1. Add color
The classic cat-eye relies on shades of black. But this season, color-pop cat eye makeup is very popular. Try experimenting with a metallic liner in silver or blue. Use it on your lower lid and/or above the black liner on your upper lid. You can also outline your wings with color.
2. Go smokey
A smokey cat-eye relies on shadow to soften the lines. You can see below how @natashadenona has applied a thin black liner on her upper lid, and then finished the wing shape with rich brown and gold shadows. Note how the lighter shadow frames the flick on top and is carried across the crease. That really accentuates that cat shape.
3. Experiment with lashes
Your lash treatment can make or break your cat-eye. Experiment with mascaras and different styles of lashes. You can try lush fake lashes, single lashes, glue-on, and magnetic versions.
4. Reverse it
You can also try reverse cat eye makeup. This technique puts the emphasis on your lower lid.
To create a reverse cat-eye:
Lightly line your upper lash line.
Add a thicker line to your lower lash line.
Connect the upper and lower lash lines with the cat-eye flick at the outer corner.
Line the inner corner of your eye.
Optionally, add a smaller flick, angled down slightly, at the inner corner.
You can then add color with shadow, lashes, and mascara.
How to remove cat eye makeup
To remove your cat eye makeup, make sure you have cottom pads plus micellar water or another gentle makeup remover on hand. Soak the pad in the cleanser, then hold it against your closed eye. After a few seconds, you can wipe softly to scoop the makeup up and off your face.