Our content contains affiliate links, so know that we might earn a buck or two if you click and buy :) !
More Fashion Tips for Dressing After 60
1. Don't shun your past
You're a few years older, but you're still you, so dress accordingly. If you think you need to redo your wardrobe, think again. Movie star Rita Moreno is still working the hot pink dresses and big baubles she loved in the days of West Side Story — she's just wearing updated versions of them. Moreno doesn't shy away from color (we would really like to meet the person who said mature fashionistas can't wear color, so not true) and trades the 4 inch heels in for a pair of 2 ½ chic sandals. At over 80 years old, Rita is showing everyone that she's the same fun, fiery woman she was in her youth — with the same chic style.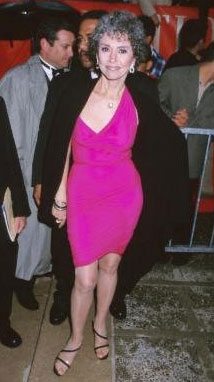 If you've always loved the way you look in blue, or if your wardrobe work-horse is a tailored pair of slacks, stick with it. Love that strapless dress? Wear it, but pair it with a chic cropped blazer. You know what works for you, so don't be swayed by others' opinions of what you should wear. Recall your greatest fashion moments and find a modernized, mature way of recreating them.
2. Experiment with prints and textures
No, you can't wear every trend that comes down the runway. But on the flip side, a twenty-something fashionista couldn't get away with half the fabrics you can. So while you can't go wild with mini skirts and cropped shirts (not that you'd want to), you can show personality in animal prints, florals and bold textures. No one does this better than Vogue Editor-In-Chief, Anna Wintour.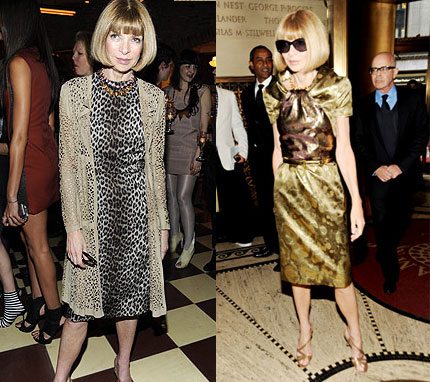 Like Anna, you can make a statement in your signature style. If you haven't already, find out what silhouette best flatters your figure. Anna likes sheath dresses, but you may prefer an A-line skirt. Once you've narrowed down the shape of your clothes, anything goes when it comes to prints. Another great way to make a statement? Statement accessories, of course. Bold sunglasses, necklaces and watches look chic with a classic ensemble.
3. If it ain't broke, don't fix it
When it comes to signature style, repeating a look isn't just acceptable, it's encouraged. Once you find a style that you look and feel great in, go ahead and buy one in every color! The best example of this is designer Carolina Herrera. She creates some of the most beautiful, elegant clothes on the runway and red carpet, so she would know.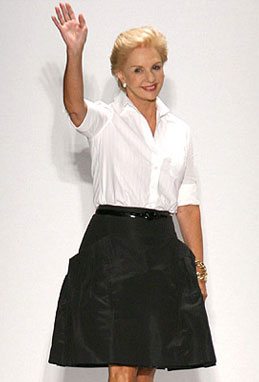 Crisp blouse, A-line skirt, drop earrings: it's the uniform of the chic 62-year-old fashion queen. We see her in it almost every time she steps out, and are we bored? No way! She looks fabulous, and so do you in your signature look. Whether it's a shape of dress, a style of shirt or a particular color, if it works, work it, all the time.
4. Embrace pantsuits
Admit it, you used to envy how chic Katherine Hepburn looked in her pantsuits. Maybe you still envy the powerful presence her ensembles conveyed, so why not steal her style? A pantsuit works for day or night, for luncheons or parties, for the office or the church, and it always, always looks chic. Take a look at Exhibit A: Diahann Carroll in this gorgeous wear-anywhere outfit.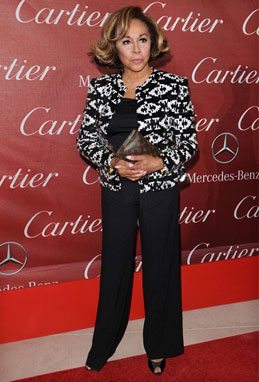 The pantsuit is the LBD of women over 60, partly because it takes a certain degree of sophistication to pull it off. Find one that fits your personal style and figure, get it tailored, and wherever you go, you'll always have the perfect outfit.
5. If you've got it, flaunt it
And yes, you've still got it. Want to know what else you've got? Elegance and sophistication, qualities inhabited only by a seasoned fashionista. If you're having trouble being convinced, this should give you a little inspiration: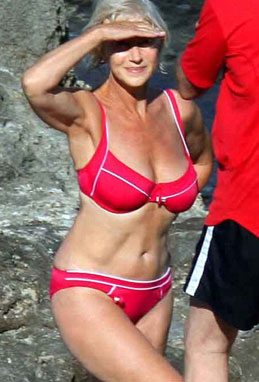 Copyright Brenna/ Jason Fraser
That's Helen Mirren… in a bikini. Mirren is now in her 70s and is as breathtaking as ever. Newsflash: so are you. Whatever your best features are, don't be afraid to show them off. So what if fashion seems focused on the younger crowds sometimes? When it comes to style, that's all you. Have fun and create your own rules for fashion after 60!
Would you like to download this article as a PDF?
You may also like these:
POPULAR POSTS TODAY