Ten Ways To Have A Great Wedding On A Budget
Weddings can be crazy expensive, like house-buying, private-jet-owning expensive. So we put together ten simple budget wedding tips that will help you to have the wedding of your dreams without going into to debt as a newly married couple.
Budget Wedding Tips
1. Elope is the Word – Yeah, it's not "Platinum Wedding", glamorous, but it is cheap. You can go kitschy Vegas, old school Niagara Falls, a local casino, or head to a nearby romantic town. Most of these places just require a marriage license (which ranges in fee from less than $50 up to $200).
2. City Hall– Getting married at city hall is a great way to limit the size of your guest list, because only 20 people can fit in that room at any one time. This is a great option for those who aren't particularly religious and/or what to keep it simple. You might have noticed a trend as some of our favorite pop culture couples are opting to go to City Hall (Meredith and Derek on Grey's Anatomy, Mr. Big and Carrie on Sex and the City)
3. Dressing for Less – Wedding gowns are often the one wedding purchase that requires a lot of patience and too often, a lot more money. While a wedding gown may be traditional, the reality is that most brides will wear the dress once and store it away forever. Sentiments aside, if you want to cut down cost for the overall wedding, consider renting or borrowing a dress. If you must have your own dress, be sure to shop on the clearance rack, where you can find plenty of gowns for reasonable prices or head to your local thrift store.
4. Chop the Guests in Half – Guest lists are a very big expense. Not only because the people you invite to the wedding and reception have to be fed and entertained, it also costs plenty of cash to print the invitations, purchase the stamps, and so on. Create a draft guest list and work on narrowing it down until you've cut the list in half.
5. DIY Invites – Invitations cost a pretty penny to purchase for a wedding. The printing costs, shipping charges, and the stamps you need to buy all add up to big bucks for your wedding budget. Today, there are more options than ever when it comes to wedding invitations. Many popular stores and craft shops sell do it yourself kits (we really like the kits at Target) for creating your invitations on your own computer that are easy and can be just as elegant than those from a print shop. To save on stamps, hand-deliver the invitations you can and instead of including a RSVP card, ask guests to call or email their replies back to you. Or better yet, send out invitations using an online system like evites.
6. Frugal Flowers – Flowers can blow a wedding budget quickly. Select flowers that are in season and include more green in your bouquet. Opt for silk flowers that you can purchase from Michael's, Wal-Mart, or even the dollar store for the bridesmaid bouquets.
7. Decorating on a Dime – Instead of paying someone to decorate your reception area, ask family and friends to help prepare the reception space with supplies found at a discount or clearance sale at a party supply outlet. Look for special closeout deals online, or buy discontinued supplies often found at bargain stores. Keep decorations simple. Use inexpensive things you already have at home, such as candles or white twinkle lights to add ambiance.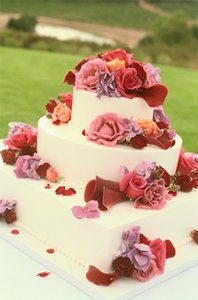 8. Low Down on the Cake – The basic rule of thumb with wedding cakes is that the bigger and the more detailed they are, the more money they will cost you. Many couples purchase a wedding cake that is only real on the top layer for picture purposes and the traditional cutting of the cake ceremony, with the bottom part of the "cake" made from cardboard or plastic. For guests, serve a sheet cake, which can be purchased from other grocery store for under $20.
9. Choose the Unpopular – The time in which you marry can also be a big factor in the cost of your wedding. Most couples choose to marry on a Saturday during the summer months, however many places will offer a discount if you choose a Sunday or a Friday. If you plan your wedding during a different time of the year or on day other than Saturday, you will likely find discounts on the venues, caterers, churches, and the like.
10. Food Frugality – Keeping your guest list to a minimum will also save on food. If you are planning to have a wedding reception on a day other than Saturday, a caterer may afford you a discount in order to get your business during a typically slow period.
Get more Budget Fashionista