So, about our budget fashion and style advice: We sometimes use affiliate links, so we might earn a buck or two if you click and buy :) !
Dark skin and dark hair
Pastels will look marvelous on you! Baby blues, minty greens, soft pinks and pale yellows as well as light grey will be your best choices when it comes to choosing swimwear. As for orange, white and brown, unless the suit is the most perfect fitting piece of lycra you've ever put on your body, leave it behind in search of most sorbet-oriented colors.




Olive toned or light brown skin with medium brown or dark hair
Black works beautifully on you (lucky girl!) as does army green, tangerine and pale blues and taupes. Colors to avoid? Mustard, brown and grey.

Creamy light skin with dark hair
Your best bet will be any color in the blue family – navy, turquoise, baby blue as well as emerald, fuchsia and plum. It's a good idea to leave the orange and white suits on the rack.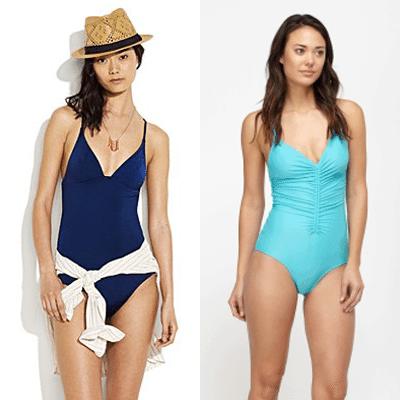 There, that wasn't so terrible, was it? While bathing suit shopping may be low on your Favorite Things To Do list, at least we can all agree on one thing: summer is an absolutely lovely time of year and if you have a swimsuit that makes you feel like a million bucks, the season will be that much more enjoyable.