The following is a guest post from our friends at Lucky.
This post was no doubt inspired by last week's heat wave–well, that, and my longtime fantasy of visiting Havana, Cuba (but circa 1950–so glamorous!). Here's what I'll be roaming around the streets of New York in this summer, while pretending I'm far, far away smoking cigars (or maybe just holding one since they are so gross), drinking coconut water out of an actual coconut (not VitoCoco!), dancing to music playing on a jukebox and–last one, I promise–tucking a flower in my hair.
So I'm not entirely sure that this type of flower is indeed indigenous to Cuba, or anywhere else for that matter, but let's pretend my dark, handsome lover picked it out for me and placed it in my overly treated, sun-kissed hair.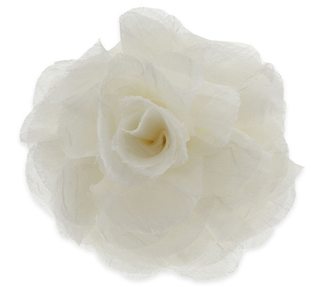 Chiffon flower clip, Tasha, $38, Nordstrom.com
The color combination and shape of this skirt vaguely remind me of the citrus fruit print one that Stella McCartney did this season–since I'm a writer and not a banker, I was searching high and low for an affordable yet equally chic option. (Side note: the Stella one is now on sale at Bergdorf Goodman for $863, if that price is cool with you).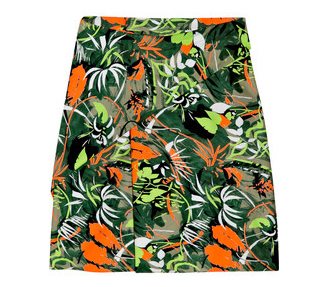 Tropical print skirt, Vanessa Bruno, $273, Netaporter.com
I don't normally wear one-piece suits, but I thought I'd give it a whirl. This suit reminds me of something my grandmother wore in the '80s–and I have one chic grandmother!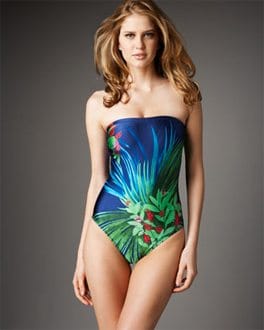 Tropical forest bandeau, Bergdorf Goodman, $178 Bergdorfgoodman.com
Since a pool scene is pretty much my favorite thing ever, this tote always brings a huge smile to my face. And let's be honest, the straw beach bag is a little played out by now, while this quirky-chic print certainly is not!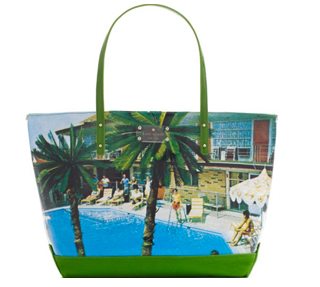 Wish You Were Here tote, Kate Spade, $275, Katespade.com
Ever since accessories director Julia Kalachnikoff showed me her Judith Lieber pineapple evening bag I seem to have fruit-shaped accents on the mind. When the occasion doesn't quite call for a crystal-studded pineapple clutch (as most do not) this cute charm necklace can take its place.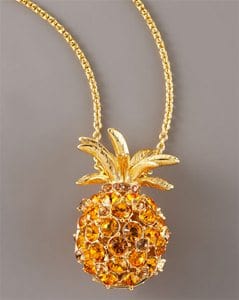 Pineapple necklace, Kate Spade, $145, Neimanmarcus.com
Normally, the word tropical tends to evoke visions of bright color, but these black-and-white pants still capture the mood, plus they conjure the glamour of old movies. What do you wear when you want to pretend you're closer to the equator?
For more fashion, beauty, news, and shopping advice, visit Lucky. And here are some other awesome stories –