Beyond khakis, cords and crunching leaves, styling autumn's crisp temperatures and classic palette requires wrangling a few fall beauty trends to keep it all looking contemporary. Freshening up fall's usual harvest hues and traditional textiles is easy with these tips and tricks stolen straight from the runway from years past.
Beauty trends (just like style trends) have a way of recycling themselves every few years — so here's a fun fall beauty trends retrospective to inspire your own beauty updates.
2014 Fall Beauty Trends
Doll-Like Lashes
When a barely-there beauty routine wants to make a real impact, it's all about intense lashes. Scoop up lengthening mascaras, faux strips or individual falsies to create full, thick lash lines that give a doll-like and doe-eyed stare.
Plaits
A modern spin on Spring and Summer's long and whispy braid trends, tight corn-rows keeps hair up and out of the face for tailgate weekends, windy days and snow storms. Next-level circular milk-maid braids ala McQueen and half-up/half-down looks showcase the face and any of the other trends tried here.
Icy Liners
Designers ditched basic black liners–and so should you. Bright white on the bottom lash line and silver metallic tops give eyes an icy cool makeover to match the festive season ahead, while complementing natural shadows and full lashes.
Nude Shadows
Keeping in suit with the light and natural aesthetic, nude pinks, browns and taupes top the list on the shadow front. Natural shades aren't anything new and original as far as beauty favorites go, but we're used to seeing them during warm-weather months.
Colored Smokey Eye
When nude shades simply won't do–think more festive affairs–this adventurous take on traditional smokey eyes lets you glam it up in a more unexpected style. Forget browns and blacks, choose a jewel tone like the deep teal or turquoise used at Versace.
Ballerina Buns & Chignons
Layering up sweaters coats and more? Pull hair up and out of the way in chic, off-duty model style with the help of a simple ballerina bun or low chignon. Almost effortless and always elegant, these swept up hair styles were the favorite among Lagerfeld darlings.
Natural Lips
Since the overall aim this season is limited color and all things airy, lip color has almost entirely been left behind. To keep the focus on the eyes, go matte and natural on the lips. A light stain or stick matching your everyday color will reign supreme.
Illuminate
For days when matte gets too monotonous, add a little highlight, shimmer and shine in the mix with a illuminator across the cheekbones. The perfect way to bring dimension back into the face, a few sweeps along with contouring gives a youthful glow to otherwise everyday looks.
Wet-Look Waves
Gone are the days of the slicked-back wet-look, but Valentino and Dior gave us something new to look forward to: waves. A blessing in disguise for those who normally require a blowout, wavy-haired babes can give a little scrunch and tousle with a gel to nail this easy, on-trend style.
Strong Brows
Thanks to the likes of Cara Delvingne, no doubt, thick, bushy brows are where its at. Right in step with the season's less is more approach, a full set of brows highlights the face and features without the need of bold color and technique.
2013 Fall Beauty Trends
Cat Eyes
The sixties staple is making a comeback! For a non-messy application, try a cake liner and angled brush to give your eyes the drama they deserve.
The Low Pony
Good news for your bad hair day, the low pony is in! This girl-on-the-go fave is an easy fix for all types of texture. Smooth off the frizz with a bit of oil. Then pull your hair back at the nape of the neck.
Copper Lids
Metallics never seem to stray far in the world of beauty, but this season's standout is copper. Blending beautifully on most skin types, it's a sparkly neutral that goes well both day and night.
Braids
Don't let go of your summer braids just yet! The plaited look is sticking around for fall. And just because it looks like a fancy up-do, doesn't mean it's hard to do. Part your hair in the middle, make two pigtail braids behind the ears, then pin them up to the top of your head.
Stained Lips
Don't worry, you can still achieve a stained lip similar to the ones that went down the runway without looking like you downed a carafe of red wine, or spent the past 20 minutes with a cherry ice pop. Apply a deep shade of rouge (don't worry about a perfect line), then blot twice with a tissue.
The top beauty trends for fall all focus on using nature to look fresh, instead of over the top glam. This fall, take your favorite parts of glam (like glitter, we love glitter) and tone it down in a beautiful and organic way (opting for shimmer instead).
In order to embrace the natural beauty looks this coming season, choose products that are healthy for you, your skin, and your environment. We're not saying to go void of any embellishments. Rather, choose embellishments that enhance your natural beauty without hiding it. Shake Your Beauty!
2011 Fall Beauty Trends
Full, Natural Eyebrows
Forget the tweezers and the painful wax. Allow your eyebrows to thicken, just short of going into Frida Kahlo unibrow territory. To get the look of fuller eyebrows without going over the top, try the threading.
With threading, no painful waxes or chemicals are used. Instead, threaders use one single, fresh thread and brush it over your eyebrow to pull out the hairs. It's not painless, but it hurts less than waxing and is better for your skin. Note: do not try threading at home.
Metallic Eye Shadow
Metallics were a big Fall 2011 Fashion Trend. From shimmery fall handbags to gorgeous silver eye shadow, a touch of glitter (just a touch) or a touch of glitter's less out there cousin, shimmer, is enough to make any woman happy.
To ensure that your eye shadow lasts throughout the day, try applying an eye shadow base beforehand.
Longer Eyelashes
The trend in eyelashes then was to lengthen without clumping. Sometimes applying too much primer and mascara can create a more stage make up look rather than a natural appearance. One way to avoid this problem is to brush on your lengthening mascara two to three times and then use an eyelash curler to seal their appearance.
Or, you could simply apply fake lashes. Rather than envision purchasing perfectly curled lashes from the drug store, try more natural looking lashes like these from Sephora.
Remember, you can take a small pair of scissors to cut the fake eyelashes to make them appear more natural. You can also try just applying them to the edge of your lashes rather than placing them over your entire eyelid.
Nail Overlays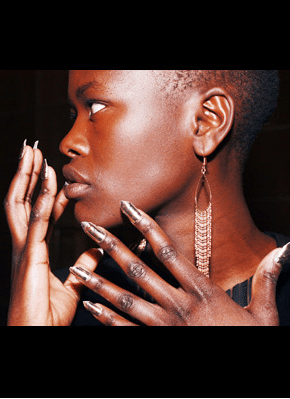 With nail overlays rocking big time, you can now customize your nails to any color and pattern you can possibly imagine. Companies like Minx have nail overlays in patterns ranging from houndstooth to wedding lace.
Another long lasting technique for your nails is to get a gel nail treatment. Both overlays and gel nails can last for up to two weeks. These products are also healthier for your nails and help them to grow, unlike acrylic nails which can be harsh on your nailbeds.
Rock a Tan

You worked hard on your tan all summer, so why let it fade as the weather gets cooler? This fall, use products like Jergens Natural Glow moisturizers, Sephora Skin Transformer, or Neutrogena's Glow Sheers Medium to Tan 40 to keep your warm skin tones without hopping in the tanning bed.
If you're "naturally tan," then using a bronzer from a trusted drug store brand like Black Opal, can give you that summer glow.
Smooth, Silky Skin
Nothing represents health and beauty more than silky skin. In keeping with the trend of natural beauty, pamper yourself with sugar scrubs (like Bath & Body Works' Stress Relief Eucalyptus Spearmint Sugar Scrub).
Apply sugar scrubs while taking a bath or a shower to remove dead skin, and in the process, enjoy the healing powers of aromatherapy. You'll not only feel relaxed but your skin will appear radiant and healthy, two qualities that are always in fashion.
Woodsy, Natural Fragrances
Fall brings a sense of comfort, cooler weather, and time spent outdoors camping and raking leaves. So, it's only natural that women will be embracing woodsy, autumn scents this season.
These fragrances have a more romantic aroma than the sweet, flowery scents you will typically smell in the spring and summer. To sample a woodsy scent, try Victoria's Secret Rapture or Bath & Body Works' Twilight Woods.
Honey Highlights and Lowlights
It was all about the honey, honey. Bleached blonde babes went for a warmer look this season with chunky, honey toned lowlights.
Deep brunette, on the other hand, brightened things up with honey colored highlights.
Loose Braids
This fall's hairstyles allowed us to have a more laid back approach to our daily appearance. Long locks tossed in a messy bun or tied in a long braid are perfect for the natural, relaxed look that we're striving for this season.
Natural Tinted Gloss
Tinted lip glosses like CoverGirl's Nature Luxe line are perfect for the fall because they have the moisturizing qualities of lipstick coupled with the sheen of gloss. To find the perfect tinted gloss, focus on healthy lips by checking for a high spf and natural ingredients.
Pink Cheeks
Pink cheeks were the go to look. Try mixing a touch of blush mixed with other trends from this season like light metallic eye shadow and long lashes for a healthy, glowing look.
2010 Fall Beauty Trends
Purples
Fall 2010 was all about shimmery mauves and dark lavenders on your eye lids. It goes without saying that when highlighting eyes, keep the rest of the face basic and vice versa.
Burnt Lip Colors
Shocking tones of bright oranges ( a la Prada) and gold were seen in the AW 2010 runways.
Berry Lips
It may appear black out of the tube, but it spreads across your lips in a luscious berry hue, giving off an irresistible, sultry aura. So you can stay on trend but not veer too much towards the goth look.
Metallic Nails
This trend is all about being a little vampy, a little sultry, and all perfection.
Gem Hues Nails
There's nothing more enticing than jewel toned nails. Especially for winter, when we're garbed in camels and nudes.
Slicked Back Hair
The wet look from the late 80s is making a serious comeback, a la designers Prabal Gurung and Jason Wu.
Fuchsia
This stunning pink hue adds a touch of juicy, just pinched look, as seen at Armani and Philip Lim.
Red Eyeliner
If you have eyes that are closer in color to green than blue, red will look stellar on you. We saw this trend at everyone's favorite new label, Altuzarra and on Rihanna, case closed. Make sure to smudge on your lower lash line, and not above.
Extreme Lashes
If you're not a fan of the full, Barbie-esque eyelashes, we'd recommend you try out the trend seen at large at Louis Vuitton, Vivienne Tam, Chado Ralph Rucci and YSL.Try putting shimmery white shadow and then dark, big lashes. The effect will be dramatic, perfect for the evening.
2009 Fall Beauty Trends
Smoke Eyes
Smoky eyes have been de riguer for some time now, but for fall 2009, beauty mavens kicked it up a notch with bold lines (think dark smudgy kohls or defining black liner) and deep color (dark purples and blues are hot).
This is not a workplace-friendly look, so if you do indulge (and quite frankly, we suggest you do) keep it softer for day with some subtle gray shadows and kick it up for evening by adding some sweeping color and dark definition all around.
Nude Lips
With bold hair and eyes the order of the season, lips will sometimes take a back seat. We're not talking just a slick of gloss and no color (like we were apt to enjoy all summer long).
Nope, the look is intentional nude color. That means lipsticks that are matte or with a very subtle shine, and stand-out pale.
Red Lips
This is typical of the contrary world of style — tell us nude lips are IT, and then throw some bold, look-at-me red lips in the mix. We love options, however, and red lips are both classic and edgy. Plus, they pop against the neutral palettes of fall fashion. No shiny maraschino cherry reds here though — deep, sophisticated color, kept matte and tasteful.
Black/Gray Lips
Yes, black and gray lipsticks loomed large on the runway. No, we don't imagine all of us were able to pull off this particular trend, but it's still worth noting. Because, quite frankly, a few short years ago who would have thought we'd be walking around in black nail polish without having oncoming pedestrians cross to the opposite side of the street?
Heading to the family reunion in Ohio? Er, skip it (unless being uninvited to future reunions is your goal). But for an evening at that new club in your hottest LBD? We say why not? You could go to a store like Hot Topic and buy the stuff all the kids are wearing. If you're not quite ready for goth—try an almost-black shade.
Gray Nail Polish
Speaking of black nail polish, dark neutrals and neutral metallics were still in, but the newest neutral color for your fingertips was, yes, gray. Not a big shock considering gray has been the color for fall/winter in the years preceding 2009.
We suggest N.Y.C. Nail Polish — which offers plenty in the gray-to-silver range on the cheap — available at WalMart, Target, wherever.
Purple Nail Polish
Purple appeared on the fall hue radar a few seasons ago, but rather than being a here-and-gone trend it's kind of become a fall staple. In this season, we liked dramatic purple fingertips — which is always a great way to don a trendy hue without having to spend a bundle.
Rosy Cheeks
Forget that winter pall — the faces of fall, 2009 were less Tim Burton, more Little Mary Sunshine. With all the black and gray on the fashion front for fall, we were happy to inject a little softness (and, well, circulation) into our look with a soft rosy glow. And while the 80s are king this fall, forget the bold space-age streak — this color was applied with a big soft brush on the apples of the cheeks to look fresh and modern.
If you liked this post on fall beauty trends, see our post on spring beauty trends!