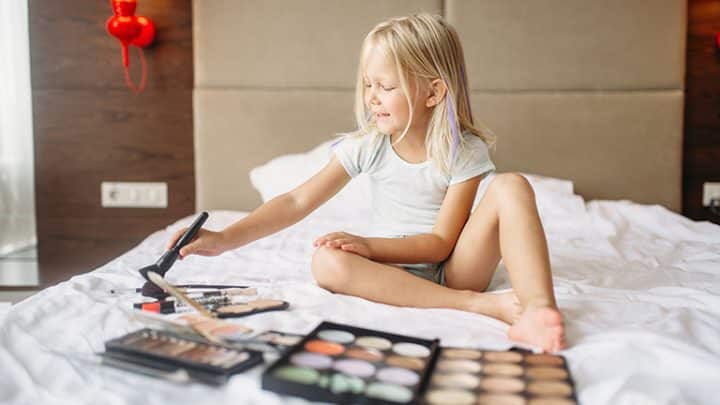 This post may contain affiliate links, which means I earn a small commission if you click and buy something (at no cost to you). See our privacy policy.
Moms and dads may not need this list of trending toys for 2020 — because their kids are already telling the folks what they want. But if you're an aunt, uncle, or grandparent, you might need a little inspiration. Thankfully, toys these days aren't too complicated. If you stick with the popular franchises, you almost can't lose.
Kids are loving L.O.L. Surprise, Peppa Pig, and anything related to Frozen. And believe it or not, toys that poop are having a moment. Yep, toys that poop. If you prefer to skip the big brands and sidestep the poop, another solid strategy is something that teases out her musical or artistic talents.
Here are 10 2020 toy ideas for young fashionista in your life. All are priced between $5 and $60.
Trending toys for girls
1. For the future fashion blogger ($24)
L.O.L. Surprise! Outfit of the Day Advent Calendar is 25 gifts in one. The kit includes Tricksta B.B., a limited edition L.O.L. Surprise doll plus 25 fashion pieces — dresses, shoes, and glammy accessories. Your future fashion gal can try her hand at mixing and matching for endless outfit combinations. The colorful, 3-D packaging is an experience too. She'll pop open 25 different sections to reveal each item in Tricksta's wardrobe.
2. For the girl who loves to shop ($40)
Your kiddo may have forgotten what it's like to go shopping at the mall, so this set may be a nice refresher. The Peppa Pig mall features a functional elevator so the Peppa's pig family can navigate to all three floors of this fun shopping center. There's a photo booth, dressing room, pizza parlor, and a slide that lands in a ball pit. Heck, I'd probably play with this if someone gave it to me. As a bonus, the set comes in recyclable packaging.
3. For the rising YouTube star ($60)
This is a real HD video camera, complete with a mic, special effects, a tabletop tripod, and a green screen. The camera comes with more than 20 animated backgrounds, but she can also create her own. There are easy editing tools built-in, plus a few games in case she gets bored with production. Mom and dad can upload her video content to the computer with a USB cable.
4. For the doll collector ($5)
The Zuru Glitzee Princess Fashion Doll is a budget-friendly gift for the girlie-girl who loves dolls. She can take her Zuru Glitzee doll with her everywhere — it stands less than 11″ tall. And, bonus, according to the reviews, many Barbie accessories will work with this doll. These are wonderful stocking stuffers or gift toppers.
5. For the scientist ($15)
Finally, a science toy that's also girlie! It's a lava lip gloss science kit. She gets to mix her own lip gloss — with color and flavor options — and then conduct an experiment to test its density. She can also fill rollerball containers with her favorite formulations.
6. For the beauty stylist in training ($40)
Yes, we can criticize Disney for promoting gender stereotypes, but that doesn't mean a little girl in your life won't love this tabletop vanity set. Pop open the handled, hatbox kit to reveal a mirror, hair styling tools that light up but don't get hot, a brush and comb set, hair clips, and play scissors. She could spend hours working updos and curls for herself or her bestie.
7. For the Beyblade fan ($35)
This set comes with everything your girl aged 8 or older needs for Beyblade Burst battles — stadium, two launchers, and right-spin battling tops. She might end up roping the whole family into the action, too. There's also a scan code that unlocks a digital stadium in the Beyblade Burst app. If she really gets into it, you can gift related Beyblade accessories on future birthdays and holidays. And, if you need an explanation on Beyblade Burst (I did), try this blog post.
8. For the musician ($20)
This is a functional keyboard for kids aged 2 and up. It has demo songs, instrument effects, tempo beats, and a sing-along microphone. She can also sing along and record her musical creations. You might want to pick up some earplugs too — just in case it turns out that she has no musical talent whatsoever.
9. For the artist ($23)
Crayola has been inspiring young artists for decades. This colorful light board is the perfect next step for the girl who's imagination isn't satisfied with crayons. It's an LED board with a removable tracing pattern and six bright gel markers. She can trace her designs and then turn on the board to show off her creations in the dark. The gel markers are washable from skin and clothes.
10. For the animal lover ($25)
Before she convinces her parents to get her a puppy, give her the chance to prove her pet-owning skills with furReal Poopalots pet toy. She can feed him, walk him, and even clean up his "poop." The pup comes with a connectible leash, a treat case, treats that double as poop, and a poop scooper.
Which trending toys are on your list? Share in the comments!