Tai Beauchamp, the fabulous style and beauty expert known for her helpful tips and common-sense flair, has come to the rescue for those of us deep in the throes of "what do I wear during the holidays?" panic. Thank goodness. In addition to being the Style Ambassador of InStyle, she's also an on-air style expert for major television shows and networks like "The Today Show" "The Wendy Williams Show," CNN and TV One (to name just a few). Who better to chat with about some holiday dos and don'ts?

Ladies, let this be the end of your holiday fashion and beauty frustrations. Here are lots of great tips from the beautiful Beauchamp, guaranteed to help us put our most stunning self forward for our next holiday get together. . and the next . . and . . .
Tai Beauchamp's Style Tips for the Holidays
Rudolph Belongs on TV, not on Our Ears: Jewelry
As for the kitschy bell or Rudolph earrings, Beauchamp says, "let them collect cobwebs." Seriously, resist the urge to get too cutesy with oddball Grinch statement necklaces. Instead, she suggests "evolving in your own style" making sure that jewelry is special element that gets the confident, unique-to-you vibes going.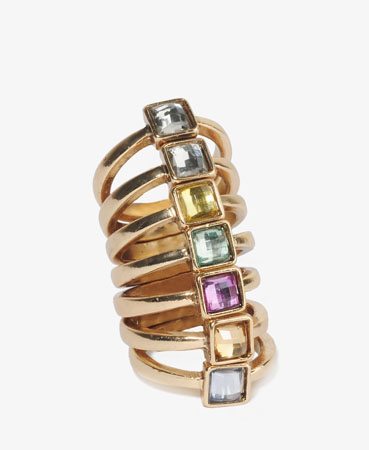 Rhinestone Square Ring Set, $6.80 from Forever21
So, when it comes to bling, don't be afraid to go for it . . . so long as it's in all the right places. She's a fan of layering (multiple rings on one finger, several bangles on her wrist and so on) but (and this is key) avoid cluttering up the look by alternating sides. Wear a few rings on one hand and several bangles on the opposite arm. Too much on one side is well, too much.
When it comes to our upper half, forgo the layering effect. Ideally, choose bold earrings and a striking statement necklace.
Shimmer and Shine (But not too Much)
Clothing – Like us, Beauchamp adores texture and enjoys how frequently it's appeared throughout the recent seasons. She loves the idea of sequins (even when not in holiday mode, she adds oomph to casual jeans with the addition of a sequined top) and is also excited about next year's embellishments like beading. She says to consider investing carefully by choosing something that can be worn again. However, she warns to not go over the top. Use shimmer for its flattering light reflecting properties, but avoid ultra-shimmer and frost. We're humans, not snowflakes with arms.
Face – "Many women have a tendency to think of the holidays as a time to go all-out with shimmer," Beauchamp told us. "They think, 'let me put frost everywhere.' Don't overdo it. Tasteful and soft is key." Add shimmer on eyes or cheeks, but not those areas AND lips. Refrain from head to toe gloss 'n frost. It detracts from our lovely facial features; stay with an elegant, simple holiday look.
Eyes – Again, less is more. Beauchamp suggests using an eyeliner brush to dab a shimmer in the corner of the eye, then applying some to the lower lash line. She stresses that getting a decent set of brushes is important and can't get enough of Sonia Kashuk's brushes at Target.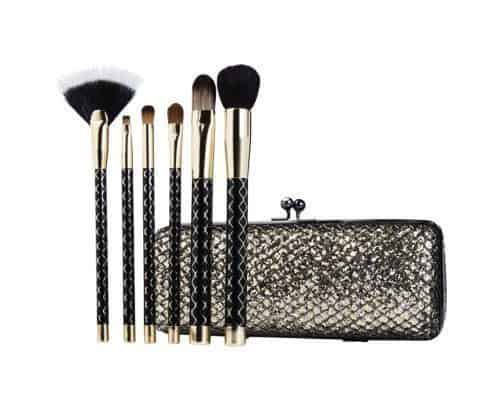 Sonia Kashuk Gilded Cage Holiday Brush Set, $24.99 from Target
"Brushes allow you to wear makeup in so many different ways," she says. "For example, if you want to wear similar color on cheeks and lips, they become helpful tools to achieve that look." It's all about making the most of the product.
In the mood to mix things up a bit for that holiday party (or any time)? "Black eyeliner is expected," she says. "Why not try something different by wearing black liner on the upper lash line and a navy or violet on the lower lash line?" (Who wants to bet that I WILL be trying this look tomorrow? Ok, who am I kidding? Right after I finish writing this. I'm all about adding new twists to the expected and am super psyched to try her suggestion).
Lip Tip: Yes, it's the holidays. We hear songs about Jack Frost, stories of people getting frost bitten and are eating more frosting than normal. But Beauchamp says people shouldn't take the shine and frost so literally and do to our lips what we do with our eyelids (it all goes back to less is more). High gloss lips are overrated. Her suggestion? Go Hollywood glam with a dark matte color and give lips a rich look that won't break the bank. "It's all about balance and matte affordably adds a level of luxe," she says.
Color: Go Rich & Vibrant
While Beauchamp says that a lady can't go wrong with blacks and whites in a wardrobe (hmmm. . . . For the holidays, she suggests opting for something less traditional (think: oxblood rather than bright holly berry red) or wearing rich jewel tones. Emerald green, Pantones 2013 color of the year, is a perfect example – it's rich and vibrant AND lets us stay a step ahead of the trend. Love it!
'Tis the Season to Break into a Skincare Routine
They say that along with age comes wisdom but unfortunately, so do the dreaded blemishes. Hormonal changes can make us more prone to breakouts as we mature. (Yeah, you 20-somethings, just you wait and see, I say in my best "I'm not jealous" voice). Add to that the holiday stress of how to look excited when Aunt Dot gives us a Snoopy and Linus holiday sweater (for the eleventh time) and it's breakout-city. But Beauchamp has a three-tiered fix:
Get regular facials. She goes every six weeks and recommends we do the same to keep our complexions in tip top shape, but if that's not doable she suggests trying it at least once or twice a year. "As the seasons change our skin reacts to environmental changes and it's important to maintain our complexions," she says.
Try her go-to product to combat blemishes: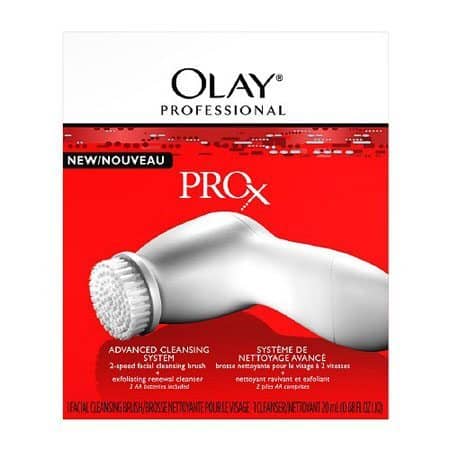 Olay Pro-X Advanced Cleansing System, $24.99 from Drugstore.com
Olay Pro-X Advanced Cleansing System. "It's easy to do, fast and definitely effective," she said. "It works." Clearly. I mean, look at her face. Flawless, flawless, flawless.
Remove makeup. Sure, we're busy going from office party to friends' parties, but just because we get home at some insane hour doesn't mean we should forgo makeup removal. Beauchamp says it's not only to remove dirt and debris, but to create a clean surface that allows our moisturizers and cleansing systems work effectively. Grime that's left behind acts as a barrier, blocking out the ability for a product to work its best.
Go to New Heights: Wear Heels –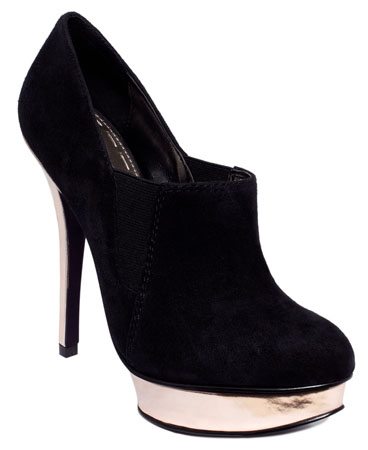 Rachel Roy Shoes, Lyndah Platform Shooties, was $139.00, now $97.30 from Macy's
Ah, Beauchamp's my kind of lady: she absolutely loves (and we mean L-O-V-E-S) heels – the kind that takes her 5'11" frame to well over 6 feet tall. Talk about turning heads. But that's the point. She says heels in particular make women taller in the world – literally and figuratively. Heels, she explained, can turn the simplest dress into a bold, trendy and powerful statement. (FYI, among her many favorite names: Rachel Roy heels). Worried about teetering your way to the mistletoe or feel like you might as well wear stilts? Not to worry. She told us, "That's what wedges are for."
Tips for Plus Size Ladies – Undergarments that are not the right fit for the cut of a dress or style pant is not a good thing. She explained that while a sports bra may be a go-to choice for everyday support, the look won't carry over well in that spiffy holiday V-neck or a wrap dress. To flatter figures in a smooth and Jessica Rabbit-esque manner, she's all about Squeem, body-shaping undergarments with special fabric technology. She also likes SPANX, touting their super comfy factor.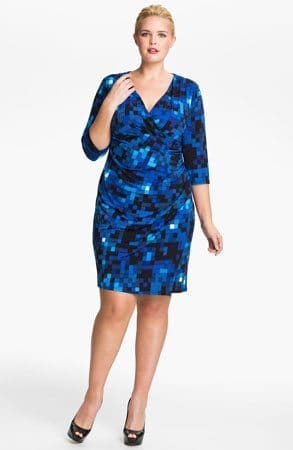 Eliza J Ruched Jersey Dress (Plus), $88.00 from Nordstrom
Another piece of advice for larger ladies wanting to deck the holiday halls in style? Turn to sheathing and ruched styles for their figure-flattering looks.
What holiday tips from Beauchamp are you going to try?