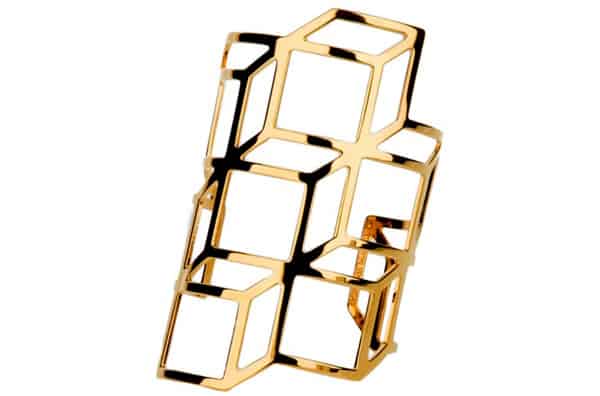 Want to carry around a sculpture on your arm? Cutout cuff bracelets can let you do that. Cuffs have been trending for a while, with cutout cuffs giving the bracelets an edgy look.
Tanning More Evenly Than Not
But have you noticed this: in the summer, cutout cuff bracelets may hold sway over the full cuffs because the former allow for a more even tan on arms when the bracelets comes off. The solid cuff may leave you with a patch of untanned skin. After all, the sun can't peek through a wall, but can send rays through window panes, which is what a lot of the cutout cuffs resemble. Nordstrom has an eclectic selection of cutout cuff brackets., including designs by Vincent Camuto and Topshop.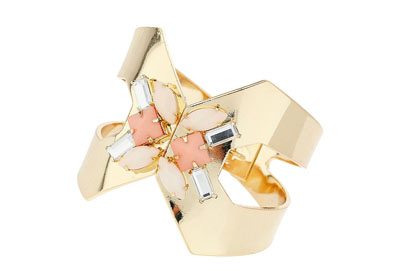 Topshop adds glitz to this hinged cutout cuff, which sells for $20 at Nordstrom.
Silver studded open cuff by Vince Camuto also comes in matte grey and matte white. Some colors are on sale at Nordstrom for $27.49
Paris elite designer Pierre Hardy (he turns out some over-the-top shoes and bags for Hermès) has gone geometrically wild with his collection of open cuff bracelets. Off the arm and posed vertically, these can look like leaning towers.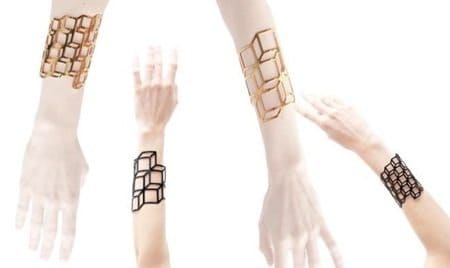 Credit: Flickr Creative Commons
And it's as though Hardy did a sketch on an arm. No need to give a price here because that would be too wild for us Budget Fashionista, But what a marvel to look at.
The Leather Group at Etsy
Not all cutout cuffs are made in metal. There are leather cutout cuff bracelets, and they can give you color and style choices and be custom-made. Etsy is a big supplier.
Cuff bracelets in leather show a cutout design in a different way.
Let us ask you a question.
Do you own a metal closed cuff bracelet? Maybe you want to give it a makeover. But If you don't have a cuff bracelet, just maybe you want to actually make one yourself. Yes, DIY!!! Go to the site Jewelry Making Journal where tutorials will show you how to embellish or craft a cuff bracelet.